Also known as yellow adobo, this adobong dilaw chicken is a favorite dish of the Philippines that is so easy to make and delicious to dig into.
By Ang Sarap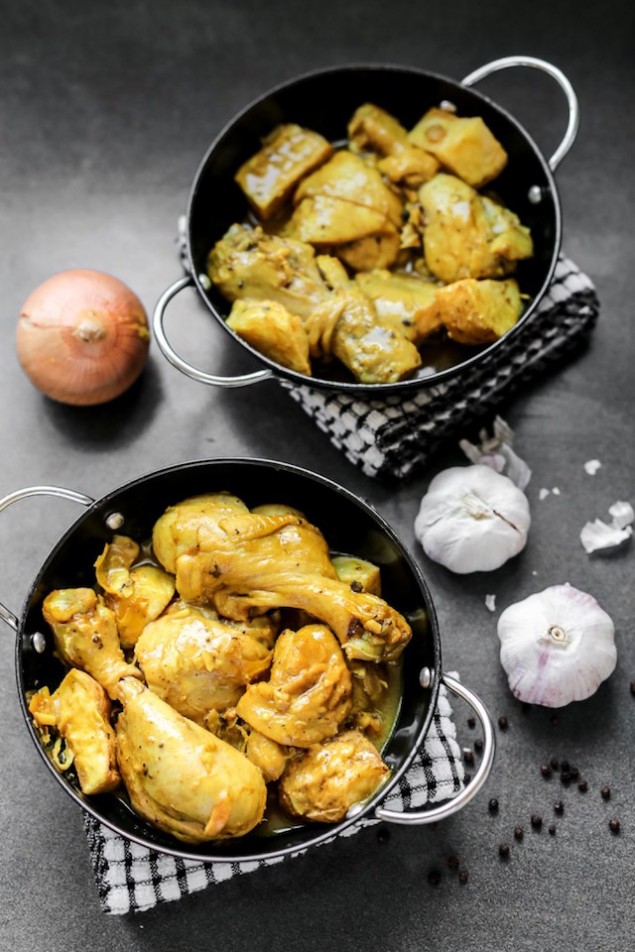 Adobo perhaps is Philippines most popular dish. In fact it is very popular it is our official national dish.
To start, Adobo is a dish where pork, chicken or combination of both is cooked in a mixture of vinegar and soy plus herbs and spices like black peppercorns, bay leaves and lots of garlic. This is the most common version of the dish but if we go back in time, adobo during the old days did not contain any soy sauce and is only cooked in vinegar and salt.
This recipes uses the old version without soy sauce and instead we will be making another version called Adobong dilaw or Yellow Adobo. Similar in concept with the usual adobo where it is cooked in vinegar but with an added ingredient that gives that colour, turmeric. This adobo might taste similar to the untrained palate but this version has that mildly aromatic scent nearly similar to a mix of orange or ginger plus it gives a little bit of that pungent bitter flavour.
Find more authentic recipes here.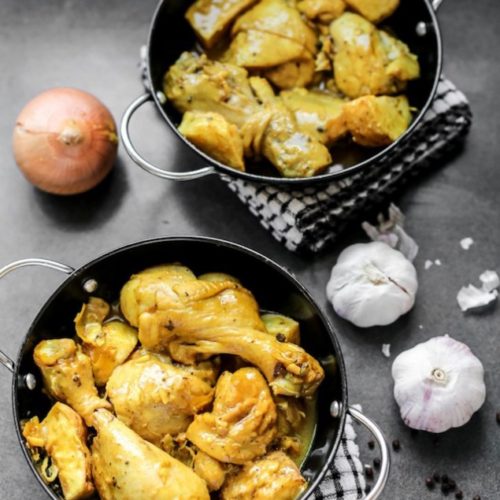 Filipino Adobong Dilaw Chicken
Ang Sarap
Also known as yellow adobo, this adobong dilaw chicken is a favorite dish of the Philippines that is so easy to make and delicious to dig into.
Ingredients
1

kg

2.2 pounds chicken legs and thighs

1

knob turmeric

sliced

3

medium potatoes

Agria quartered

1

whole garlic

minced

½

cup

Filipino Style cane vinegar

1

tbsp

sugar

1

tbsp

salt

oil

bay leaves

whole pepper corns

water
Instructions
Season chicken with salt then set it aside.

Deep fry potatoes until golden brown. Remove from pan then set aside.

In a separate pot sauté garlic in oil using low heat until golden brown. Remove from pot and set aside.

Add turmeric then cook for 30 seconds.

Add chicken and fry until browning occurs.

Add ½ cup water, ½ cup vinegar, 2 tbsp peppercorn, 4 bay leaves and 1 tbsp sugar then bring to a boil and simmer for 25 minutes.

Drain any remaining liquid and in a separate frying pan add oil and fry the drained meat in high heat browning the sides.

Pour the drained liquid back in the pan together with the deep fried potatoes. Add more vinegar and liquid if it dries up.

Simmer for additional 5 minutes, season with salt if needed then serve.
Ang Sarap
Hi I am Raymund a Filipino living in New Zealand, I'm not a cook nor a chef but I love cooking and it is my passion. My real job is an IT Professional whose devotion is to develop applications (I have a Software Development blog for those who might be interested), my brain is abused at work on a daily basis so cooking at the end of the day acts as my therapy for stress release. I have been cooking since I was 7 years old and since then almost every day I prepare our dinner and weekend meals, I usually try to cook dishes that we had tried and ordered in different restaurants that's why you will see a lot of varieties at my blog Ang Sarap (angsarap.net). I learned cooking mostly by observing my Aunt who cooks for us when I was younger, I learned to bake by assisting my Mom during my younger years and for the native dishes I learned it from my Grandmother. My other passion is photography which explains the photos you see here and travelling which explains the variety of dishes and reviews of restaurants from all over the world.