Freshly picked, beautifully ripe, crimson-hued figs nestled atop a creamy cheesecake and adorned with a rich, acidic balsamic glaze.
By Christina Soong-Kroeger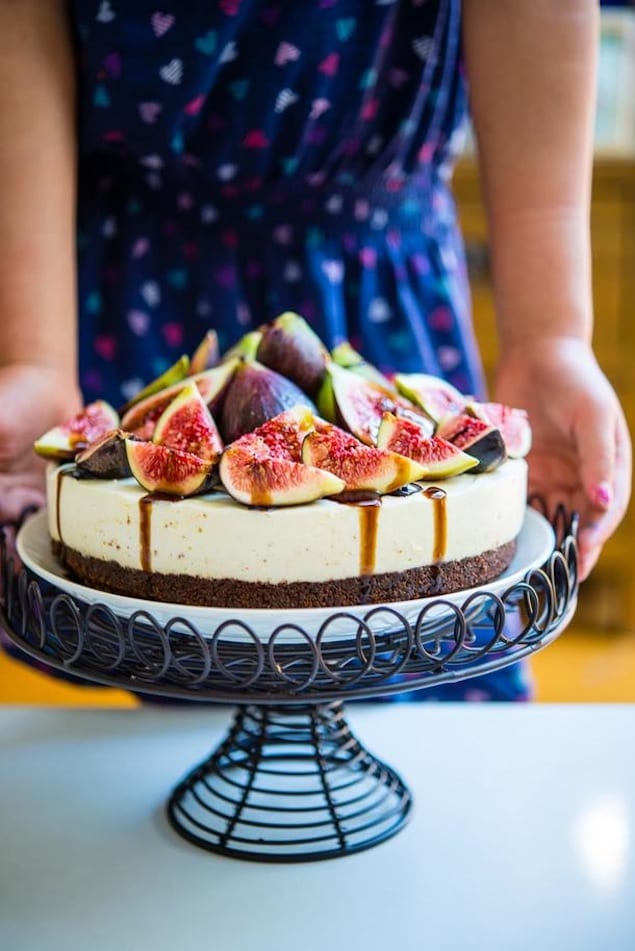 If you are lucky enough to get your hands on figs that are this ripe, sweet and fresh, the less done to them, the better. So the next day I decide that I will make two dishes using uncooked figs leaving some of the figs to use in a cake that I'll bake in a couple of days time.
Cheese cakes are really simple and there's no baking involved with this one either. You simply blitz some biscuits to make the base, beat some cream cheese with vanilla, lemon, sugar, cream and gelatine and refrigerate. Easy, right?
In this recipe the balsamic glaze is key for me; I love how the acidic tang of the glaze contrasts with the rich honey tones of the figs so beautifully. However, my kids didn't like the balsamic glaze so if you have little ones eating this you could substitute a strongly-flavoured honey (or rice malt syrup, treacle or maple syrup) for the glaze. Or you could try a mixture of both, actually.

If your budget stretches to whole vanilla bean pods then by all means use them as the mellow flavour will really shine through. Alternatively, use a top quality vanilla bean paste or essence.

Fig and Vanilla Bean Cheesecake with Balsamic Glaze
Freshly picked, beautifully ripe, crimson-hued figs atop a no-bake vanilla cheesecake.
Author:
Christina Soong Kroeger
Ingredients
250 grams chocolate biscuits
80 grams butter or margarine
500 grams cream cheese
¾ cup caster sugar
1 cup cream
¼ cup lemon juice
3 teaspoons gelatine powder dissolved in ¼ cup boiling water
Seeds from 1 vanilla bean pod or 1 teaspoon vanilla bean extract or essence
8-10 ripe figs
1 tablespoon balsamic vinegar glaze
Instructions
Spray a 20cm springform cake tin with baking oil or grease with margarine/butter. Line the bottom with a disc of baking paper.
Blitz the biscuits in a food processor until they are sand-like and place into a medium bowl.
Heat up the butter in a small saucepan (or in the microwave) and then mix into biscuit crumbs with a spoon until thoroughly combined.
Press the biscuit mixture firmly into the base of the cake tin evenly and then refrigerate.
With a stand or hand mixer, beat cream cheese and sugar for 2-3 minutes until smooth, then add cream, lemon juice, gelatine mixture and vanilla.
Beat for another minute or so until completely combined and then turn out into the cake tin, using an offset spatula (or the back of a spoon) to smooth and spread the mixture evenly.
Refrigerate the cake for three hours or overnight.
Once cake is ready, gently turn out onto serving plate or cake stand.
Wash and gently dry figs (once you wash them they will start to spoil so don't wash them too soon) and slice or leave whole as desired.
Arrange the figs over the cake -- I prefer a more natural, non-symmetrical design -- and dribble balsamic glaze (or alternative) over the top.