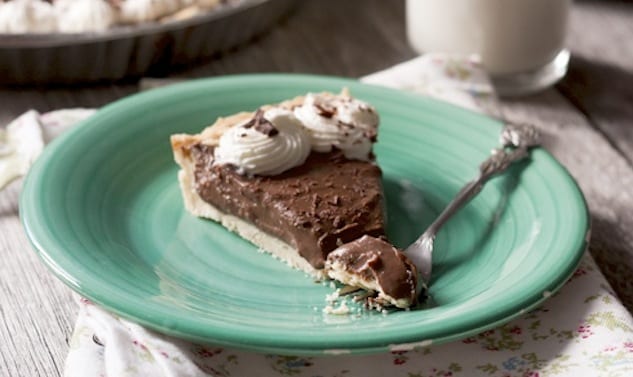 The filling of this classic pie is silky and rich. Be sure to use high quality chocolate for the fullest flavor and a pinch of salt.
By Tamara Novakoviç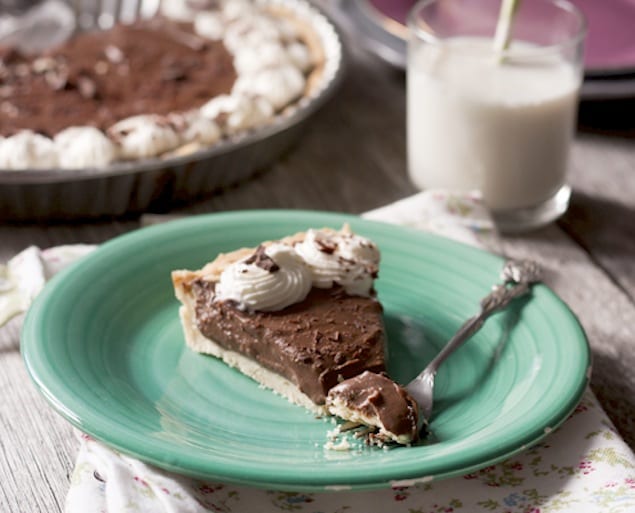 This is by far one of my favorite cakes I've made in the last couple of months, it is a classic. The dough recipe combines the perfect ratio of butter and flour. The filling is silky and rich. I suggest you use high quality chocolate for this. The chocolate flavor is further enhanced by cocoa powder and some salt.

Chocolate pie
The filling of this classic pie is silky and rich. Be sure to use high quality chocolate for the fullest flavor and a pinch of salt.
Ingredients
For the dough
4.4 oz (125 g) butter
3.5 oz (100 g) powdered sugar
pinch of salt
8.8 oz (250 g) all-purpose flour
2 egg yolks
zest of ½ lemon
1-2 tbsp cold milk
For the filling
3.1 oz (90 g) dark chocolate
0.8 oz (25 g) unsweetened cocoa powder
4.4 oz (125 g) sugar
2½ tbsp cornstarch
pinch of salt
¼ tsp finely grated orange zest
1.7 cups (400 ml) milk
⅓ cup (80 ml) heavy cream
3 egg yolks
0.4 oz (14 g) butter, room temperature
Decoration
chopped chocolate
whipped cream
Instructions
Make the filling. Combine cornstarch, cocoa powder, salt and sugar. Add 80 ml milk to it, together with egg yolks. Whisk. In a separate pot, combine the rest of the milk with heavy cream and heat to a boil. Then add the cocoa mixture and cook on low heat, stirring constantly, for about 7 minutes. Make sure that no lumps form. In case this happens, strain the mixture through a fine sieve. When the filling thickens, remove from heat and stir in chopped chocolate, orange zest and butter. Cover with plastic wrap and let cool to room temperature.
For the dough, cream butter with powdered sugar and a pinch of salt. Add finely grated lemon zest, egg yolks and milk. In the end, add flour and knead until the dough comes together. Wrap in plastic wrap and refrigerate for one hour.
Roll the dough onto a floured surface into a circle. Using your rolling pin, transfer it to a pie baking pan (28 or 30 centimeters). Pierce the dough with fork. Preheat oven to 356 F (180 C) and bake blind for 20 minutes. Let cool completely.
Spread the filling evenly into baked and cooled pie shell. Decorate with chopped chocolate and whipped cream. Refrigerate for several hours before serving.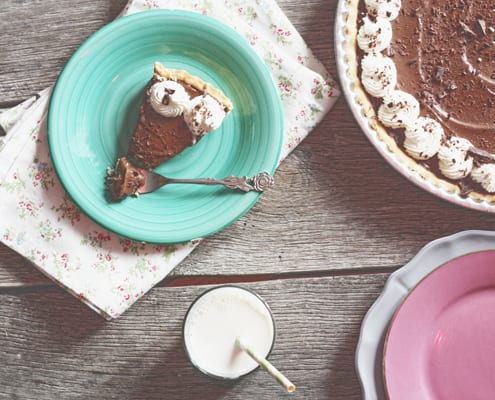 Tamara Novakoviç
Tamara Novakovic is a passionate self-taught cook, food blogger, freelance food writer and photographer behind bite-my-cake.blogspot.com. Her life journey has led her through Faculty of Humanities in Zagreb, Croatia to discovering passion for making cakes. She is currently a weekly food columnist for Croatian newspaper V magazine and food magazine Repete.