The secret to this, and any, great salad is using fresh and seasonal ingredients that allow you to keep things simple.
By Faith Gorsky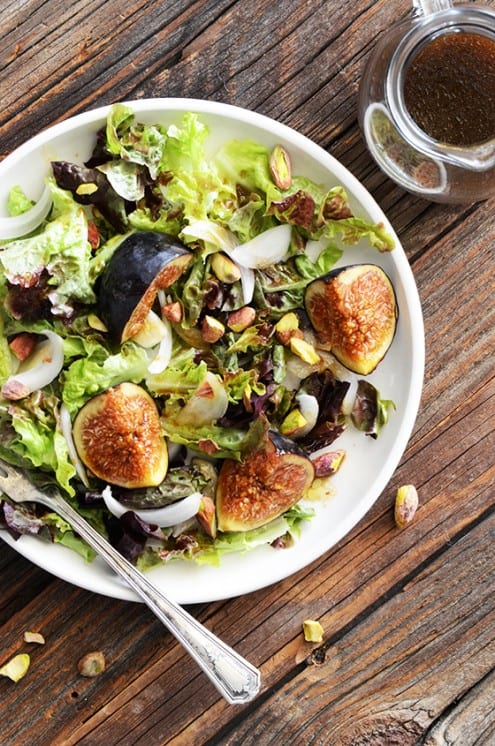 Fig and Pistachio Salad with Pomegranate Dressing
The secret to this, and any, great salad is using fresh and seasonal ingredients that allow you to keep things simple.
Ingredients
Pomegranate Dressing:
1 tablespoon raw honey (local if possible)
1 tablespoon pomegranate molasses
2 tablespoons water
3 tablespoons olive oil
1 pinch sea salt
1 pinch black pepper
Salad:
3 cups (3 oz/85 grams) green or red leaf lettuce, washed and torn
2 ripe fresh figs, washed, stems removed, and quartered
½ small white onion, thinly sliced
2 tablespoons roasted pistachios, coarsely chopped
Instructions
Whisk together all ingredients for the dressing in a small bowl.
Divide the salad between 2 plates and top with the fig, onion, and pistachios.
Drizzle dressing on top of each and serve immediately.
Faith Gorsky
Faith Gorsky is the writer, recipe developer, photographer, and food stylist behind the blog An Edible Mosaic. Her recently-released first cookbook, An Edible Mosaic: Middle Eastern Fare with Extraordinary Flair (Tuttle Publishing), is a collection of authentic Middle Eastern recipes handed down to her from her husband's family during her extensive time spent in the Middle East. Faith loves to travel, especially to places steeped in rich culture and history.