A light and airy appetizer that combines some very classic Italian ingredients.
By Kalle Bergman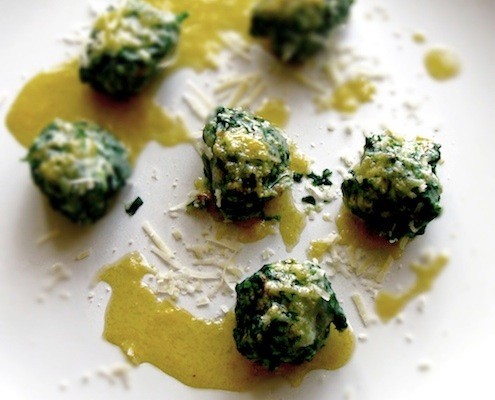 These wonderful spinach, ricotta and parma ham gnocchis are so simple to make – and they are just adorable. Smooth and elegant, but at the same time rustic and very traditional.

Spinach and Ricotta Gnocchi with Parma Ham
Wonderfully light and airy spinach and ricotta gnocchi with parma ham.
Ingredients
9 oz fresh spinach
7 oz ricotta cheese
½ cup grated parmesan cheese
1 clove of garlic, finely chopped
5 slices of parma ham
2-3 tablespooons of wheat flour
2 tablespoons of organic butter
Salt
Instructions
Rinse the spinach and strain it.
Heat up a little olive oil in a deep pan. Add the finely chopped garlic and spinach. Let it "boil" for five minutes without any other water than the water that is still there from rinsing. After five minutes, strain off the remaining water - and squeeze all the water you can out of the spinach before finely chopping it.
In a pan, fry the slices of parma ham with a little oil until golden. Remove from pan, but save the oil and remaining fat until later. Let the ham drip off on a kitchen towel, and then finely chop it.
In a bowl, mix spinach, parma ham, ricotta cheese, flour and ¾ of the parmesan cheese well. Season with a small amount of salt (the cheese and parma ham adds saltiness).
Shape small round gnocchis, place them on a floured plate and sprinkle a little flour on top. Leave in the fridge for 15 minutes.
In the same that pan you fried the parma ham, melt the butter on medium heat and leave it until golden.
Boil the gnocchis in batches in salted water, they are done when they surface - remove with a slotted spoon and place them on hot plates.
Spoon over the melted butter, and sprinkle with the remaining parmesan cheese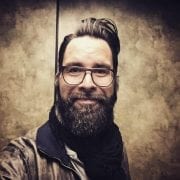 Kalle Bergman
Kalle Bergman is a food writer and media entrepreneur who is the founder of Honest Cooking. As a food writer, his writing has been regularly featured in publications like Gourmet, Los Angeles Times, Huffington Post and Serious Eats. He is obsessed with simple food, more often than not from his native Scandinavia.