Light, fresh and meatless. Fettuccine Alfredo Primavera is the right choice for a light meal, first course or vegetarian entree.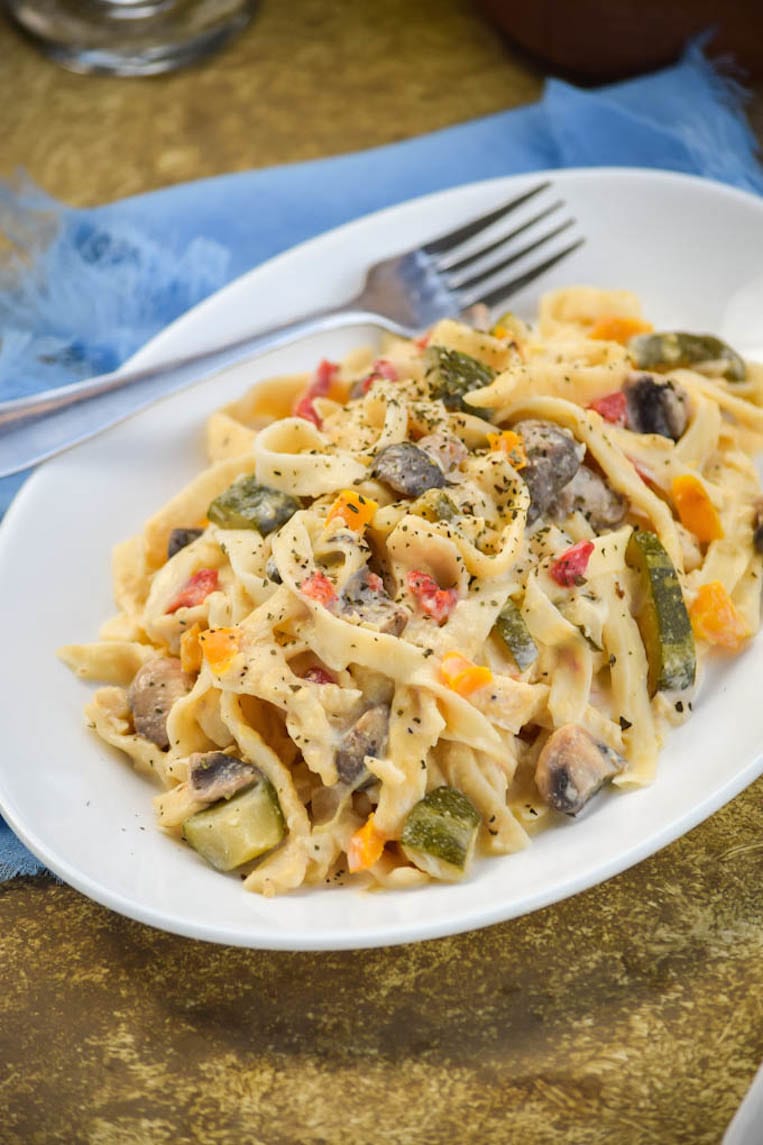 I think I have officially topped myself on easiest meals ever! Okay, I guess I should clarify that. If you were planning to hit a drive-through or pop a frozen dinner in the microwave then that is technically going to be an easier dinner. When I say easy I mean by the standard of someone who makes almost everything from scratch. I made this in under 45 minutes and it's highly adaptable!
I just realized that this is third recipe I've made this week with cream cheese. We just happen to have a lot more of it than usual right now and I guess I am subliminally obsessed with using it. Up until recently we hardly ever bought it because it's ridiculously priced from being imported from the States, so it has been a special-occasion-only item. I blame the bagels I made earlier this week for temporarily changing that because when you make bagels it's a given that you have to have plenty of cream cheese on hand. There's a law or something.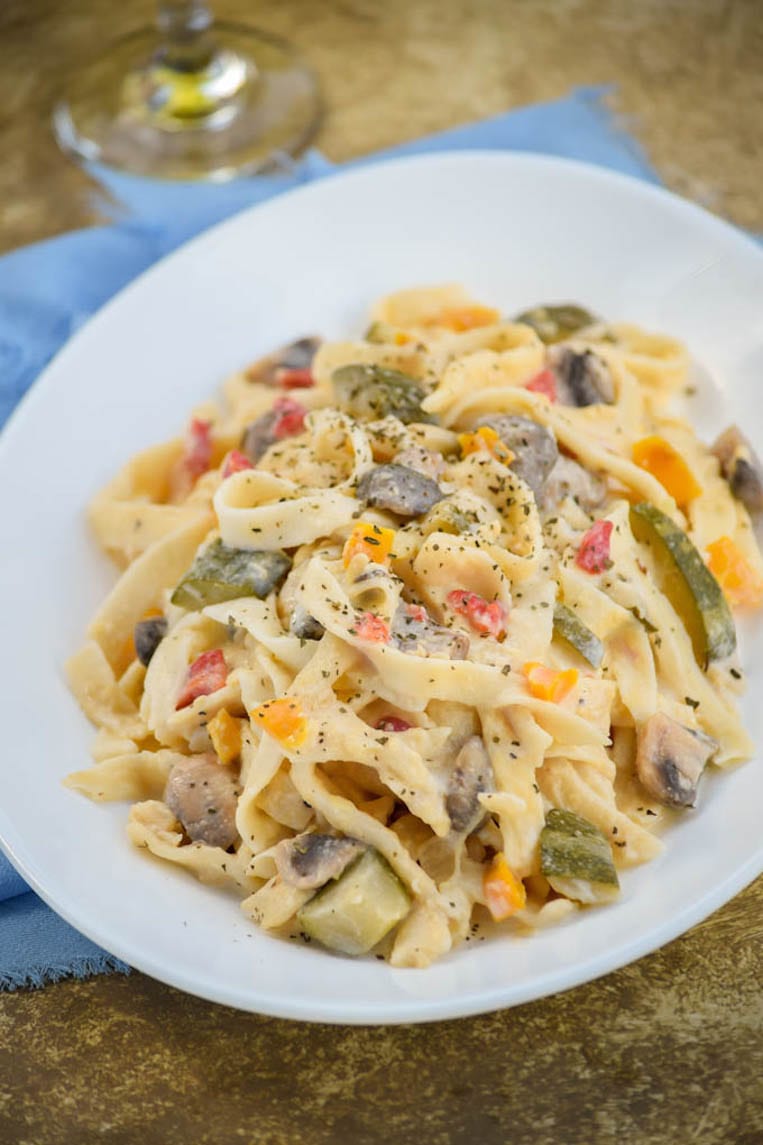 But let's get back to the fact that this is the easiest meal ever. We have made a lot of new family friends recently (English-speaking people, Yay!) and I've been really enjoying getting to cook for new palates that don't either; only want to eat chocolate or insist that they don't like cheese even though they eat it all the time (that would be Brock). A few of our new friends happen to vegetarians and, I know that some people might be annoyed by having to cater to special dietary restrictions, but I love to. Plus, I've gotten pretty good at it by having such a big family where there is always someone who needs catered to.
So anyway, this is a great go to for meatless monday. I used fresh pasta from our local grocery store and I love doing that because it not only cooks faster but it tastes better. However, you can use dried if that's what you have on hand. Oh, and as far as veggies go you can feel free to add what you like and switch it up. You can also add meat per serving if you are like me and live with people who don't consider it a meal unless there is meat. Chicken and shrimp both would be great in it.
Print
Author:

Tori Cooper

Yield:

6

servings

1

x
Category:

Primi
18 ounces

fresh fettuccine (or

12 ounces

dried)

1/4 cup

olive oil (divided)

2

cloves garlic (minced)

1

small onion (chopped)

1

medium zucchini (chopped)

1

red bell pepper (diced)

1

yellow bell pepper (diced)

1/2 cup

portabello mushrooms (sliced)

4 ounces

cream cheese (at room temp)

1 cup

heavy cream

1 1/4 cups

parmesan
salt & black pepper to taste

1/2 teaspoon

freshly grated nutmeg
Instructions
Boil noodles according to package instructions then drizzle lightly with 1 tablespoon olive oil and set aside.
Heat 3 tablespoons olive oil in a large skillet over medium heat and add garlic, onion, zucchini, and bell peppers. Cook for 6 to 7 minutes until softened then toss in mushrooms and continue cooking for 2 to 3 more minutes.
Reduce heat to low and add cream cheese, cream, and stir gently until cream cheese is melted, Add parmesan and seasonings and stir to again. Add pasta and gently toss to distribute sauce and veggies evenly.
Serve hot.
Tori Cooper
Tori is a food blogger with a passion for what she does. She shares all her recipes, photography, and bits about her life living in Patagnia Chile on her blog, Gringalicious.