Fermented Tea: Sweet Harvest Pumpkin Kombucha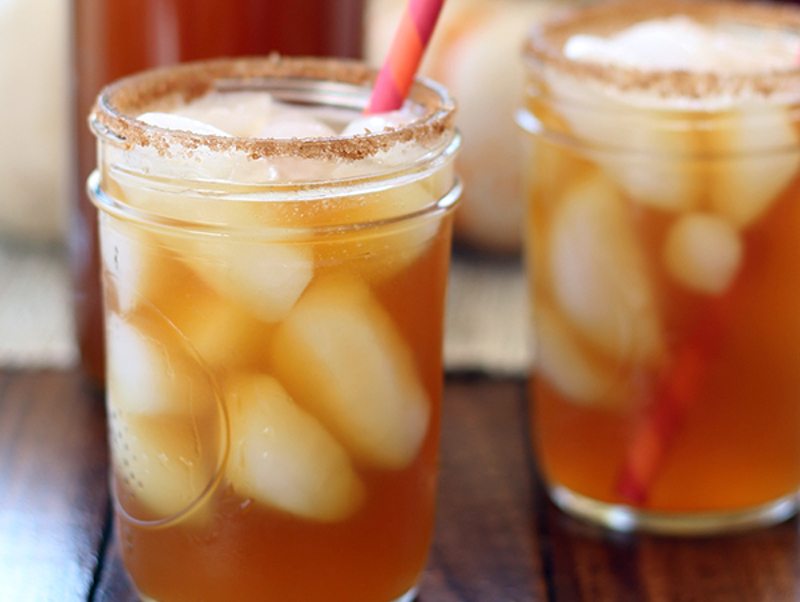 PARTNER POST: Discover new ways to incorporate seasonal teas into your holiday cooking and desserts with Celestial Seasonings.
Try a new drink this fall that tastes like a bubbly pumpkin cider. This sweet harvest pumpkin kombucha is loaded with refreshing probiotics that are balanced with cozy fall flavors.
Warm spices including cinnamon, ginger, roasted chicory, cloves, and nutmeg with hints of fresh pumpkin flavor make my Sweet Harvest Pumpkin Kombucha taste like a bubbly pumpkin cider.
As a kid in my hometown, Healdsburg, fall would be cool, crisp and rainy (this was way before the drought). I lived on two acres of land in the heart of the wine country and a perfect place to grow up. My sister and I would explore, build forts, and float toys down our creek when it swelled on rainy days.
When we came in from our fort building, my mom would make us tea. Her favorite brand was Celestial Seasonings Lemon Zinger and I liked the Sleepytime tea, because it had a picture of a bear in pajamas. Oh the magic of tea.
So, I was excited to work with Celestial Seasonings to develop a recipe using their Sweet Harvest Pumpkin Tea. It brought back all those warm and fuzzy memories.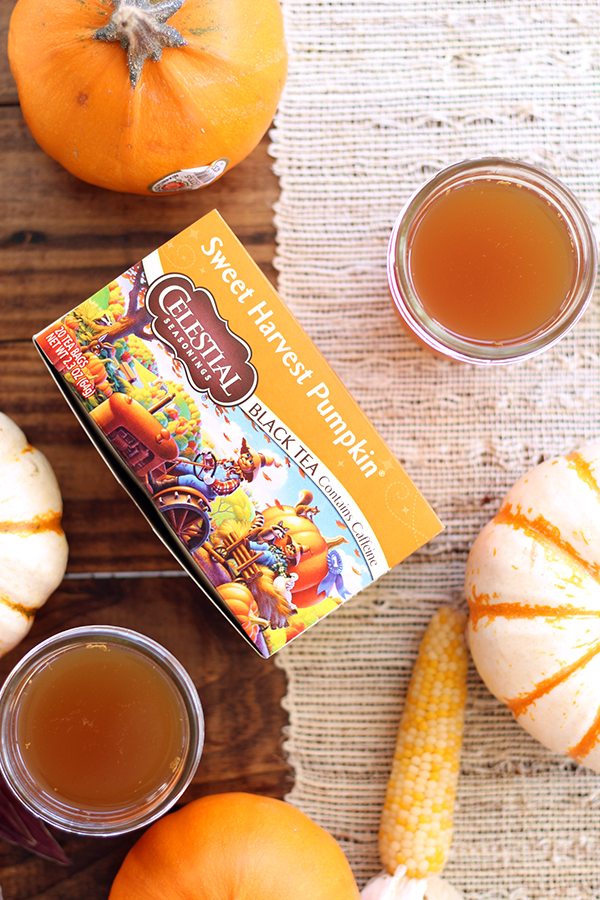 WHAT IS KOMBUCHA?
Kombucha is a fermented tea that originated in China about 2,000 years ago. It's fizzy, sour, sweet and can be flavored any way you like. You can learn more about it in my post, "3 Steps To Start Making Kombucha At Home".
SECONDARY FERMENTATION
This recipe is only to be used during secondary fermentation which is the step after making your plain kombucha using a SCOBY. Secondary is when we take the plain kombucha and add flavors to it and then bottle it up and leave it out for a few days to get carbonated.
HEALTH BENEFITS OF KOMBUCHA
Probiotics that help improve digestion
Enzymes
Acetic Acid (this gives it the vinegar like flavor) is antibacterial and can level blood sugar.
Amino Acids
B Vitamins – B1, B2, B3, B5 and B12 – Provides energy, breaks down fats and can regulate cholesterol among many other things.
I love using tea to flavor kombucha, because it's super easy, convenient and flavors it well. Instead of always having fresh juices and fruit available, tea can be stored for months and always on hand to flavor your kombucha.
Want to try another fun recipe for the season? Check out these Sugar Cookie Sleigh Ride Scones! Recipe here.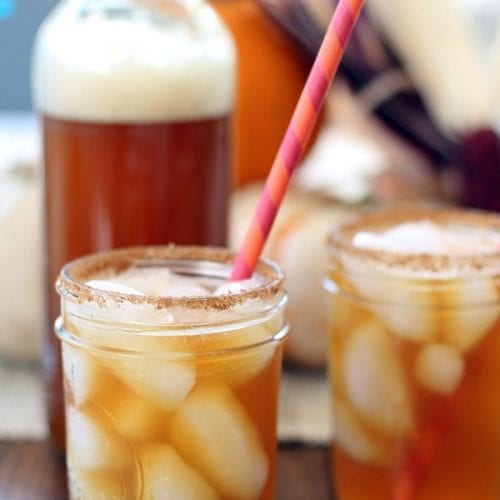 Danielle Johnson
Ingredients
4

Cups

Plain Kombucha Store Bought or Homemade

see link above for homemade recipe

4

Tea Bags of Sweet Harvest Pumpkin Celestial Seasonings Tea

2

Cups

Water

½

tablespoon

sugar
Instructions
Bring 2 cups of water to a boil.

Steep 4 tea bags in hot water for 5 minutes.

Remove tea bags and add sugar. Stir until dissolved.Let the hot tea cool to room temperature.

Add the Plain kombucha and cooled Sweet Pumpkin Harvest tea to a pitcher and stir.

Pour the kombucha into flip-top bottles.

Seal the bottles and let sit in a cool, dark place for 3-7 days.

After 3 days check one of the bottles to see if it's bubbly. Store in the fridge and serve cold.

If it's not bubbly, leave it out for a few more days. Check each day until it's carbonated.
Notes
Be careful when opening the bottles. The pressure from the gas can cause them to pop off like a champagne bottle. Make sure to point the bottle away from your face and people when opening.
Danielle Johnson
Hi! I'm Danielle, I started Fermented Food Lab to educate and bring awareness of the health benefits of eating traditionally fermented foods. My goal is to get more people to try fermentation and love it. It's also a place where I can share what I invent in my kitchen, which I call, "the lab", because I always have something unique and new fermenting on my counters.