Ilene Ross details an exquisite event in the countryside!
By Ilene Ross
When planning his first farm-to-table event in conjunction with Carriage House Farm, Chef Ryan Santos of the popular Arts and Lettuce dinner club left no detail overlooked. New table wear had been purchased; in fact, even the massive communal table itself was constructed just for the evening by Carriage House Farm owner Richard Stewart, and the menu was meticulously planned after consulting with Stewart, Carriage House forager Abby Artemisia, Napoleon Ridge Farm owner Tricia Houston, and a local hunter. Everything was to be prepared outside in cast iron cook ware over an open fire, something Chef Santos had been anticipating for quite some time; he had been sourcing the coveted well-aged pans from friends for weeks in advance. "As a chef I'm always looking for a new challenge and a new skill to learn, and we [the Please staff] wanted the challenge of not having electricity," he says.
The choice of the farm with its rural setting was a natural fit for Santos and his crew. "We find a lot of inspiration from nature, and it seemed like a logical connection to make for us," he says. "Also, I wanted to showcase the awesome produce and meats from Carriage House and Napoleon Ridge (the northern Kentucky farm supplied broccoli, cauliflower, pecans, sorrel, as well as 'man power' for the dinner, in the form of Houston) and let the surroundings and the fire really bring out their great flavors."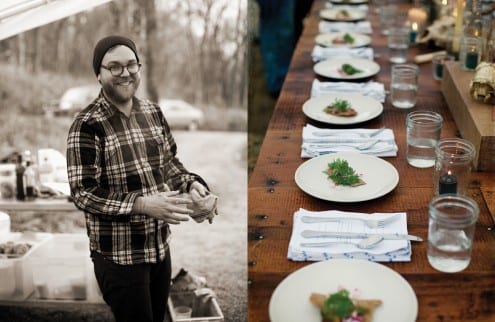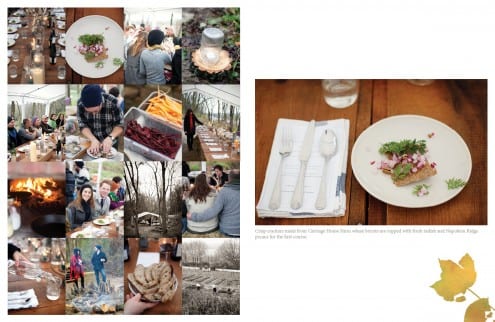 With the exception of the Battle Point Oysters from Virginia, almost every ingredient came directly from Carriage House or Napoleon Ridge, including foraged non-food items such as moss for the décor, juniper branches to scent the venison, and wet leaves to steam the oysters.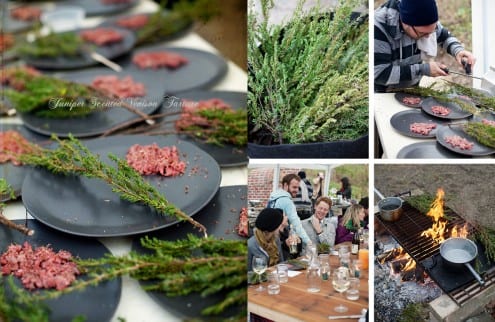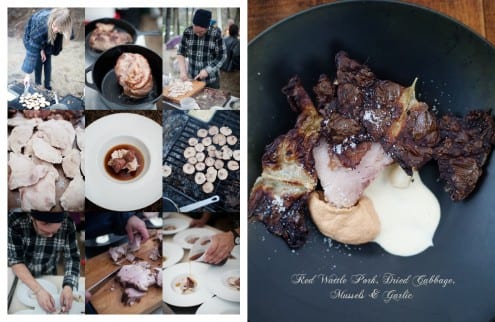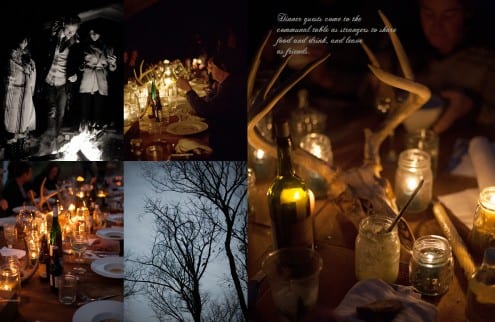 The only detail Chef Santos couldn't control was Mother Nature, and far be it from her to be cooperative. There was rain, sleet, hail, and frigid temperatures, but none of those stopped guests from pulling up hay bales to enjoy the rustic yet artfully presented cuisine. Nor did the elements dampen Santos' spirits when it came to the preparations. Thankfully, Stewart was able to provide a tent before everything was completely soaked, and the dinner went off without a hitch.
photography by Gina Weathersby