Enchilada Casserole with 2 Minute Sauce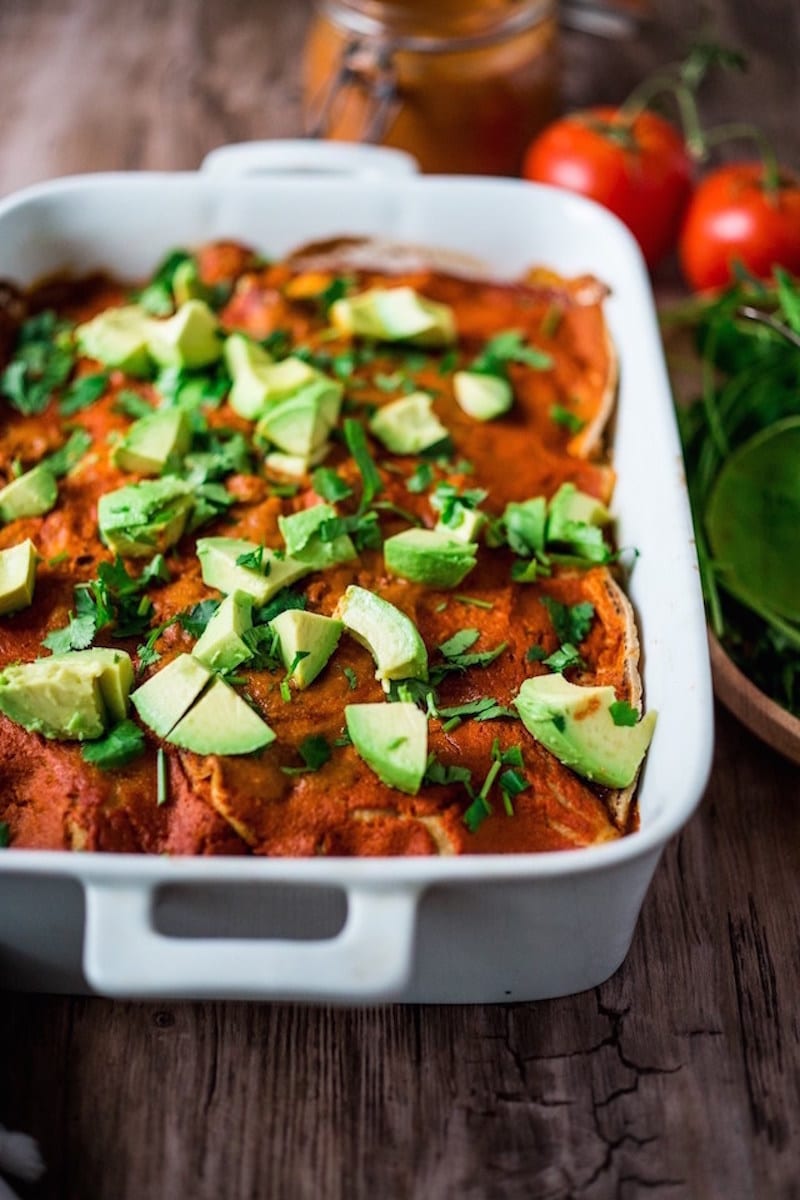 Watch everyone gather round the table for this cheesy enchilada casserole. Great for a weeknight evening and they'll never know it was quick and easy to make!
By Sylvia Fountaine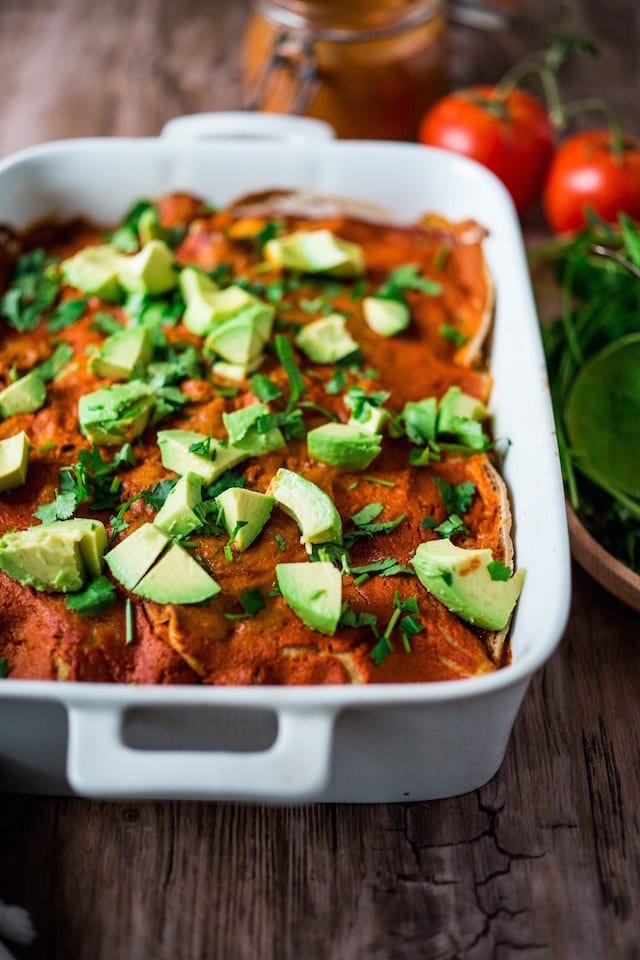 It is the soul itself that has brought us to this difficult place in order to enlarge us,
to ask more of us than we planned on giving.
James Hollis
Here's a quick, easy, healthy dinner idea that is warming and comforting – Mexican Enchilada Pie with Two Minute Enchilada Sauce. It can be kept vegetarian like I have it here, or for heartier appetites, "beefed-up" with added chicken, chorizo or ground meat. The flavorful enchilada sauce is simple, yet delicious, and whips up in a blender. No cooking involved. When pressed for time, this is a hearty meal that can be assembled in 15 minutes, with the oven doing the rest of the work. Top it with cilantro and avocado and dinner is ready!
It has become my go-to meal because I can pre-assemble it and did I mention how tasty it is? It's SUPER tasty.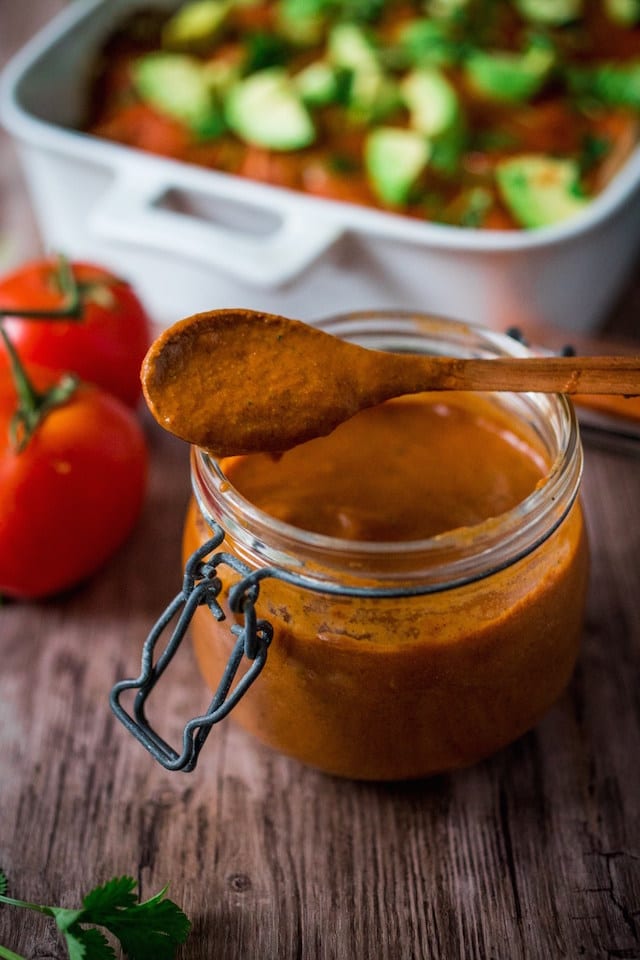 The recipe starts with making the Enchilada Sauce- which of course you can buy, as well. But it literally takes two minutes, so why not make it? Blend up the ingredients in a blender until smooth, and that's it, you don't have to cook it. In winter I use canned tomatoes, but in summer, when fresh ripe tomatoes are available, I prefer those. This would also be something really great to can or freeze for winter if you are one of those lucky ones who can grow multitudes of tomatoes.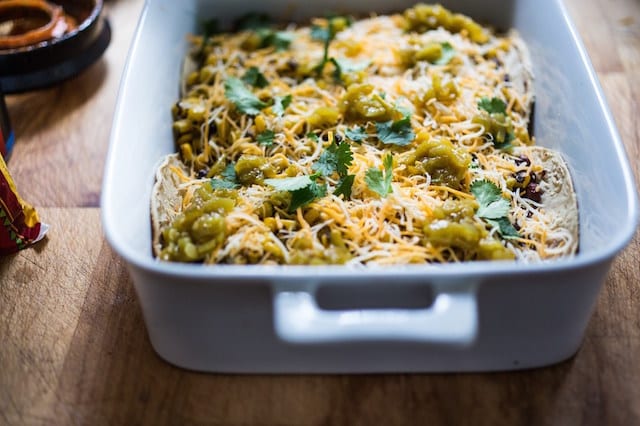 Then begin layering the ingredients.
Repeat the whole process, with more beans (or this time add cooked chicken, rotisserie chicken, browned meat or chorizo) more corn, cheese, chilies, and enchilada sauce.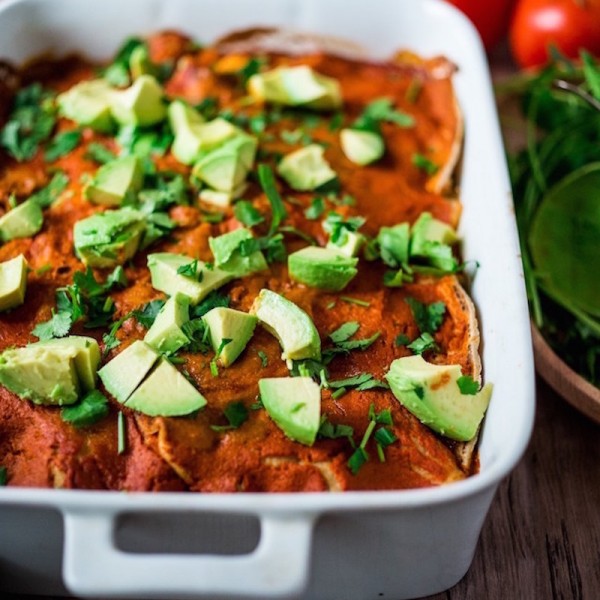 Enchilada Casserole with 2 Minute Enchilada Sauce
Sylvia Fountaine
Ingredients
12

ounce

bottle of enchilada sauce

or make my 2 minute enchilada sauce

---------------

2

minute Enchilada Sauce:

14.5

ounce

can diced tomatoes

preferably fire roasted

¼

cup

water

2

Tablespoons

olive oil

2

teaspoons

apple cider vinegar

1

teaspoon

cumin

2

teaspoons

chili powder

¼-½

teaspoon

chipotle powder - optional

plus more to taste, or add a canned chipotle pepper, or smoked paprika and cayenne for heat

1 ½

teaspoon

kosher salt

2

garlic cloves

or 2 teaspoons granulated garlic

1

teaspoon

oregano- optional

dry or fresh

--------

8

x 6 inch corn tortillas

2

x 15 ounce cans seasoned black beans

like Trader Joe's Cuban Style Black Beans Or substitute half with cooked chicken, browned ground meat, or chorizo

16

ounce

bag frozen fire roasted corn - or sub other cooked veggies

2

cups

grated Mexican style cheese or blend

4

ounce

can green chilies

preferably fire roasted (optional)

Garnish: chopped cilantro

diced avocado, sour cream, hot sauce
Instructions
Preheat oven to 400

Make the Quick Enchilada Sauce. Place all ingredients in a blender and blend until smooth.

In a greased 9 x13 inch baking dish, spread out a third of the sauce or less-- just enough to lightly coat the bottom.

Spread out 4 tortillas on top of the sauce.

Drain one can of seasoned beans, and spread out over the tortillas. (Drain well)

Spread out half of the frozen roasted corn.

Spread out 1 cup of the shredded cheese

Scatter ½ of the canned green chilies and a little chopped cilantro.

Then repeat with another can of drained seasoned beans (or substitute cooked chicken, chorizo or ground meat)

Top with rest of the corn, the cheese, the chilies and cilantro.

Drizzle with ? of the sauce and top with 4 more tortillas.

Spread the remaining sauce over the tortillas.

Cover and bake for 30 minutes.

Uncover, and bake 10 more minutes, adding more cheese if you want so it melts. (I leave it off)

Garnish with diced avocado, cilantro and sour cream.
Sylvia Fountaine
Caterer and chef of Feast Catering Co., my blog Feasting at Home is where I share wholesome, seasonal recipes we cook at home.