Chef Andrew Clatworthy shares the recipe of this outstanding tomato salad from TRIO Restaurant, sister restaurant of the two Michelin-starred AOC in Copenhagen.
We may not have the amazing view Trio has at home, but at least we can recreate one of the season favorites. The most perfect summer dish.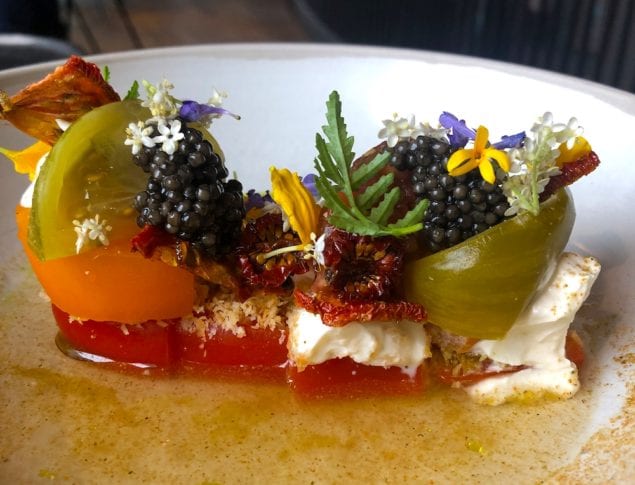 From bottom up; raw tomato with thyme oil and breadcrumbs cooked in brown butter and salted tomatoes with thyme.
Then tomato concassé with black pepper, pickled tomatoes, dried tomatoes rehydrated in chive oil, raw elderflower, pickled elderflower. and tomato consommé from tomatoes, celery, coriander, garlic and shallots.
Last the dust of the pulp from the consommé, dried and blitzed. All finished off with a cream cheese smoked with wood chips – and of course, caviar.
Print
Tomato salad by TRIO
Author:

Chef Andrew Clatworthy

Category:

Appetiser
Mixture of dried (raw, pickled, salted, confit and tartare.)
Smoked cheese cream.
Brown butter breadcrumbs.
Tagette flowes and leaves
Dressing of thyme oil and tomato consommé.
Finished with pickled (or fresh when ready elderflowers.)
Instructions
Pickled tomato: Equal parts sugar water and vinegar boil together and leave to cool, add small stick of horseradish whole and leave in juice for minimum 2 days Green tomatoes are best for this process.
Salted tomato: Cut Tomatoes to desired effect, weigh and add 2% Salt and some thyme leaves. Leave for minimum 2 hours, toss them in the water that comes out, so they marinate in their own juice. Yellow tomatoes (woodle orange) are the best for this process
Dried tomato: Cut in half and small amount of chive oil and dehydrate until ready. Store in a dry container. Cherry tomatoes are best for this process.
Tartare (tomato): Blanch in hot salted water for 20 seconds, add to ice bath to cool down. Peel off the skin and de-seed. (save seeds) Chop very fine and even, marinate in thyme oil salt and pepper. Cherokee purple tomatoes are best for this process.
Raw tomato: Seconds before adding to the plate cut into bite size pieces and rearrange to look whole again top with brown butter breadcrumbs. Add thyme leaves. Beefsteak tomatoes are best for this process.
SMOKED CHEESE CREAM. Equal Parts smoked cheese and cream cheese. Add to blender and mix until very smooth, add small pinch of salt to taste.
BROWN BUTTER BREADCRUMBS. Make brown butter and add to breadcrumbs, completely mix and then dry adding Maldon salt.
THYME OIL. 2 parts oil to 1-part thyme leaves, pick all the leaves from the stems blitz for 6 minutes on speed 8. Place mixture into a container and blast chill straight away. Leave to infuse over night, pass and discard pulp.
TOMATO CONSOMMÉ. 100g green tomato, 150g red tomato, 400g celery stalks, 250g shallots, 4 crushed garlic gloves, 30g salt, 125g sugar, 1 bunch of each chervil, coriander and parsley.
Once chopped add all ingredients to a thermomix of blender and blitz until completely broken down. Place all the mix into a container and leave to infuse overnight. The next day strain through a towel and leave to filter. Once drained spread mixture on to drying pads and dehydrate over night or until very dry. Add to thermomix and blitz until fine powder is formed. Pass through a fish net and add to a dry container.
PLATING. Arrange tomatoes in a circle building upwards make sure you can identify each one so nothing should be covered, fill holes with cheese mix, max 6 dots. Garnish with herbs and flowers and finish with a small dusting of the consommé powder. Add 4 drops of thyme oil to the Consommé which should be poured at the table served very cold.
Happy Cooking!
Natalia Bohórquez Rodríguez
Colombian based in Barcelona • Master in Marketing / Gastronomy • PR & Culinary Liaison • Food writer • @nataliabhqz