In a time where chefs are celebrated as rock stars, some of them tend to forget which restaurant they are working in and who their guests are. For the 35-year old English chef Andrew Clatworthy, knowing and understanding his guests is at the core of his philosophy. He has made it the foundation for his no waste, locally based cuisine at TRIO Restaurant, sister restaurant of the two Michelin-starred AOC on the top floor of Axel Towers in Copenhagen with a view to the entire city.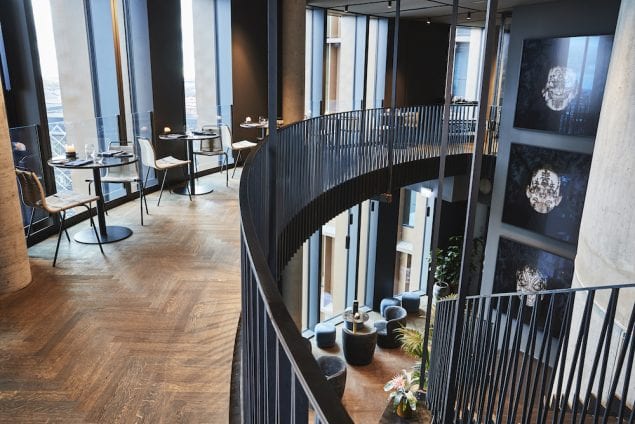 Andrew, you are the new head chef at Trio. Tell us a little bit about yourself and how you ended up here.
I am 35 years old and I come from Southern England. Before I came to Denmark, I was the head chef at The Rummer in Bristol (which he brought to the Top 50 Pubs in the UK by The Good Food Guide). At the same time, back in 2016, I was handpicked for a TV show called Great British Menu, a competition for professional chefs. It didn't really go well to be honest and simultaneously, everything was very busy at the restaurant, especially with administrative tasks that didn't have anything to do with cooking. I started to doubt if I was really ready for a head chef position and I wanted to start all over again. Right after, I had an amazing meal at Noma in Copenhagen, and that was the time I decided to go for a fresh start as a line cook.
I wrote an email to all the restaurants that I wanted to work for in Copenhagen, and I got an answer from 108 (a sister restaurant of Noma). I did a trial, got offered a job, flew back to England and sold my apartment and moved to Copenhagen. I spent the next 1,5 year working at 108 before I was offered the opportunity to take over the position as head chef at TRIO.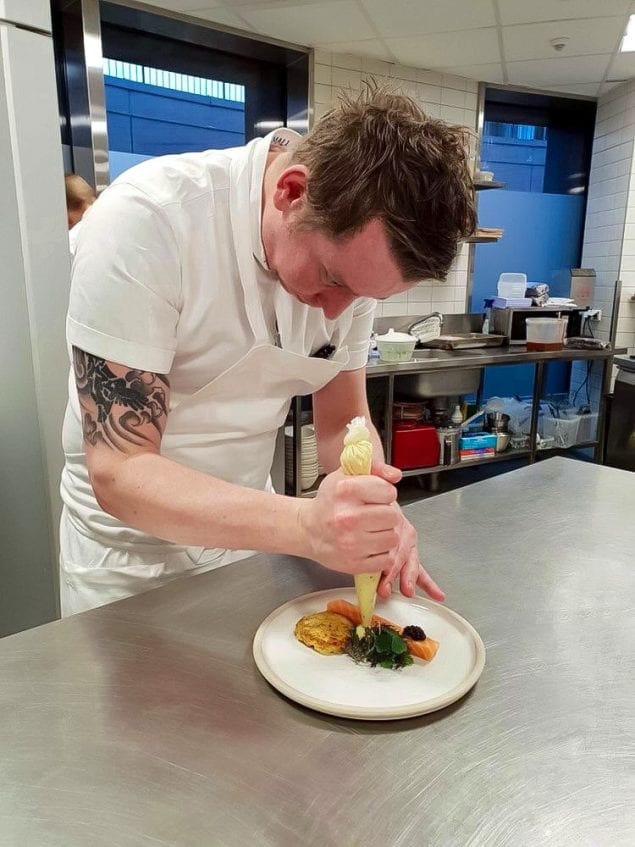 What in particular did you learn during your stay at 108?
A lot! It was a work environment that I had never seen before and it took me way out of my comfort zone. The setup was very different and I had never had a full-time job in a restaurant with more than 10 chefs. At 108, we were 15 chefs every day. I learned a lot about discipline, new flavours and how to balance them.
You are now back in charge of a restaurant. What are your ambitions for TRIO?
First of all, I want a restaurant full of happy guests. Nothing scares me more than the thought of a table that doesn't like the food. Often, people have been looking forward to eating here for a long time, building expectations, thinking about which clothes they should wear – it scares me not to deliver. I want a busy, healthy business and a room full of happy guests. That's much more important to me than any kind of accolade.
How are you going to ensure a restaurant full of happy guests?
It is very important to have in mind who you are actually cooking for. Chefs tend to forget that and they start cooking more for themselves than their guests. I do not want that. TRIO is a restaurant where people come to enjoy the view and have a good time with family, friends or business partners. Obviously, they also come here to eat well. People here do not want anything too extreme. They like when they are able to recognize what they are eating and at the same time, it should be elaborated to a certain point. It's our job to make sure that we serve interesting, personal food to the guests.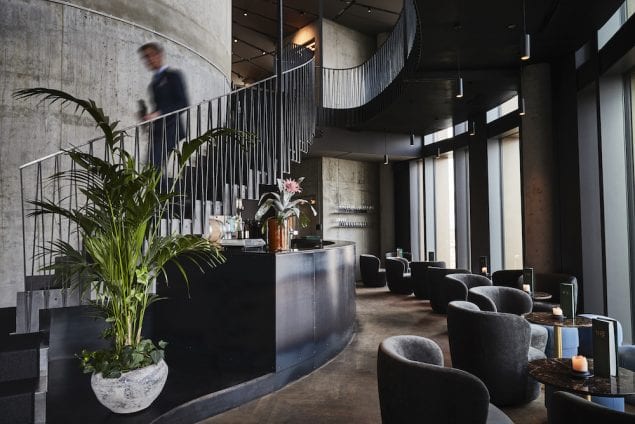 How would you describe the style of cooking at TRIO?
Nothing comes before flavour. Period. Yes, a dish should look nice but ultimately it's all about flavour. A dish could look like the most artistic thing but if it isn't delicious, it is pointless to me.
I have been cooking since I was 13 years old and from the very beginning, using absolutely everything of each and every piece of produce has been the most important thing to me. This is a strong part of our identity here at TRIO – we have more or less no waste of food. On the current menu, we have a dish with pan-fried which flounder with a sauce based on fermented asparagus peels that we made when the asparagus season was at its peak. We also add fish stock made of all the leftover fish heads as well as vinegar made from the stems that we had left after making dill oil – it's one big circle.
I would describe my style as being based on Scandinavian presentation and French cooking with a splash of English flavors like mustard and vinegar. I have a former colleague who ate here a while ago and as soon as he tasted our bread serving with butter dusted with vinegar powder, he immediately KNEW it was me. I do not want to cook the same stuff as all the other restaurants. We try to do our own thing. We do not want to copy any of our colleagues here in Copenhagen.
Why is sustainability so important to you?
Is has been common sense for me since the beginning of my time as a chef, way before it became fashionable. I hate wasted food – it's simply ridiculous, both from a financial and environmental point of view. Throwing food in the bin is like throwing your money away and at the same time, we have people starving in many areas of the world – how can we justify throwing food away? Everybody can throw food in a bin – I would rather look at what you can do with the stuff that goes in the bin. I have always believed in that. 
Is it important to you to pass it on to your staff?
Yes, more than anything! I constantly try to encourage my team to be as creative with all the leftovers, trimmings etc. and they really love it. I have 17-year-old students who are trying to figure out how they can use the peel of a radish or the shell of an onion. It really keeps me motivated.
Apart from that, what are the most important things to learn for a young chef?
It is very important to learn where the food is coming from in order to respect it. Today, it's so much about tweezers and all the young chefs are expecting to get three stars right away – that is not the purpose. Patience is important!
In my opinion it should be a part of the education how to run a restaurant from a financial and environmental point of you. Everybody can learn how to fry a steak but only the people who care about waste and a healthy business will turn out as good chefs.
How has your cooking developed since you moved to Copenhagen?
It has become better! Back in England, I was constantly focusing on trying to impress people. My though was: How much can I add to this dish. But at 108, I learned that a dish does not need twelve things to be good – it needs three or four components done perfectly. This is what I have implemented here at TRIO.
What is your general opinion about the food scene in Copenhagen?
Copenhagen – and Denmark in general – is in my opinion different to all the other countries. It's simplicity done perfectly. People here don't want you to show off and overcomplicate things.
I think Copenhagen has the best food scene in Europe right now and instead of fighting each other, the restaurants really stick together and support each other. Copenhagen is definitely my home now.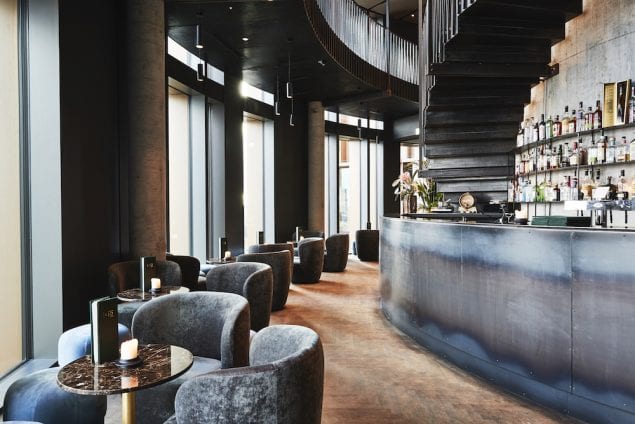 Dining at TRIO
Copenhagen is not exactly the city with the tallest buildings full of lively skyline bars and restaurant, hence TRIO is definitely an exception on the Copenhagen dining scene. The restaurant is located on the upper floors of one of the three buildings making Axel Towers, just across the street from Tivoli. The view to Copenhagen is second to none and it makes TRIO very special in that regard. The restaurant is owned and run by the Danish top sommelier Christian Aarø, who also owns the two Michelin-starred AOC as well as the Nordic brasserie No. 2, both of them located in Copenhagen as well.
The food is based on local, fresh ingredients of the highest standards available. Nothing is too challenging, yet it has a personal tough to it. The tartar is made of tender, dry-aged Danish ribeye topped with berries, mushroom mayonnaise and pickled onions and tastes as delicious as it looks.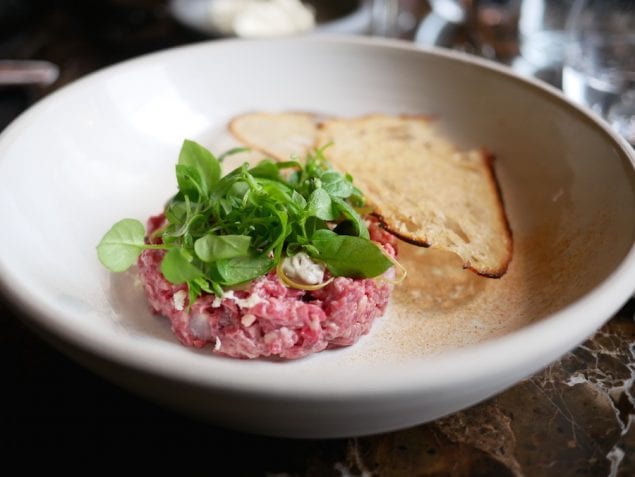 The servings of which flounder serves as the perfect example of Andrew Clatworthy's culinary style. The perfectly cooked fish with a crispy upper is lying on a spoonful of creamy sautéed leeks – an English greeting from the chef. The sauce is the essence of the no waste philosophy: Instead of using white wine for this beurre blanc-like sauce, the foundation is based on fermented asparagus water, dill vinegar and a stock made of fish heads – "waste" turned into a delicious, complex sauce.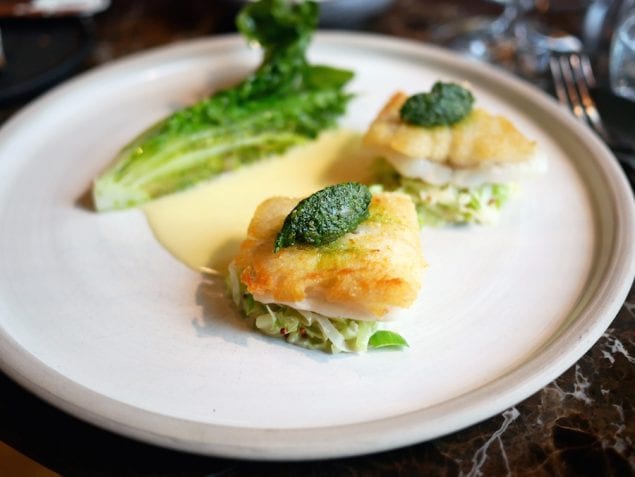 All in all, TRIO is a wonderful place to go for either lunch or dinner, when the dining experience is not supposed to be too complicated and challenging. Everything is cooked to perfection and it is accompanied by wonderful wines from the classic selection of bottles – at least one place in Copenhagen has not fallen for the natural wine trend.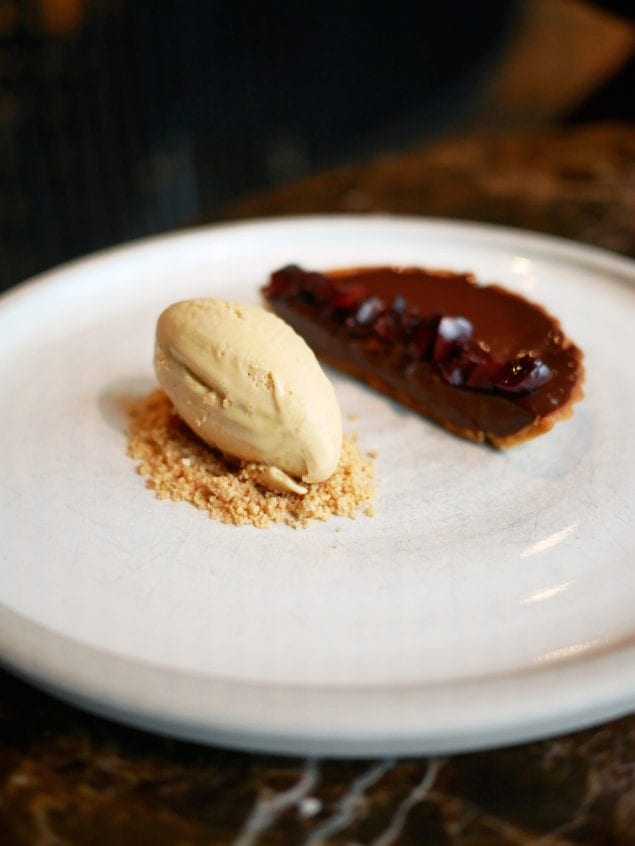 TRIO – Axel Towers – Jernbanegade 11 – 1688 Copenhagen K – www.restauranttrio.dk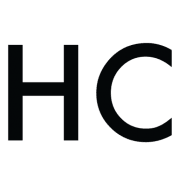 Rasmus Palsgard
Rasmus Palsgård is Danish journalist by profession living in Copenhagen. He is one of the leading food and wine writers in Denmark contributing to the leading media in Denmark. Rasmus Palsgård is the Danish chairman of the sustainable restaurant list 360 Eat Guide. He also a passionate home cook and in 2016, he was one single mistake away from winning the Danish edition of MasterChef.