Eggplant and Potato Gnocchi are a unique spin on a classic Italian dish. While subtle, the eggplant gives the gnocchi its own distinct flavor.
Since that very first bite of my Mother-In-Law's wonderful potato gnocchi over forty years ago, I have had a love affair with gnocchi. A well-made gnocchi should be delicate enough to be described as tender, yet sturdy enough to hold its own when combined with the sauce. Gnocchi are dumplings, and can be made of almost any ingredients that can be formed into a dough. Gnocchi, (pronounced NYOK-ee) are made in most regions in Italy, although they are often made with different ingredients in each.
When I came across a recipe for gnocchi that included both eggplant and potatoes I was so intrigued that I simply had to try it. I will preface this recipe right at the start to warn you that if you do not care for eggplant than this recipe probably isn't for you. I love eggplant myself, so I decided to pair my eggplant gnocchi with a chunky eggplant sauce. Because this sauce made me think of Pasta all Norma, I decided to top my gnocchi with shredded ricotta salata cheese before serving but feel free to use grated Parmesan or Pecorino Romano if you prefer.
See Also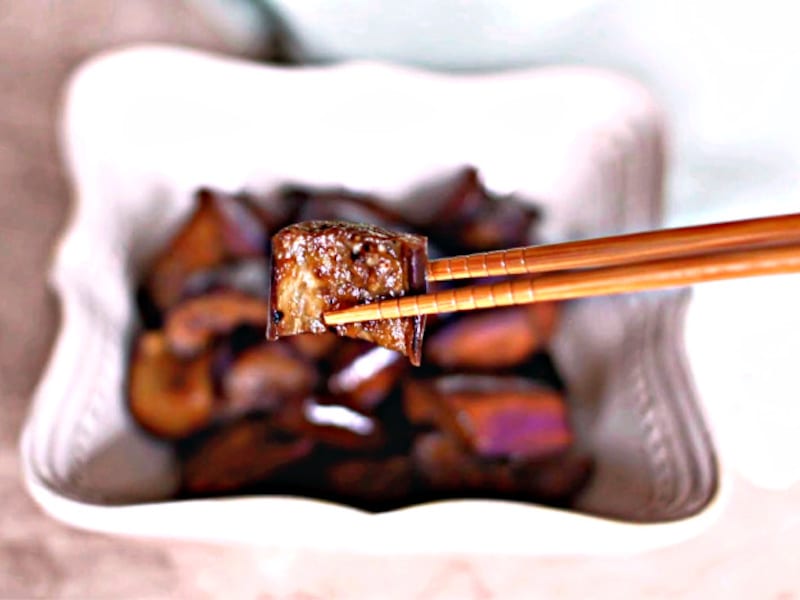 Print

Eggplant and Potato Gnocchi
---
Author:

Deborah Mele

Yield:

6

servings

1

x
Description
Eggplant and Potato Gnocchi are a unique spin on a classic Italian dish. While subtle, the eggplant flavor gives the gnocchi a distinct flavor that you and your guests will enjoy.
---
Eggplant Gnocchi:
1

Medium Eggplant (About

1

Pound)

2

to

3

Potatoes (About

1

Pound)

1

Egg

1/3 Cup

Grated Parmesan Cheese

1

to

1 1/2

Cups All-purpose Flour + Extra For Rolling
Eggplant Sauce:
3 Tablespoons

Olive Oil (Divided)

1/2 Cup

Finely Chopped Onion

4 Cups

Diced Peeled Eggplant (Cut Into

3/4

Inch Pieces)

3

Cloves Garlic (Minced)

1

14 Ounce Can Crushed Tomatoes

3 Tablespoons

Tomato Paste

3/4 Cup

Water
Salt & Pepper To Taste

1/2 Teaspoon

Hot Red Pepper Flakes

1 Teaspoon

Dried Oregano

3 Tablespoons

Chopped Fresh Basil
To Serve:
Shredded Ricotta Salata (Or Grated Parmesan or Pecorino)
Fresh Baby Basil Leaves
---
Instructions
To make the gnocchi, preheat the oven to 400 degrees F.
Cut the eggplant in half and place on a baking sheet cut side down along with the potatoes.
Bake the eggplant and potatoes until fork tender, about 50 minutes.
Let sit until cool enough to handle.
Scoop the flesh from the eggplant and puree, then place in a strainer in the sink for 30 minutes.
Scoop out the potato from the skin and pass through a ricer into a bowl.
Once drained, add the eggplant pulp, egg, and cup of flour.
Stir until mixed then dump onto a lightly floured surface.
Use your hands to lightly knead just enough to bring the dough together, dusting with additional flour as needed to prevent sticking.
Roll the dough into 1 inch thick logs, dusting with flour as needed.
Cut the dough into 1 inch pieces and place on a lightly floured baking sheet.
Refrigerate until needed.
To make the sauce, in a non-stick pan, heat the oil over medium heat until lightly smoking.
Add the onion and eggplant, and cook until they are both soft and lightly browned, stirring as needed to prevent sticking, about 8 minutes.
Add the garlic and cook an additional minute or two.
Add the remaining sauce ingredients, and cook over low heat until the sauce is very thick, about 30 minutes.
Heat a large pot of lightly salted water to a boil.
Cook the gnocchi just until they float to the top, then remove to a large bowl.
Add a ladle or two full of sauce to the bowl and gently toss the gnocchi to completely coat in the sauce.
Serve the gnocchi in individual bowls, topped with a little extra sauce, some shredded ricotta salta, and a few baby basil leaves.
Deborah Mele
Deborah Mele is a self-taught cook whose passion for Italian cuisine began after living in Milan, Italy for 8 years. Although not Italian by birth, she became a true Italian by heart and palate. Deborah created her Italian recipe blog ItalianFoodForever.com 12 years ago to share her passion for Italian food. During her various travels throughout Italy, Deborah fell in love with the central Italian region of Umbria so when they retired, Deborah and her husband bought two farmhouses there where they now reside for six months a year and run a farmhouse rental for guests and give cooking classes.