Eggplant slices are dipped in egg and Parmesan then pan fried. Stack the eggplant with spoonfuls of sauce and mozzarella and broil until it is hot.
I can still remember the first time my mom made me eat eggplant. It was cooked Chinese-style – cut into slices, sautéed until soft with ginger, a ton of garlic and soy sauce. It looked…super gross. Mushy, gray-ish-purple chunks in goopy looking sauce? Seven year old Tina was not on board with that. Of course, seven year old Tina didn't have a whole lot of say in the matter, because my mom wouldn't let me leave the table until I had cleared everything in my bowl. As I recall, she cleared the table around me, sat down with a pile of work, and patiently waited me out. This type of duress-induced eggplant eating definitely did nothing to endear me to the vegetable.
It wasn't until high school, when I went back to China for the first time that I finally acquired a taste for eggplant. Honestly, I only ate it at first because it was the only dish that didn't have a billion peppers in it. But then I realized that eggplant was actually super delicious, especially with garlic and ginger and that previously gag-inducing goopy sauce. It was a revelation!
Now that I love to eat eggplant, eggplant parm is one of my favorite foods.
See Also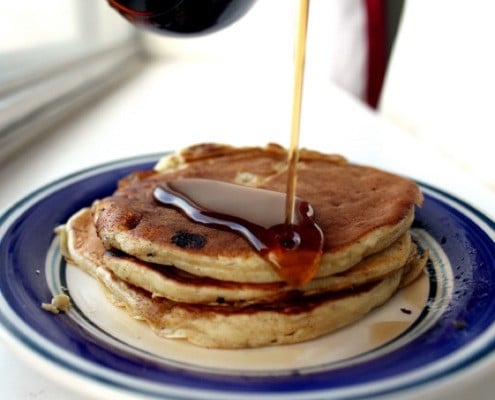 For my recipe twist, I decided to skip the bread crumbs and lightly batter my eggplant slices in a thin coating of egg and Parmesan, then pan fry them rather than go the tradition oven route. To put the dish together, I stacked the cooked eggplant slices, with generous spoonfuls of sauce and shredded mozzarella between the layers, and lightly broiled the completed stacks until the cheese was hot and melty. The resulting dish was simultaneously hearty and filling, but light and healthy; and the earthy flavor of the eggplant melded wonderfully with the savory goodness of the red sauce. Definitely one of the best versions of eggplant parmesan we've ever had, and one that we're going to keep in our recipe arsenal forever!
Print
---
Author:

Tina Putzing

Yield:

2

-

4

servings

1

x
2

large eggplants

1

jar Ragu® Old World Style® Traditional Sauce

2

eggs

1 cup

grated Parmesan cheese

1 cup

shredded Mozzarella cheese
Olive oil (or cooking spray)
Salt
Pepper
---
Instructions
Slice both eggplants into quarters (i.e., 4 wedges, like if you were cutting a potato), then cut those into ¼-inch slices length-wise. (Note from Dan – Why did you cut your eggplant into quarters? I'm just going to start at one end and slice my way down. And have round slices instead of weird triangular slices.)
Sprinkle eggplant slices with salt, to taste. Allow salted eggplant to sit for 15-30 minutes.(If you wish, you can rinse the salted slices and pat dry with paper towels. We love salt in our house, so I didn't.)
In a deep dish, mix together eggs and Parmesan, then season with salt/pepper to taste.
Spray a skillet with cooking spray, or coat the bottom of the skillet with about 1 tbsp olive oil. Heat skillet over medium-high heat.
Dip eggplant slices in your egg/Parmesan batter and allow excess to drip off.
Place slices two or three at a time in your hot skillet.
Fry on both sides until tender/soft and golden-brown. Set cooked slices aside on a plate. (Re-apply cooking spray/olive oil to your pan as needed after each batch.)
Repeat steps 5-7 until all slices are cooked.
Set oven to low broil.
Arrange the dish by placing one eggplant slice on the bottom of a baking sheet, then spoon some of your Ragu sauce on top, sprinkle on some Mozzarella, and then top with another slice of eggplant. Repeat until you get as high of a stack as you want, making sure that your top layer is Ragu sauce + Mozzarella. I got 4 total stacks, with 6-8 slices eggplant each. (Note from Dan #2 – Individual stacks of eggplant parm? No. Nobody has time for that. I'm layering my circular slices in a baking dish and creating family-style big eggplant parm.)
Place baking sheet in your oven, and broil for about 1-2 minutes, or until cheese on top is hot and melty/bubbly.
Remove, and serve immediately.
Category:

Main, Primi

Cuisine:

Italian-Inspired
Tina Putzing
I am an attorney, a lover of reality television (esp if food is involved), a stress-eater, a voracious reader, and a shameless sci-fi/fantasy nerd. I love to eat, I love to cook, and I love to make other people eat what I cook.