With an endless variety of Thai food available at every turn, Jessica Smith finds that this simple fried rice is the thing she craves the most.
By Jessica Smith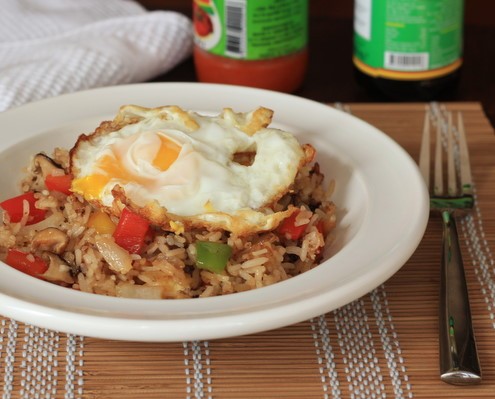 When I moved to Thailand in November, I anticipated the many changes that it would bring about in my daily life. Certainly, I knew that the hot climate, rich culture, and new language would require that I learn and adapt. As I am wont to do, I also anticipated the delicious changes in my diet brought on by unlimited access to fresh tropical fruits and vibrant street food.
I constantly crave the casual, cheap food that is sold on every corner in Bangkok. The smell of meat grilling and vegetables sizzling in hot oil are always present. The aromas of the food make for highly effective marketing, as it is virtually impossible to walk by without stopping for a look…or a taste.
What I did not anticipate was that even my breakfast cravings would evolve as a result of making Bangkok my home.  In the morning, the first thing on my mind is fried rice. Instead of a bowl of cereal or oatmeal with cinnamon (things that I loved in the morning in the United States), I find myself thinking exclusively about rice and vegetables topped with a fried egg.
And really, I've come to realize, why not fried rice for breakfast?   With the addition of rice and soy sauce, it's really only a few steps away from an omelet.
These days I keep individual portions of cooked rice in my freezer or refrigerator to whip up into this quick meal.  Try it once and I suspect you, too, might be glad to have it in your no-fuss dinner arsenal.
Who knows? You might even want to make it for breakfast.
Print
Vegetable Fried Rice
Fried rice is endlessly variable and is a great way to turn leftover rice and vegetables into a quick and easy weeknight meal.
Author:

Jessica Smith

Prep Time:

10 mins

Cook Time:

5 mins

Total Time:

15 minutes

Yield:

2

1

x
3 Tbsp

. vegetable oil, divided

2

eggs

1/2 cup

(

100g

) chopped onion

1 cup

(

200g

) mixed chopped vegetables (such as peppers, mushrooms, green onions)

1

garlic clove, minced

4 Tbsp

. soy sauce

2 cups

(

350g

) cooked white or brown rice, cooled to room temperature
Instructions
Heat 1 Tbsp. oil in a wok or frying pan over high heat. When the oil is hot, gently crack eggs into the pan. Fry eggs until the whites are cooked through but the yolks are still runny, about 3 minutes. Remove the eggs with a spatula.
Add the remaining 2 Tbsp. oil to the hot pan. Add the onion and vegetables. Stir-fry until onion begins to soften, about 2 minutes. Add garlic and soy sauce, stirring to coat vegetables. Add rice and stir-fry until rice is heated through and begins to brown on the bottom of the pan, about 2 minutes.
Serve immediately, topping each serving with a fried egg.
Notes
Any variety of rice will work in this recipe, but it will hold its shape best if allowed to cool to room temperature before using. (Or, even better, if used after having been chilled in the refrigerator.)
For variations, consider one of the following combinations for the 1 cup of chopped vegetables:
– whole roasted cashews and finely chopped pineapple
– corn and grape tomatoes
– sliced green onions and bok choy
– thinly sliced carrots and broccoli florets
Jessica Smith
Jessica Smith is a native of the American Midwest, currently living in Thailand where she writes about food and travel throughout Southeast Asia. Jessica believes that the best way to understand a place is through its local cuisine.