Easy, Cheesy Turkish Borek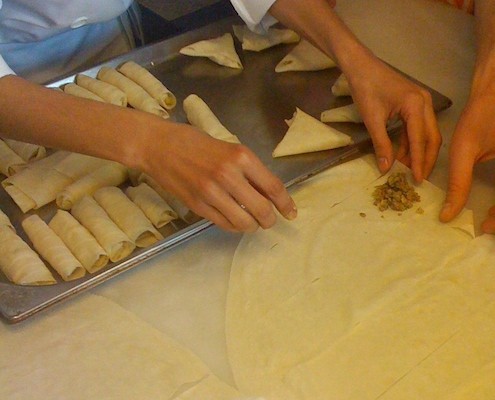 For as many cities as there are in Turkey, there are nearly equally as many types of borek.
By Allison Block
Borek is a type of savory pastry, prepared baked, fried or boiled, and filled with various ingredients including cheeses, spices, vegetables and meats. Sometimes, though rare, sweet fillings, such as rose petals or fruits, are used as well. It is such a treasured treat in Turkey that it can be found in nearly every restaurant, and particularly in pastry shops that specialize only in borek. The most commonly found and most sought after type is "su boregi" or "water borek".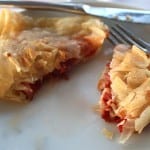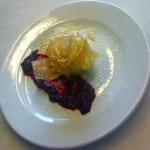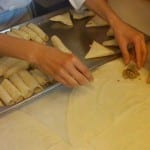 Though this particular recipe uses pre-made dough and not the "water dough" of its namesake, it is a simple alternative to enjoy this famous, national snack at home. Serve it up for your friends and family at breakfast, brunch, as an appetizer, or as a side to afternoon tea.
Try substituting other vegetables, cheeses, meats, or even fruits and sweets as filling. For example, cooked spinach and onions, or roasted red peppers and beef are delicious alternatives.
Easy, Cheesy Turkish Borek
An easy alternative to Turkish "su boregi" (water borek).
Recipe Type:
Appetizer, Breakfast, Snack
Ingredients
One package of phyllo (yufka) dough (usually found in the freezer section)
Oil to grease the bottom of a 9x13 glass pan
c (60 g) melted butter
Wet Filling:
2 eggs
c (120 ml) vegetable oil (or sunflower oil)
c (120 ml) milk
c (30 g) plain yogurt
Filling:
1 c (130 g) Turkish white cheese (feta cheese or a similar cheese can be used as a substitute)
c (30 g) plain yogurt
2 T (4 g) dill
bunch of fresh parsley
salt to taste
Instructions
Defrost the dough until it is pliable and easy to open. Keep it wrapped or covered with a moist towel to prevent it from drying out.
In one bowl, gently whisk the "wet filling" (eggs, oil, milk and yogurt)
In a separate bowl, mix the other filling mixture (cheese, fresh parsley, yogurt, dill and salt)
Grease the bottom of a 9x13 glass pan
Lay down, one sheet at a time of the phyllo dough (remembering to keep the remaining dough covered) to make one layer (you can fold them if necessary, but it's best to have just one sheet per layer)
Using a pastry brush, spread about 2 T of the wet filling on the first layer of phyllo.
Next, sprinkle a relatively sparse amount of the cheese mixture on top
Alternating in that order (phyllo, wet mix, dry mix) continue for about 4-5 layers until finishing with a layer of phyllo on top.
Using a pastry brush, finish by brushing the melted butter atop the final layer of phyllo.
Preheat the oven to 350 F (175 C) and cook for approximately 25-30 minutes until lightly browned on top. Cut into squares when cooled and serve.
Allison Block
Allison Block is a lover of all-things-Turkish-food related, including (but certainly not limited to): restaurants, recipes, and raki. She is a recent graduate of the Istanbul Culinary Institute and currently divides her time between Istanbul, Ankara and Alanya.