Miriam Garcia let's us in on the secrets to making perfect Spanish Easter Torrijas, the Iberian answer to French Toast.
Text And Photos By Miriam Garcia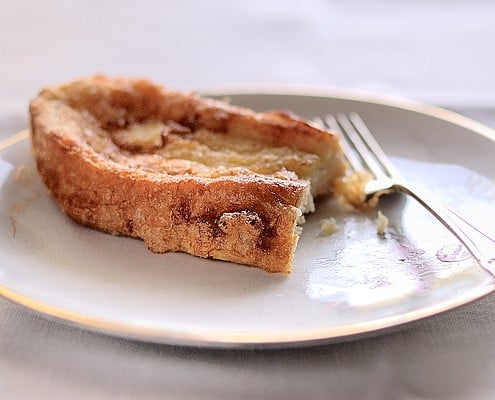 All relevant religious holidays in Spain have a reflection in the food. Spain was a strictly Catholic country for centuries with the liturgical periods tightly marking the habits, and with food rules that had to be obeyed. Though nowadays the religious rules regarding food, like fasting during Easter, are largely overlooked, funnily enough the food traditions remain and making torrijas at home for the Easter celebration, usually a labor holiday lasting four days, is one of them. Also you can find them in pastry shops, restaurants and bars all over the country during this feasting period. Torrijas are apparently a rather ancient recipe, as they first appear quoted by a Spanish author in the 15th Century. Now… listen to yours truly pronouncing this funny word here.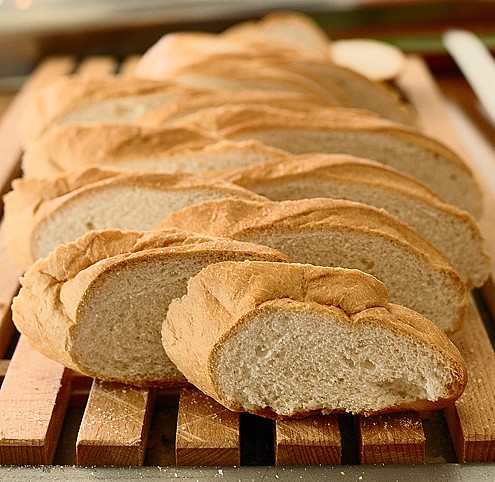 Torrijas are a very simple dish, quite similar to French toast and pain perdu, most often made by soaking slices of stale bread in sweetened milk, also flavoured with cinnamon or vanilla, then bathed in beaten egg, fried in oil and sprinkled with a mixture of sugar and powdered cinnamon. In fact, another one of the many ways developed by the not so well-off to use up bread leftovers. Though today bread especially baked for the purpose of making torrijas can be bought. As it usually happens with most traditional dishes, the perfect ingredients and method are controversial matters, torrijas made with sweet wine instead of milk and others bathed in syrup after frying being also popular. But of course, the best torrijas are always one's mother's, no discussion about it…
Print
Torrijas, Spanish (not-French) toasts
---
Author:

Miriam García

Total Time:

2 hours

Yield:

16

units

1

x
Description
Torrijas, traditional Easter fare in Spain, are a Spanish version of French toast or pain perdu
---
1

bread loaf (with tight crumb, no baguettes here) bought the day before and let go stale

4 cups

(

1

liter) whole milk

3 tbsp

sugar (or honey if you prefer)

1

stick cinnamon

3

–

4

eggs
Sunflower oil or other insipid oil for frying
Sugar and cinnamon for sprinkling
---
Instructions
Cut the bread into 1 inch (2.5cm) slightly diagonal slices. Arrange them on a shallow dish that can hold the milk.
Put all the milk in a saucepan with the sugar and the cinnamon stick, bring to a boil. Turn off the heat the moment it starts to boil and leave to infuse for 5 minutes.
Discard the cinnamon, then pour the milk on the bread and let soak for one hour.
Beat the eggs in a plate large enough to hold at least one torrija.
Heat the oil to medium in a large frying pan that can hold several torrijas at the same time. With a large spatula (the bread will be overly soft), carefully transfer the soaked slices one by one into the egg and turn them to coat. Then dip the slices into the hot oil.
Fry for 3-4 of minutes on each side, until brown.
Take out to a dish lined with a paper towel and thoroughly sprinkle with sugar and cinnamon. Try not to pile them up while warm. Enjoy warm or cold.
Prep Time:

1 hour 15 mins

Cook Time:

45 mins
See Also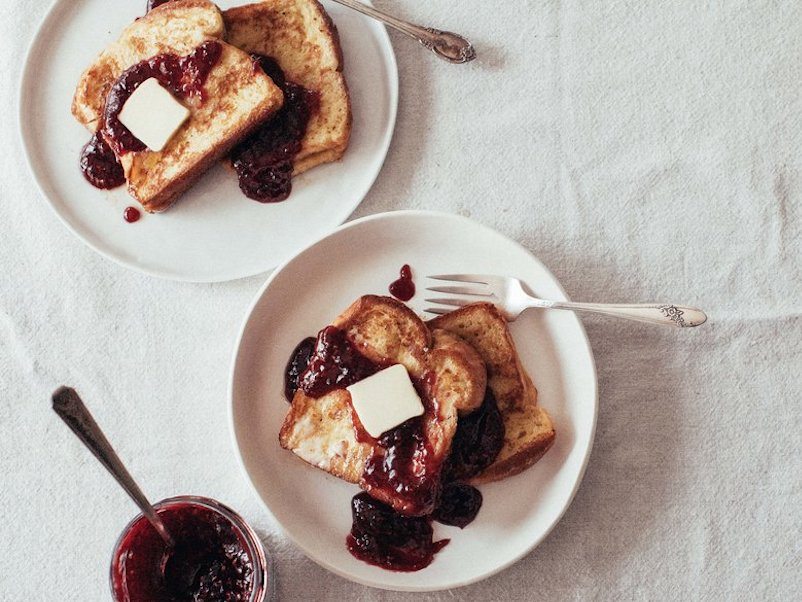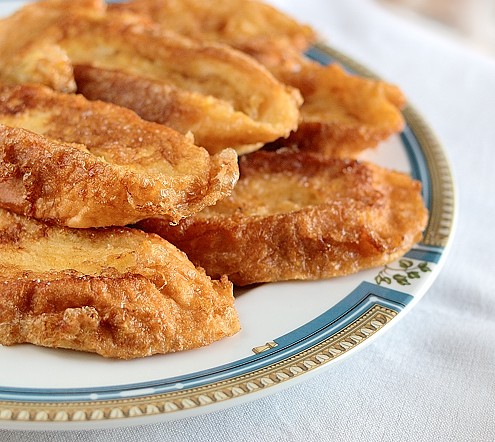 Tips for superb torrijas: I find the result is best when you let the bread go very stale before soaking, so that the slices can soak as much milk as possible and yield a very creamy inside afterwards. So what I do sometimes is to slice the bread before letting it dry overnight, to assure that the loaf dries thoroughly (and because slicing is a lot easier while the bread is soft). And I recommend you make sure that the slices soak as much milk as feasible, so it is best to check how they are doing within say 20 minutes after pouring the warm milk on them, because you can always add a little more if the slices have soaked up all the liquid in the dish, say another cup. For me these are indeed the secrets for a lusciuosly creamy interior that looks and tastes more like pastry cream than like plain milk-soaked bread. Because that is what I really love about torrijas, that the alchemy of soaking and frying metamorphoses the simplest ingredients into something different and truly delicious.
Try another great Spanish recipe – Padron Peppers – here.
Miriam Garcia
Born in Madrid, Spain, Miriam lives in a small town North-West of Madrid with her family. Passionate foodie and amateur photographer, her liking for cooking originates mostly from her mother and her paternal grandmother. Miriam is the creator of the awarded Spanish food blog The Winter Guest.