Joana Mendes about childhood Easter memories, and with the perfect recipe for Roasted Potatoes.
Text And Photo By Joana Mendes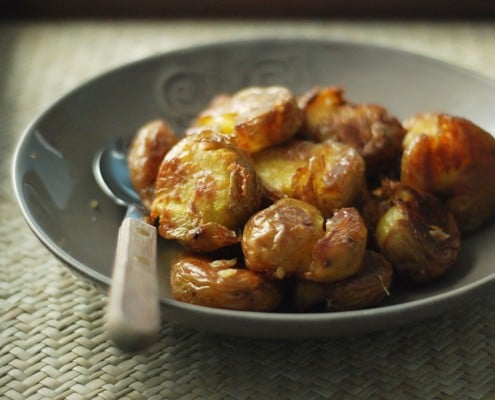 My father's relatives live in a small city in the north of Portugal, where roasted meats and typical portuguese sweet treats are the most popular local foods. When I was little, we used to go there on Easter, and we'd typically have lunch at one of my aunts house and buy pão de ló (a portuguese cake, almost like a sponge cake, specially eaten on Easter and made of dozens of eggs, sugar and flour) from their little pastry shop. I still do remember quite well how things were arranged: a long table was set in order to sit up to fifteen people, and roasted lamb was served with equally roasted potatoes and a salad of assorted leaves and tomatoes.
Everybody loved it, except my uncle Afonso, the tinniest and slimmest man at the table, who always asked for boiled fish, potatoes and greens instead. I never really liked lamb either but, unlike my uncle, I was afraid to disappoint my aunts, who have certainly been in the kitchen all the morning preparing the food (ironically, some years later – when I turned vegetarian -, I replaced Afonso as the pickiest family member when it came to eating habits).
Things have changed substancially throughout the years: these days, we don't go there around Easter time to have lunch, and it's my grandmother who prepares the lamb. These days, I also skip the meat but I'm all thumbs-up for the roasted potatoes. So, on Easter sunday lunch, I can certainly be found eating side dishes – mainly potatoes and salads – and maybe a small piece of grilled tofu or any other source of vegetable protein.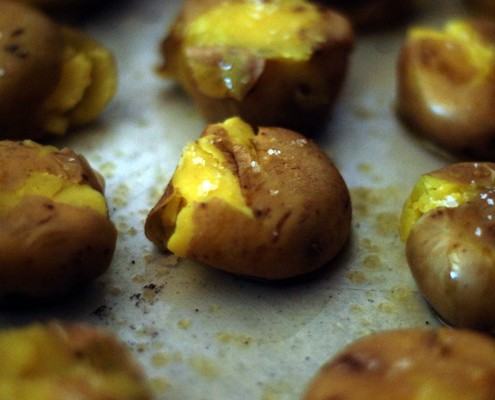 The secret for perfectly roasted potatoes is, in my humble opinion, to follow these simple steps: to boil the potatoes first (for no longer than 10/12 minutes) and then, right before putting them in the oven, punch them lightly with your fist. This way, the potatoes will flatten a little and you'll get more surface for even browning and crisping in the oven. In Portugal, we call this way – or technique – of roasting potatoes "punched potatoes", and it's a side dish that frequently accompanies roasted meats and codfish, not only being served on Easter but also on other festivities and even throughout the year.
Print
Roasted Potatoes
Simple, yet tasty, roasted potatoes recipe
Author:

Joana Mendes

Prep Time:

10 mins

Cook Time:

40 mins

Total Time:

50 minutes

Yield:

3

to 4

1

x
650 grams

(about

22

units) small yellow potatoes, unpeeled
olive oil
coarse salt

4

large garlic cloves, left whole and unpeeled
Instructions
Preheat the oven to 180°C (350°F)
In a large pot, pour about 1 liter (4 cups) of water and bring it to a boil. Once boiling, add the potatoes and 2 teaspoons of salt and cook, at a medium boil, for 10 to 12 minutes. To make sure the potatoes are cooked, run a knife into one of them: if the knife slides easily, you're good to go. Also, do your best not to overcook the potatoes, or they'll fall apart when you mash them.
When the potatoes are boiled, wash them under cold running water to prevent them from continuing to cook, and also to make them easier to handle with your hands. Now, place the potatoes in your cutboard and, using your fist, punch them so that they flatten a bit.
Place the potatoes and the garlic cloves in the baking tray. Add a pinch of salt and drizzle a little olive oil over each potato. Bake the potatoes in the pre-heated oven for 15 minutes. After that time, turn the potatoes, drizzle more olive oil over them, and bake for additional 15 minutes.
When the potatoes are done, transfer them to a large serving dish. Peel the garlic cloves, mash them with the back of a fork, and add them to the potatoes, mixing well to combine. Serve immediately.
Joana Mendes
Based in Porto, Portugal, Joana Mendes is the cook, photographer and editor of the Veggies On The Counter food blog. She loves seasonal and natural produce, and her focus as a cook and writer is on whole foods and vegan cuisine.