Eit is a newly-opened restaurant in Rome from one-Michelin starred Chef Luigi Nastri. They don't have a menu with traditional dishes listed but instead a list of 8 ingredients that the diners can choose from. Everything about the restaurant is about the number 8. Eight half seasons, 8 wine varieties for the wines and 8 tastes and flavors, even 8 tables.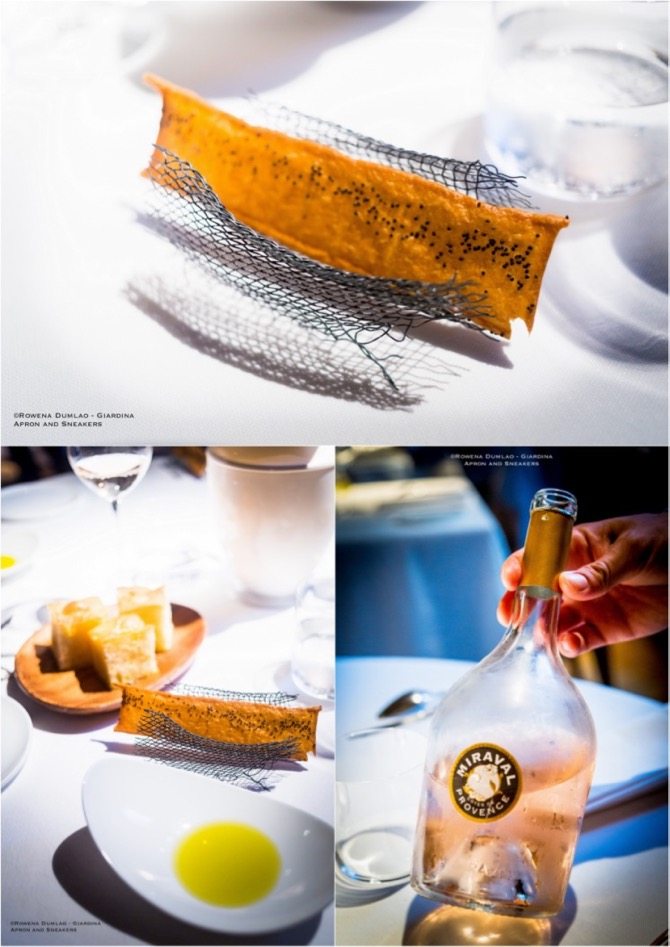 Eit. Pronounced like eight in English and signifies a lot of things that pertain to the number eight. In fact, Eit was born out of that number. Pino Cau of Hotel Rex, along with Chef Luigi Nastri, the one Michelin star chef of Stazione di Posta in Rome embarked on a new gastronomic adventure by opening another restaurant in the capital. Formerly another Michelin star restaurant inside Hotel Rex, Eit took over its compact space with eight tables for its diners with a new concept of approaching fine dining.
Putting his culinary inspiration at its best, Luigi takes the number eight to a different level. His dishes underline eight flavors and tastes, the principals of which are salty, sweet, sour and bitter. And then there are the others which are spicy, fat, umami which originates from Asia, a rather sapid flavor that corresponds to the flavors of glutamates. Finally, to close the circle of eight tastes, the aesthetics which is essential and mental.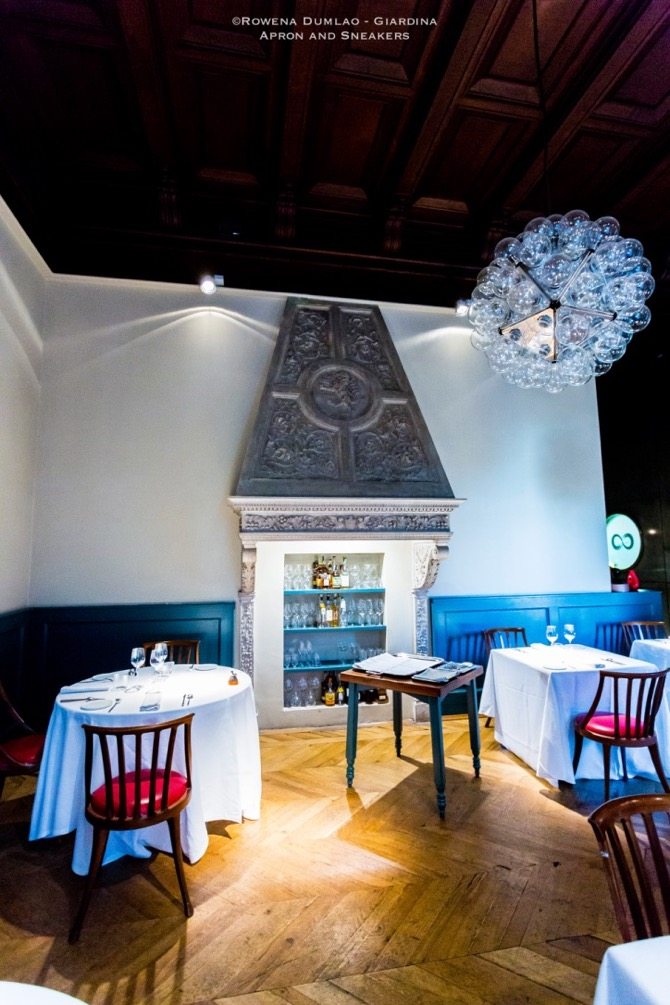 The ingredients are the protagonists in the kitchen where they are presented in a very minimalist menu. Instead of dishes to choose from, there are eight ingredients that pertain to eight half seasons (four seasons divided into half each). Luigi divided each season to half because sometimes it is hard to find ingredients with constant quality for four straight months. At Eit, you will have to leave everything to the chef's creativity with your choice of ingredients (one for each dish). Seasons change along with the ingredients and with these, Luigi adapts his original dishes which constantly change too.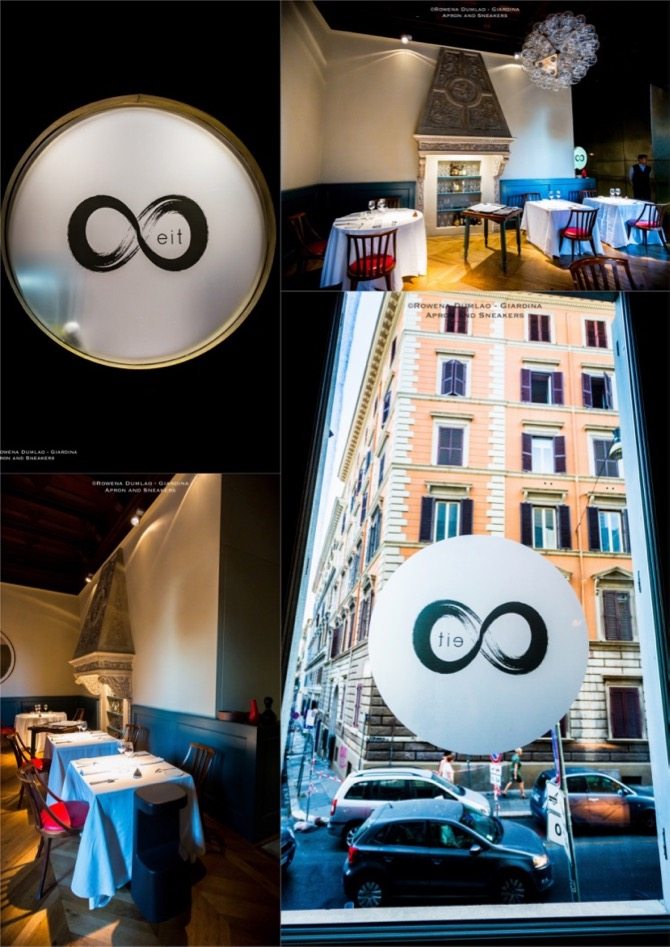 There are also eight grape varieties of the wines that you can pair the dishes with. Sommelier Claudio Gargiulo will make sure that you can have the best wines that go with your dishes. You can choose three kinds of degustations or tastings with or without the wine pairing. You can also just opt for a dish or two with a preferred bottle of wine to go with it.
The tasting dinner of six dishes was composed of:
First course: Shrimp, green tomatoes, tomato powder and caprino cheese from Abruzzo that was paired with a glass of Chateau Miraval Côtes de Provence Rosè, Grenache and Cinsault.
Second course: Ravioli with artichokes from Sardegna, vanilla and mussels paired with a glass of Passopisciaro Passobianco Terre Siciliane IGT Chadonnay 2015.
Third course: Cuttlefish, rhubarb and cacio e pepe that was paired with a glass of Castelfeder Tecum Pinot Bianco.
Fourth course: Beef alla pizzaiola cooked on burnt leeks, marinated lettuce, oregano paired with a glass of Vietti Perbacco Nebbiolo 2014.
Fifth course: Spaghetti with black garlic, almond foam, anemone and cuttlefish ink paired with a glass of Ettore Germano Herzù Langhe DOC Riesling 2015.
Sixth course: Ravioli with ricotta di bufala in honey and elderflower emulsion.
Degustation of 4 dishes: €70 / with wine pairing €95
Degustation of 6 dishes: €90 / with wine pairing €120
Degustation of 8 dishes: €120 / with wine pairing €145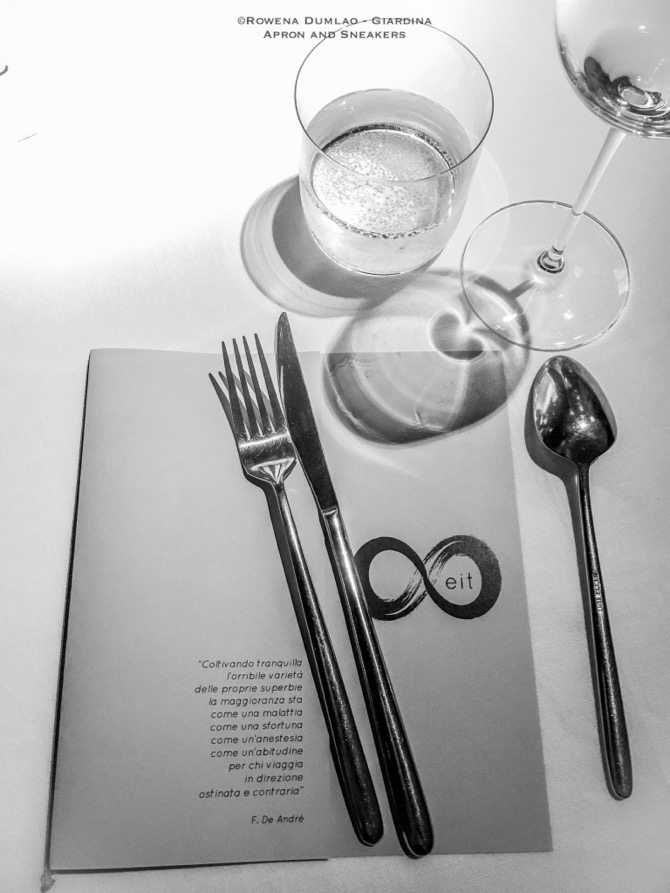 EIT means:
Eleganza (elegance), Estro (inspiration).
Ingredienti (ingredients), Imprudenza (imprudence).
Trasparenza (transparency).
These are the words in order.
– Eit Restaurant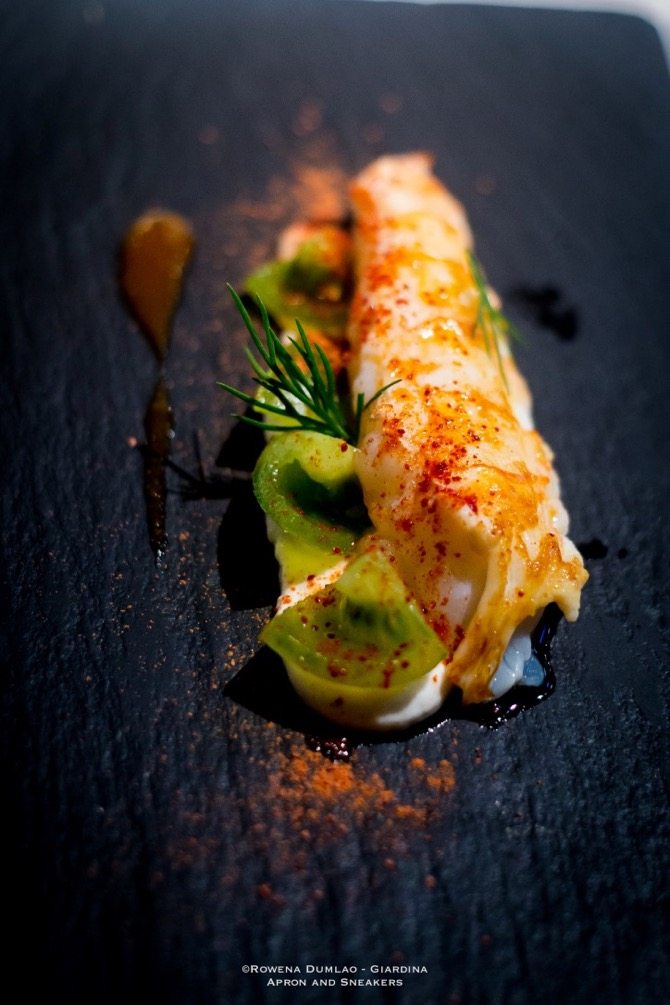 EIT RESTAURANT
Via Torino, 149
00184 Rome, Italy
Tel.: +39 064815702
Email: eit@eitroma.com / booking@eitroma.com
Open for dinner from Tuesdays to Saturdays, 19:00 to 23:00
Rowena Dumlao Giardina
Rowena Dumlao - Giardina is the author and photographer of Apron and Sneakers and The Chosen Table. Besides her blog, she's also a recipe developer and a travel writer for other food and travel sites.