Is chicken your go-to weeknight meal when you don't know what else to cook? Gussy up the usual bird with this spiced recipe served with cauliflower rice.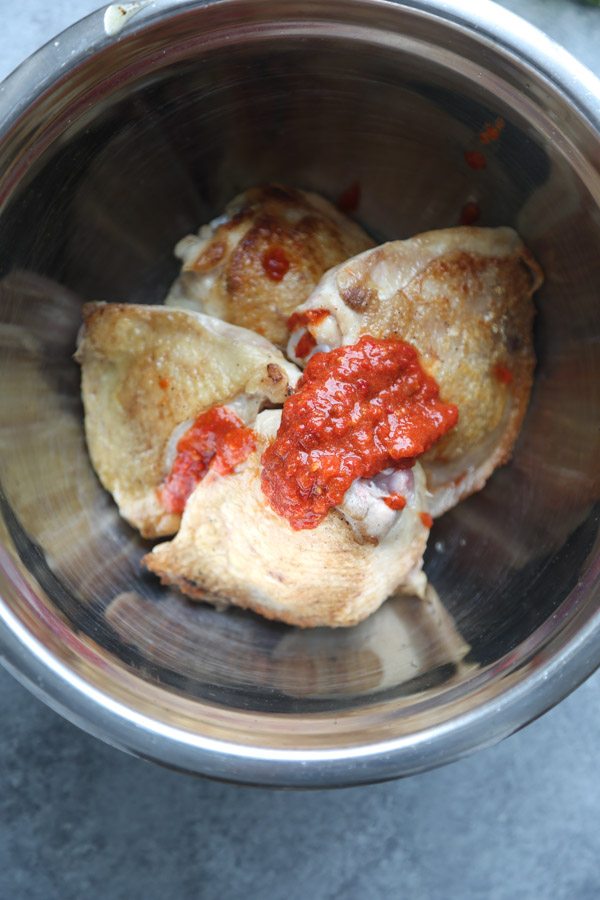 A few months ago, I taught a cooking class to a newly engaged couple in their home.
For those of you who are new here, this is a big part of what I do professionally in the cooking world. Teaching private cooking classes is an odd food job that takes up a few nights a week of my time.
Because New York is the land of small kitchens, I mostly teach couples. And because 'tis the season for endless weddings, a lot of the time, these couples have just taken a trip down the aisle, and now need to learn what to do with the 10-piece stainless steel pan set they've just managed to cram into their cabinets.
I wish I was hired to consult on their registries, prior to the friends and family spending spree, but that's a rant for another post…
A lot of these couples cook occasionally, but they want to learn new recipes. They find themselves in a rut of making the same thing every week.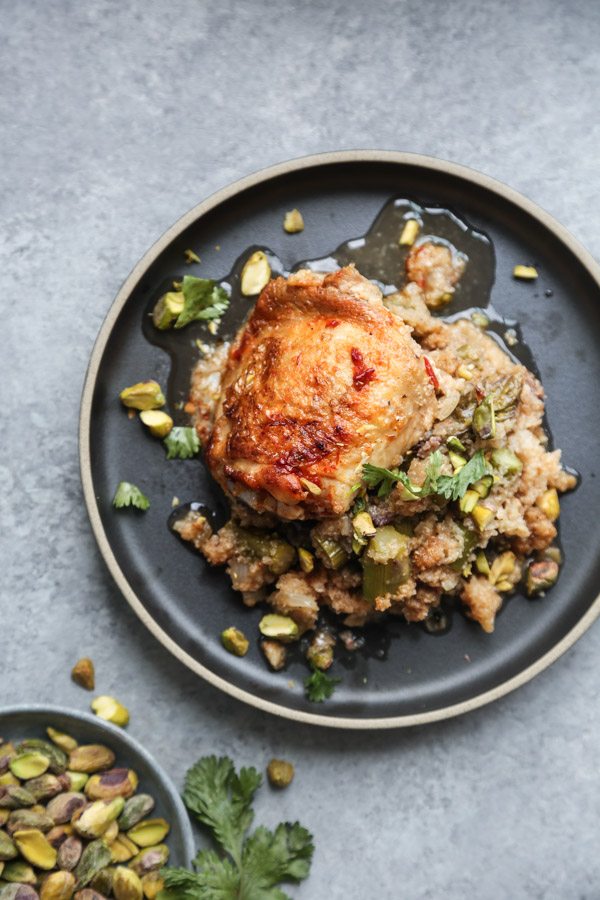 "We call it 'our dinner'" the gal said about their usual chicken with sweet potatoes and salad.
A) I thought this was adorable. B) despite my being the one to cure others of this pitfall, Charlie and I are guilty of the same rote cooking routines, and C) "their dinner" actually sounds a whole like "our dinner."
More embarrassing is that "our dinner" doesn't even involve that much cooking.
When we're feeling lazy—which is at least half the week—and I haven't done my due diligence of batch cooking for the week ahead, we'll cobble together "our dinner." It includes a whole organic rotisserie chicken from the overpriced market down the street, a simple arugula salad with lemon, olive oil and too much garlic, and an epic array of mayo-based condiments that already reside in my fridge.
The things is though: we love this dinner. We look forward to this dinner. Because it's OUR dinner.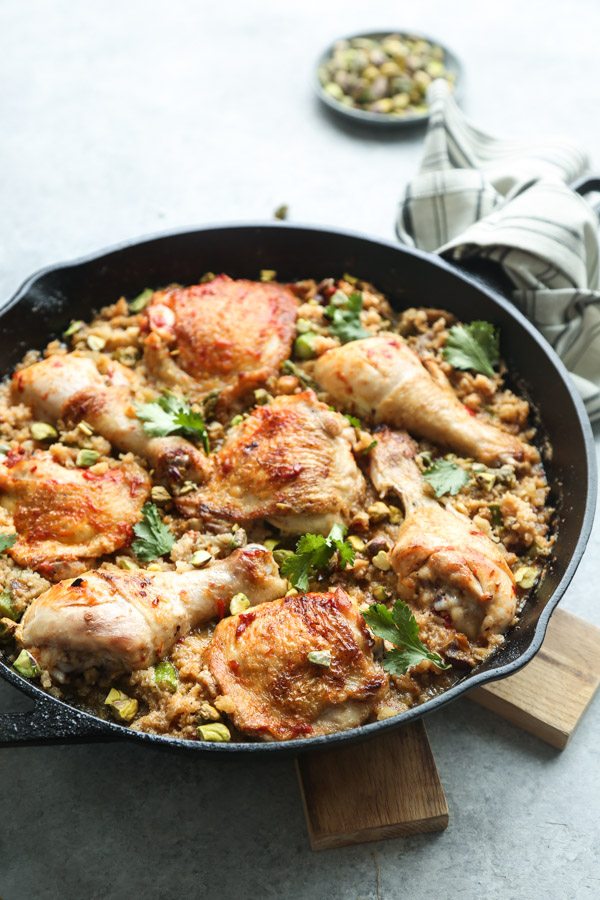 In my classes, I try not to take people that far outside the box. It's important to add a few new ingredients and techniques, but settle on a framework that can be a lily pad for a new series of dinners to call your own.
Which is how this Moroccan chicken recipe came to pass in my kitchen.
One of my favorite bloggers (and friends) Ali Stafford posted a one pan harissa chicken and rice dish a few months ago that seemed right up my alley. I love me some Moroccan chicken. In the winter months, when I'm looking for a step up from "our dinner," or am batch cooking for the week ahead, I'll often make a tagine. But I was excited to find something that was also one pan, but a little lighter and less stewy for the summer months.
Instead of the rice, I made a cauliflower couscous. Which, if we're being clear, is the same technique as cauliflower "rice." But I've always thought the little crumbs were a better healthy doppelganger for couscous.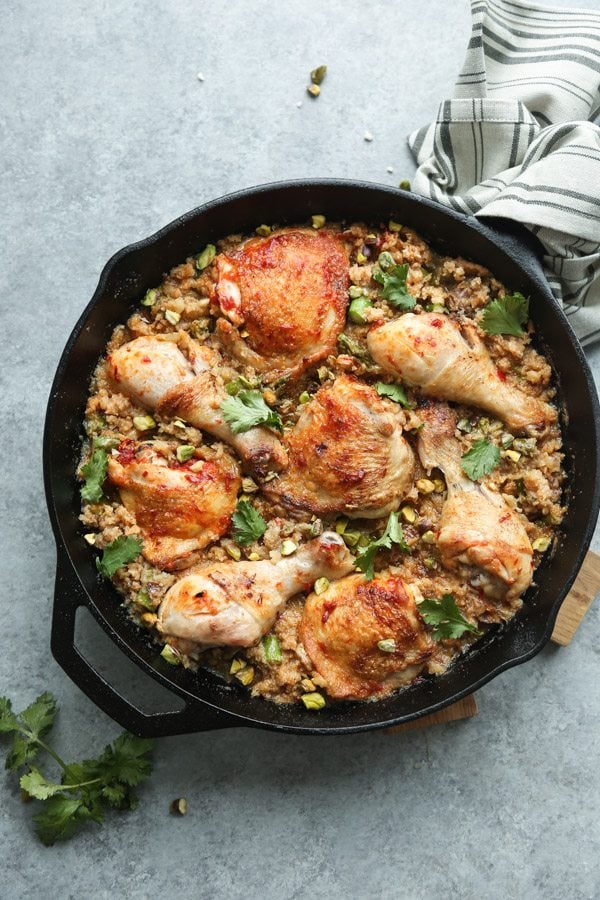 If you're looking for a slightly gussied up version of your usual weeknight meal, I highly recommend you try it.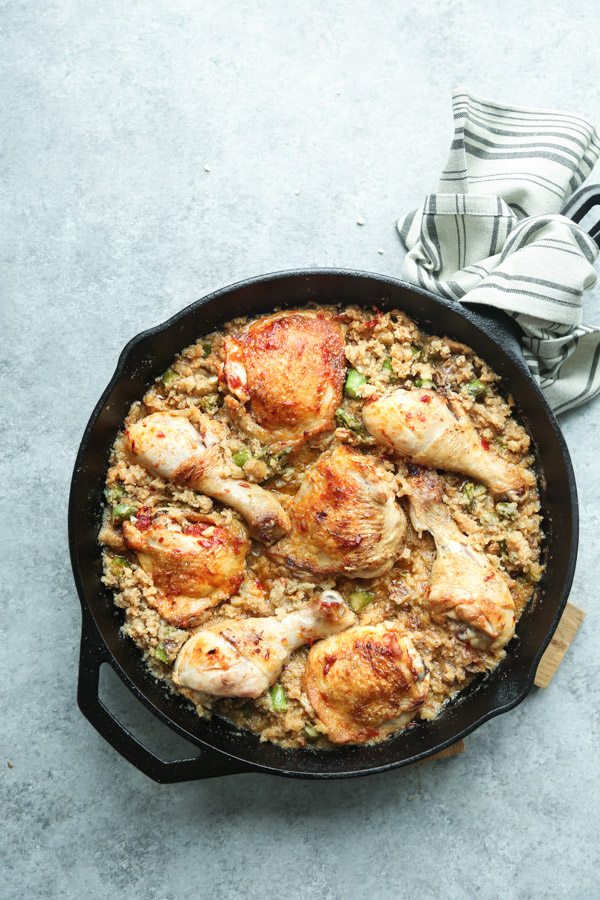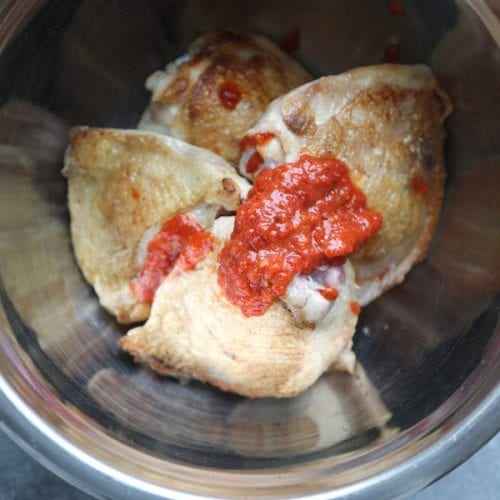 Harissa Moroccan Chicken
Phoebe Lapine
Is chicken your go-to weeknight meal when you don't know what else to cook? Gussy up the usual bird with this spiced recipe served with cauliflower rice.
Ingredients
1

small head cauliflower

cut into small florets (about 6 cups)

Olive oil

Sea salt

8

pieces

of bone-in

skin-on chicken (I used 4 thighs and 4 drumsticks)

2

tablespoons

harissa

divided

1

medium yellow onion

diced

2

large cloves garlic

minced

2

teaspoons

cumin

1

teaspoon

ground ginger

1

bunch asparagus

woody stalks trimmed (see note)

4

pitted meijol dates roughly chopped

2

tablespoons

lemon juice

1/4

cup

roughly chopped pistachios
Instructions
Preheat the oven to 400 degrees F.

In a food processor, pulse the cauliflower in batches until the florets turn into coarse crumbs. Be careful not to overstuff the bowl - you don't want it to turn to mush. You should have 4 cups of cauli rice. Set aside.

In a large oven-proof skillet heat 1 tablespoon of olive oil over a high flame. Season the chicken with salt and brown on all sides until nicely golden, about 7 minutes total. Remove to a bowl and toss with 1 tablespoon of the harissa.

Add the onions and 1 tablespoon olive oil to the pan and sauté until translucent, 5 minutes. Stir in the garlic, cumin, ginger and remaining 1 tablespoon harissa. Cook for 1 minute, then fold in the asparagus, cauli rice, dates, lemon juice and 1 teaspoon salt. Spread the cauli mixture in an even layer and nestle the chicken on top. Transfer the pan to the oven and roast for 20 minutes, until the cauli couscous is soft and the chicken is tender.

Garnish with the pistachios and serve right in the pan!