An Australian interpretation of a German chicken pie borrowed from the English and the French. Confusing? No, delicious.
By Christina Soon-Kroeger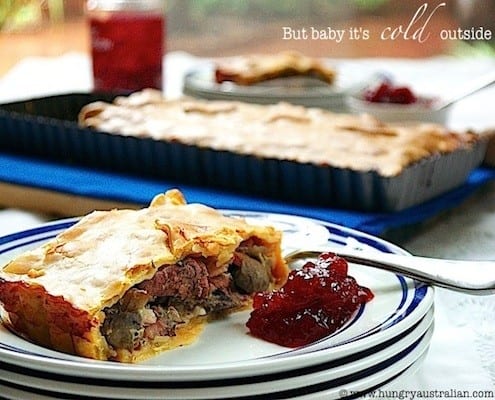 Where has the Australian summer gone?
It's been raining steading all day. The air is chilly and an unfriendly wind is tormenting all the trees in the garden, blowing them from side to side without mercy.
I don't like this weather. I'm like a cat: I don't like being cold and I hate getting wet. So I am going to stay inside, work on my laptop and bake a pie.
Not just any pie though; this pie was inspired by my mother in law's chicken pie or ,originally found in France and England and enthusiastically adopted by the Germans.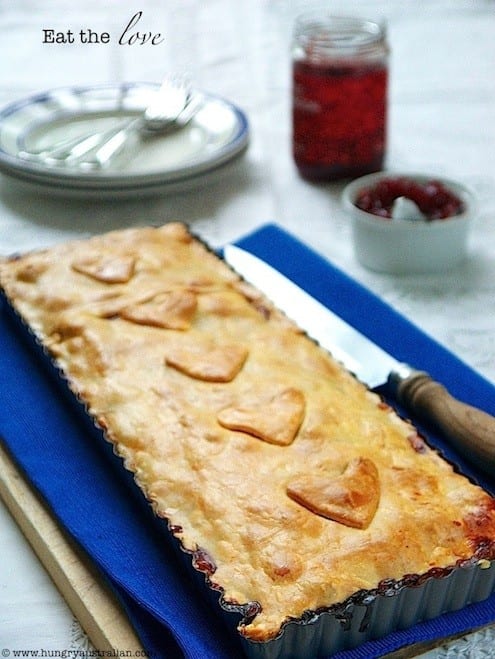 The first time I ate my mother in law's pie I was struck dumb with admiration. I didn't come from a pie-baking family – I come from a stir-fries, curry and noodles family. Sure, my mum made the occasional lemon meringue pie but that was usually from a packet.
So I watched my husband's mother making this pie with great attention, taking note of how she casually manipulated the pastry and leisurely made the filling. She made it look so easy.
A word about the filling: it contains chicken's liver, and is extremely good. Now before you get all sniffy or squeamish consider this: what we dislike or fear in terms of food is often about our cultural familiarity with it. For example, fried liver and onions is a traditional dish in France, England and Germany. Moreover, let's not forget that liver is the key ingredient in that lovely French appetizer, pâté. So if you like pâté, you will love the chicken livers in this pie. If you don't, then simply increase the amount of chicken by an additional thigh.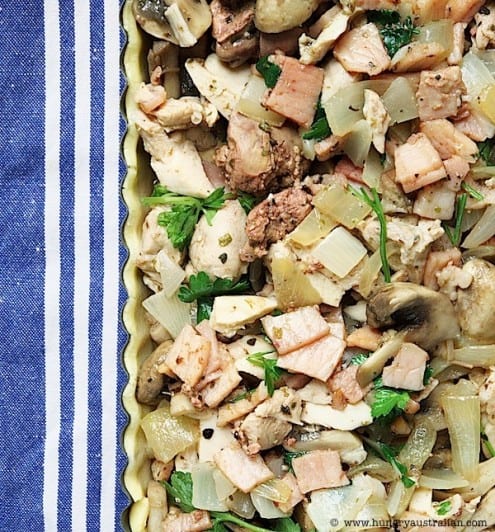 My mother in law is visiting us from Hamburg, Germany, at the moment so I thought I'd surprise her with my version of her pie. I used frozen shortcrust pastry rather than make it from scratch as she does and used more filling than usual to give the pie a lovely full look.
Her verdict?
"It's better than my pie," she said, giving me a hug.
I'm not sure that's true but I do think it was nice of her to say it.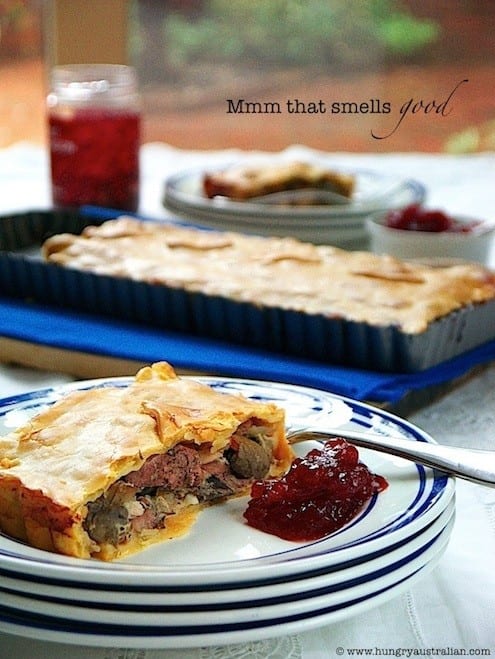 Dining Down Under: Chicken, Bacon and Mushroom Pie
An Australian interpretation of a German chicken pie borrowed from the English and the French!
Author:
Christina Soong-Kroeger
Ingredients
3 boneless chicken thighs (4 if not using liver)
2 onions, diced
1½ teaspoon dried marjoram
10 stalks parsley, chopped
2 sheets frozen puff pastry
1 tablespoon butter, plus extra for greasing pie tin
120 grams bacon, diced
120 grams chicken liver, trimmed of sinews and chopped into medium pieces
200 grams mushrooms, quartered
1 egg
2 tablespoons milk
Instructions
Preheat oven to 180 degrees Celsius (160 degrees fan-forced).
Bring 3 cups of water to boil in small saucepan with one chopped onion, ½ teaspoon marjoram and a few stalks of parsley. Then turn down to low simmer and drop chicken in, poaching for about 10 minutes.
Remove chicken to chopping board and leave to cool for a few minutes. Then chop roughly into small pieces.
Take puff pastry out of freezer to defrost on kitchen bench.
Heat up a large frypan and add one tablespoon butter. Turn heat down to medium. Add one chopped onion and cook for a couple of minutes, stirring frequently. Add bacon and cook for another minute before adding mushrooms, liver and majoram. Season with salt and pepper and cook until starting to brown. Turn off heat and set aside.
In a large mixing bowl place chicken, fried mixture, parsley and one raw egg. Stir to combine and set aside.
Grease a pie tin with ample butter or margarine. Then line with one sheet of puff pastry, making sure you smooth it down and neaten the edges. Use a large serving spoon to spoon the filling into the pastry, making sure the form is evenly filled. Top with the other sheet and decorate as desired. Brush with milk.
Cook for about an hour until top is nicely brown.
Serve with Cumberland sauce or lingon berry jam (available from Ikea).
Christina Soong-Kroeger
Christina publishes The Hungry Australian - a collection of recipes, reviews and stories about food - and is a regular contributor to Sumptuous. Her writing has appeared in the China Daily and That's Shanghai while her photography regularly appears on Foodgawker, Tasteologie and Photograzing. After eating her way around Shanghai, London, Hong Kong, Leeds and Melbourne, she now calls Adelaide, South Australia, home again.