A gorgeous salad for a light lunch or serve it with duck for a special dinner.
By Christina Soong-Kroeger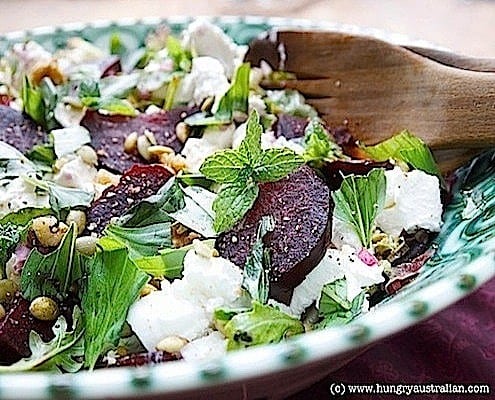 It's summer in Australia. The sky is bluer than blue and the days are long, hot and lazy.
The schools are still on holidays so my five year old daughter spends each morning splashing happily in a local pool, learning to swim. As I type this my toddler son is running around the house with just a nappy on, a piece of watermelon clutched tightly in one hand, the juice dripping down his chin.
I don't feel like cooking elaborate meals during this relaxed time so salads are perfect.
This recipe was inspired by a salad my old school friend, Megan, brought over for lunch recently. Megan was the first person I met on my first day of high school and we've been best friends ever since.
Megan used canned beetroots in her salad but I've roasted my beetroots for a milder flavour (canned beetroots often have vinegar and sugar added). But if you're in a hurry, canned beetroots would be perfectly fine.
Most salads are at their best when they have just been made but this salad holds up surprisingly well the next day. The leaves aren't as crisp as they were, and the beetroot stains everything bright pink, but the flavours come together beautifully.
Serve this salad with sourdough bread and salted butter for a simple lunch or supper (serves 2-3 people), or with duck or venison as part of a special dinner menu.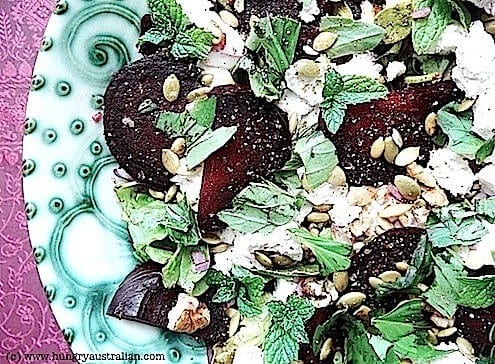 Beetroot, Feta, Walnut & Mint Salad
A gorgeous salad for a light lunch or serve it with duck for a special dinner.
Author:
Christina Soong-Kroeger (The Hungry Australian)
Ingredients
3 medium-large beetroots
142 grams (5 ounces) mixed rocket, baby spinach and mixed lettuce leaves
200 grams (7 ounces) Danish feta cheese (I love the creaminess of Danish feta)
1 small red onion, peeled and diced
30 grams (1 ounce) roasted and salted pepitas (sunflower seeds)
30 grams (1 ounce) walnut pieces
Handful fresh basil leaves
Handful fresh mint leaves
3 tablespoons extra virgin olive oil
1 tablespoon red wine vinegar
1 teaspoon honey
Juice of ¼ lemon
Pinch sea salt (you don't need much because the fetta is salty)
Freshly ground black pepper
Instructions
Preheat oven to 180 degrees Celsius (160 degrees fan-forced).
Wash the beetroots and then wrap the beets in tinfoil.
Roast for 50-60 minutes (insert a skewer to test if the largest one is done). Let cool for twenty minutes - they're hard to peel when hot.
Using your fingers, peel the skin from the beets.
Slice beetroot into one centimetre pieces and then quarter the slices.
In a bowl, arrange a bed of washed and spin-dried, mixed leaves with beetroots on top. Crumble in fetta cheese and then sprinkle over pepitas, walnuts, mint and basil leaves.
To make dressing, mix olive oil, red wine vinegar, honey, lemon and a pinch of salt in a small cup and whisk furiously.
Pour dressing over salad and finish with a good grind of black pepper.
As the beetroot will turn everything bright pink, I prefer to serve the salad untossed so the colours remain true, and then mix the salad at the table just before we eat.
Christina Soong-Kroeger
Christina publishes The Hungry Australian - a collection of recipes, reviews and stories about food - and is a regular contributor to Sumptuous. Her writing has appeared in the China Daily and That's Shanghai while her photography regularly appears on Foodgawker, Tasteologie and Photograzing. After eating her way around Shanghai, London, Hong Kong, Leeds and Melbourne, she now calls Adelaide, South Australia, home again.