PARTNER POST — Discover the unique flavors of the Dijon region with Maille.
Grilled tostadas topped with grilled maple salmon, mustard slaw and creamy goat cheese for a gluten free, meal or appetizer that's easy to make.
By Taylor Kiser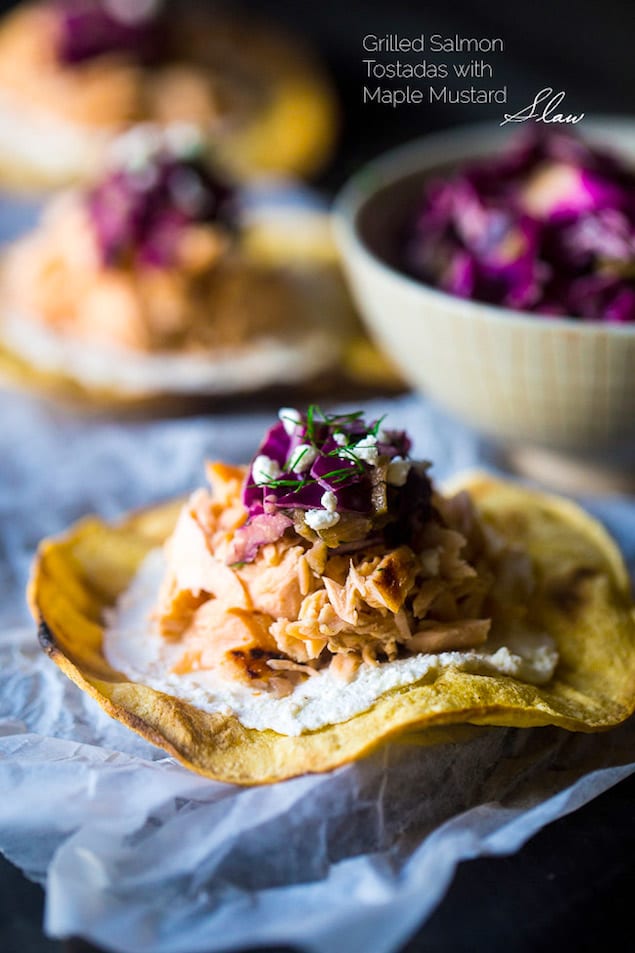 Corn tortillas are grilled up so they're crunchy and smokey, slathered with creamy goat cheese, and topped with fresh, crispy Dijon mustard pickle slaw AND tender pieces of salmon, for the perfect sweet-vinegary bite of texture deliciousness.
BACK 'ER UP for JUUUST a sec though. I know your eyeballs are scanning that run-on-sentence that I am calling a "paragraph" to make me feel better about my lack of general English knowledge, and going "MUSTARD PICKLE SLAW? WHAT ONTHEEARTH?"
Yeah. About that. It's, like, UMMM really crispy and tangy and has the most YUM maple mustard vinaigrette all mixed in its texture-freak-person-pleasing self.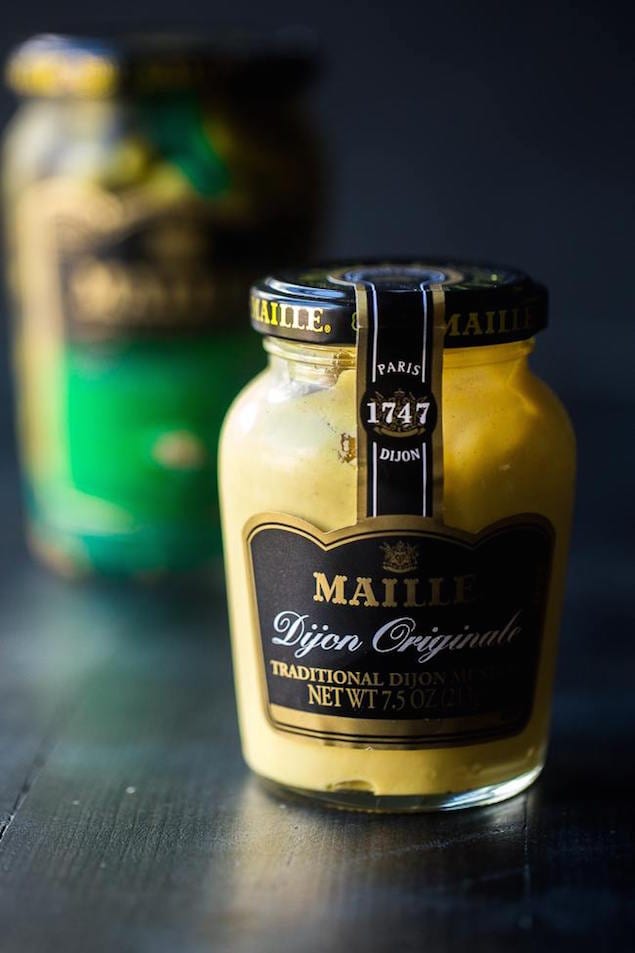 Plus maple + mustard + salmon? SO CLASSIC GUYS. I mean, maybe not classically Mexican. HOW-EV-ER, classically SO GOOD. We're going with it.
ESPECIALLY when that mustard is the ultra-swanky-and-fancy French Gourmet Dijon Mustard from Maille.
[fve]https://vimeo.com/126301319[/fve]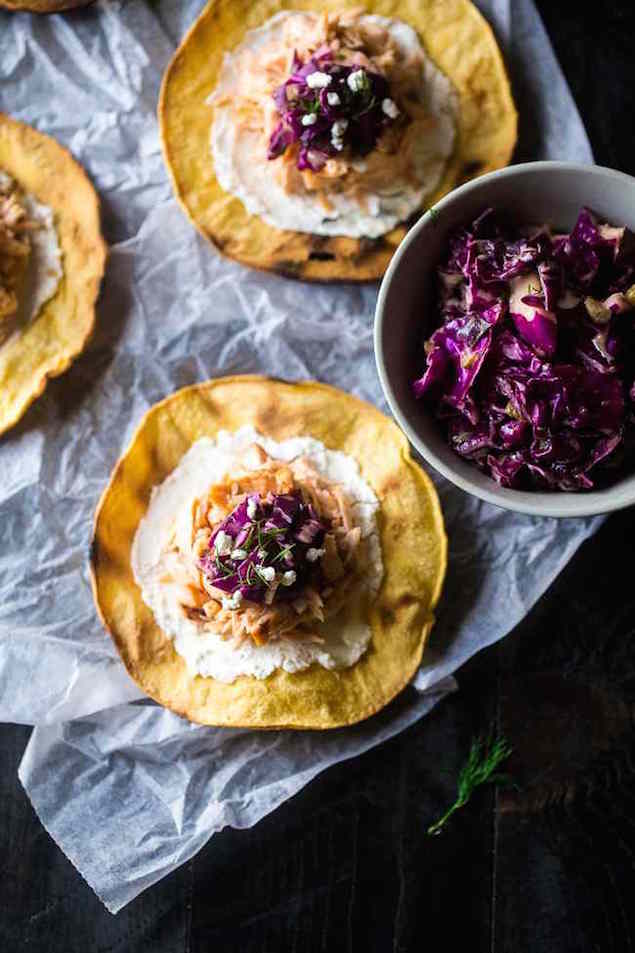 Delights of Dijon — Grilled Salmon Tostadas with Maple Mustard Slaw
Grilled tostadas are topped with grilled salmon, a mustard slaw and creamy goat cheese for a gluten free meal or appetizer that's so easy to make.
Ingredients
For the salmon:
¼ Cup Maille Dijon Mustard
2 Tbsp Pure maple syrup
1 tsp Garlic, minced
Pinch of salt and pepper
1 Lb Atlantic salmon
For the Coleslaw:
4 Cups Red cabbage, finely chopped (about half a large head of cabbage)
½ Cup Maille Mini Gherkins, minced
1 Tbsp Pickle Juice
¼ Cup Maille Dijon mustard
2 Tbsp Pure maple syrup
2 Tbsp Olive oil
1 Tbsp + 1 tsp Fresh dill, minced+ additional for garnish
Salt/pepper
For assembly:
8 Small corn tortillas
4 Oz Goat cheese + additional for garnish
Instructions
In a small bowl, mix together the salmon ingredients. Place the salmon into a baking dish and pour the marinade over, being sure to cover all sides of the salmon. Cover and refrigerate at least 2 hours.
Once the salmon has marinated, pre-heat your grill to medium-high heat. Grill the salmon until it just begins to flake with a fork, about 6-7 minutes. Flip and cook until flaky and tender, about another 4-5 minutes. Remove from the grill and cover to let rest. Keep the grill on.
In a large bowl, mix together the chopped cabbage, pickles and pickle juice.
In a medium bowl, whisk together the remaining mustard and maple syrup. While stirring, stream in the olive oil until the mixture becomes thick and creamy. Add the mixture, along with the dill, into the cabbage mixture and stir until evenly coated. Season to taste with salt and pepper. Place into the refrigerator until ready to serve.
Place the tortillas onto the grill and cook until they just begin to char and bubble up, about 2-3 minutes. Flip and cook an additional minute or two, until crispy. Be careful not to burn then. Remove from heat and let cool.
Place the goat cheese into a small, microwave safe bowl and microwave for 10-15 seconds until it just begins to soften - be careful not to melt it!
Divide the goat cheese between the tortillas and spread out evenly.
Remove the skin from the salmon and place the salmon into a bowl, breaking it up into small pieces. Divide the salmon on top of each tostada.
Divide the coleslaw on top of each tostada and garnish with fresh dill and crumbled goat cheese.
DEVOUR.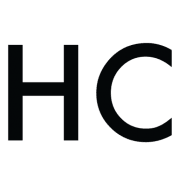 Taylor Kiser
Taylor is the blogger, recipe developer, photographer and general mess maker behind the blog "Food Faith Fitness." She is a Christian who is constantly trying to learn how to keep Christ at the center of her daily life. Taylor is also a health and fitness enthusiast who loves creating delicious recipes, with a healthy spin. However, Taylor also believes that moderation is key, so sometimes it's ok to just go and eat a cookie!