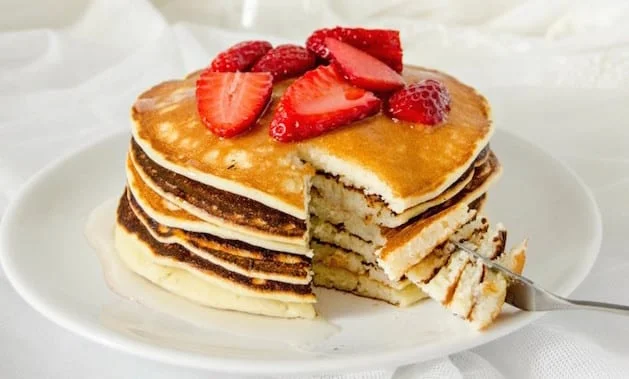 Delicate ricotta cheese pancakes are moist and have a mild cheese flavor that adds subtle richness. A hint of vanilla and lemon zest brings it all together for a beautiful brunch.
By Oana Olguta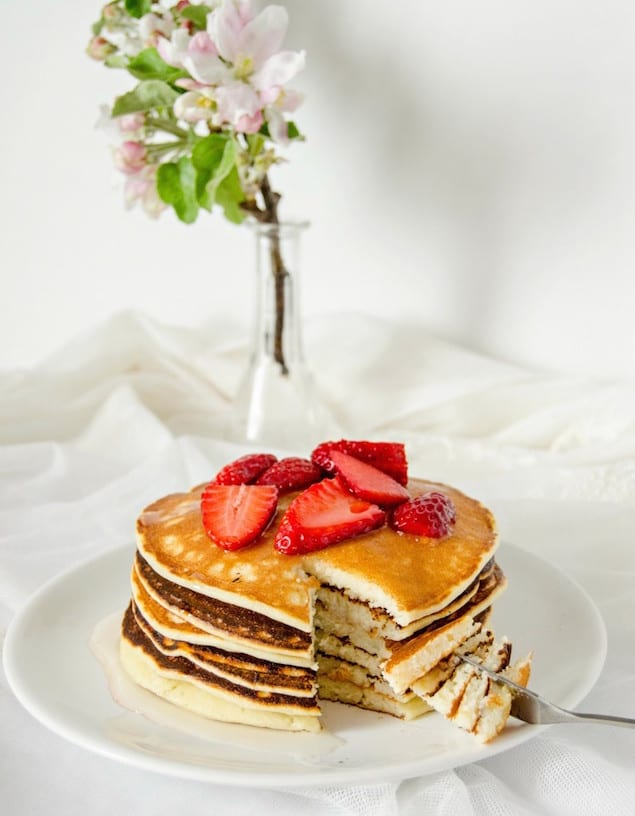 I've been all about easy baking the last couple of weeks. It started with the Fudgy Chocolate Loaf Cake and now these ricotta pancakes. My son was quite excited about these pancakes. And he loved these! Well, he loves cheese in any form so no wonder he adored the delicate ricotta flavor these have.
These pancakes don't necessarily need any extra syrup and can be enjoyed simply. There isn't much to say about these ricotta pancakes, except the fact that they're moist and delicate and have a mild cheese flavor. Just a touch of vanilla and lemon zest is everything they need to be perfect. My inspiration for the recipe was The Kitchn.

Soft Ricotta Pancakes
Delicate ricotta cheese pancakes are moist with a mild cheese flavor that adds subtle richness along with a hint of vanilla and lemon zest.
Recipe Type:
Breakfast, Brunch
Ingredients
250g (8.8 ounces) ricotta cheese
140g (5 ounces) all-purpose flour
½ teaspoon baking powder
1 pinch salt
2 tablespoons sugar
2 eggs, separated
160ml (5.4 fluid ounces) milk
½ teaspoon vanilla
1 teaspoon lemon zest
2 tablespoons melted butter
Syrup for serving
Instructions
Mix all the ingredients, except the egg whites, in a food processor and pulse until smooth.
Whip the eggs whites with a pinch of salt until stiff then fold them into the batter.
Heat a non-stick pan over medium flame then drop a few spoonfuls of batter on the hot pan (I used a ½ cup measure unit so all the pancakes had the same size).
Cook on one side until bubbles begin to form on the surface then carefully flip it over with a spatula and fry until golden brown.
Stack the pancakes on a platter and serve them with fruits and syrup.
Oana Olguta
I am a self-taught baker and pastry-school graduate and I have an affinity for food. But I especially love baking, taking pictures, exploring dessert cookbooks, entremets and writing. I focus on creative desserts and baking techniques that are aimed to both novices and experts in the kitchen and I truly believe that being a pastry chef is not about looking for innovative ways of making desserts, but about learning the basic techniques and then combining them into new, original desserts, relying on textures and flavors.