Need a special sweet treat for you Valentine? Look no further. These triple chocolate cupcakes are insanely rich and delicious.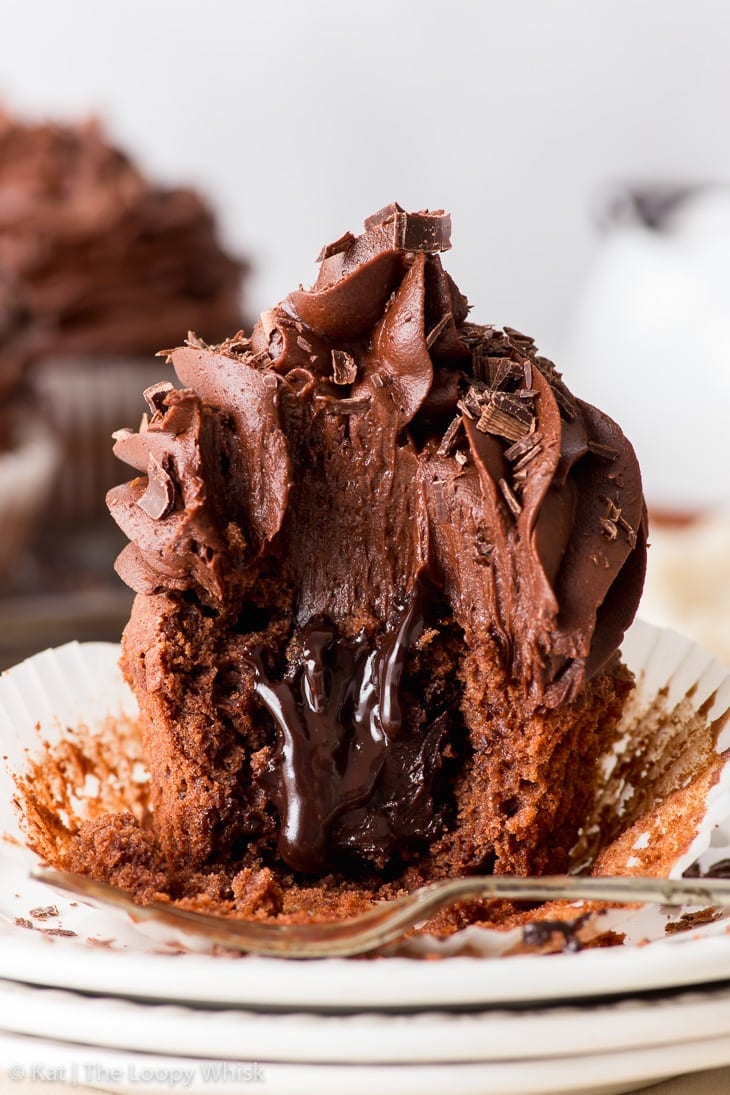 These triple chocolate cupcakes are ridiculously indulgent, easy to make and intensely chocolatey. With moist chocolate cupcakes, a luxurious chocolate fudge sauce and rich chocolate buttercream frosting, these cupcakes are without doubt one of the best chocolate desserts out there. (If I do say so myself.)
You know how people say that "less is more"? Yeah, definitely not when it comes to chocolate. I mean, seriously, if you have the option to have just chocolate cupcakes (although… is there such a thing as "just" chocolate cupcakes?) or these EPIC triple chocolate cupcakes… Let's be honest: the choice is 100% obvious.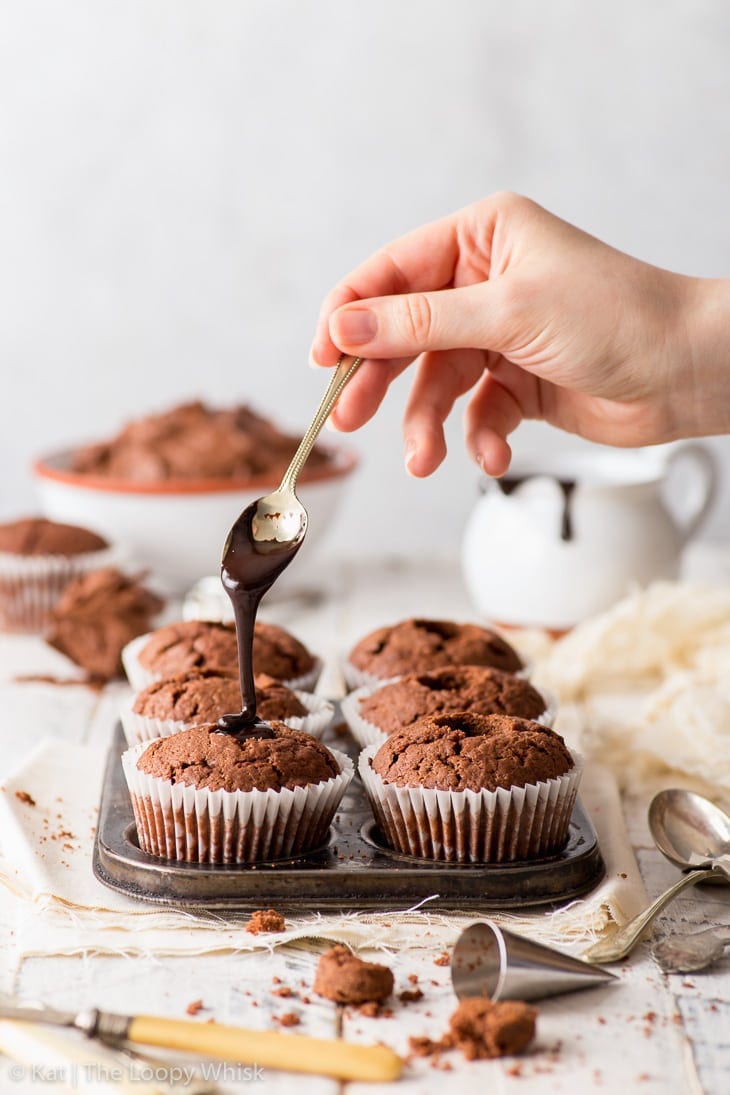 Also, these might actually be quadruple chocolate cupcakes, if you count the chocolate shavings… but that felt like false advertising, so triple it is. Don't worry, we'll get to quadruple too, eventually. And, dare I say it… quintuple?
The three chocolate elements of these chocolate cupcakes are each delicious and amazing on their own – but put them together, and magic happens. That is: chocolate magic, which is the best kind there is.
First, we have the moist, soft and mouth-watering chocolate cupcakes themselves, which just so happen to also be gluten free. (If you don't have that particular dietary requirement, you can totally make these with normal wheat flour.)
Next up: the chocolate fudge sauce filling. This this deserves a crown and a scepter… and probably its own holiday. It's simply to die for and I could eat it by the spoonful. It has previously made an appearance in the triple chocolate pop tarts recipe and the s'mores pop tarts recipe – and it's freaking amazing every single time.
Finally, the chocolate buttercream frosting. It's luxurious, rich, smooth, velvety and all the other superlatives and drool-worthy adjectives you can think of. It's my go-to chocolate frosting (I've used it before in my ultimate gluten free chocolate cake) and I will never ever ever not want to eat it. Seriously, you need to make it.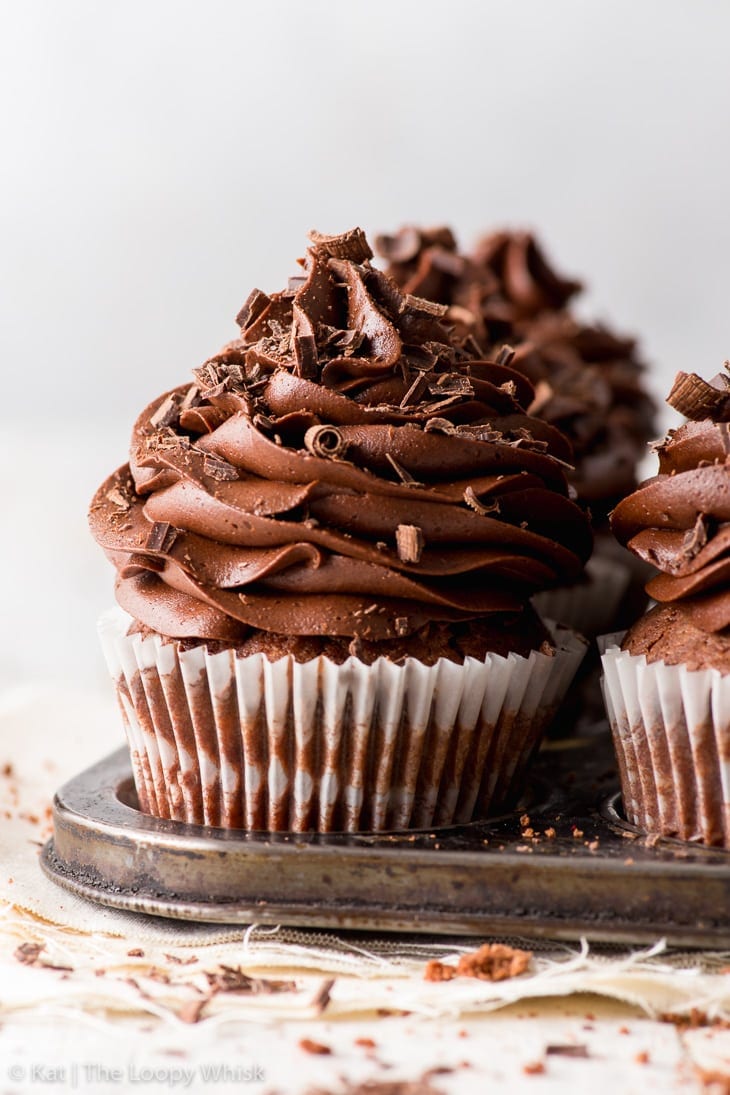 Aside for being almost too delicious for their own good, these triple chocolate cupcakes are also super easy to make. Which is, of course, always a good thing, especially if the results look THIS GOOD.
As far as cupcakes go, I don't think it gets much better then this. Unless, of course, you don't like chocolate… in which case: (a) you probably won't like these, and (b) is there even such a thing as "don't like chocolate"?!?!
But anyway, I hope you make these wonderful triple chocolate cupcakes because they are just plain amazing, and such amazingness required to be shared, enjoyed and savoured. So get baking, friends!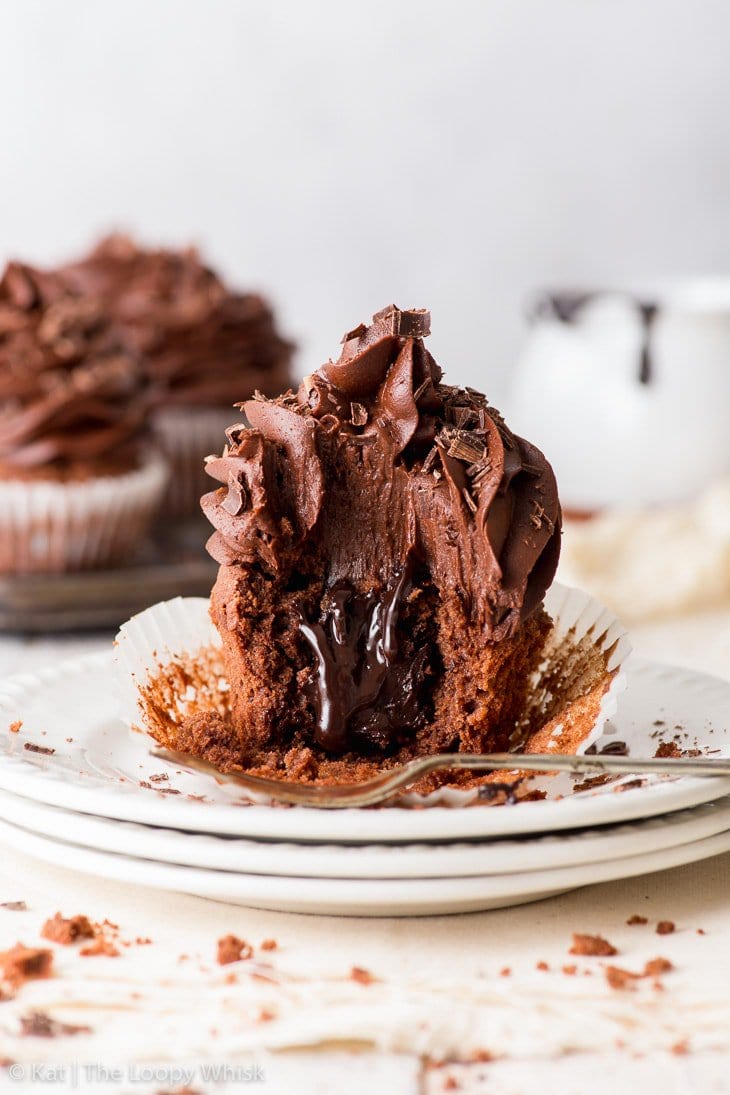 Click HERE for the fudge sauce recipe.
Print
Decadent Triple Chocolate Cupcakes
Author:

Katarina Cermelj

Prep Time:

45 minutes

Cook Time:

20 minutes

Total Time:

1 hour 5 minutes

Yield:

24

cupcakes

1

x
Category:

Baking, Cake
For chocolate cupcakes:
3

medium eggs (room temperature)

6 tbsp

yogurt or sour cream

3/4 cup

+ 1/2 tbsp (

190

mL milk, room temperature)

3 tsp

lemon juice

3 1/3 cups

400 g plain gluten free flour blend (I've used a simple shop-bought blend containing only rice, potato and maize flour with no added xanthan gum)

3/8 cup

45 g cocoa powder

3/4 tsp

xanthan gum

3 tsp

baking powder

1 7/8 cups

375 g granulated sugar

1/2 tsp

salt

3

sticks (339 g softened unsalted butter)

5 1/3 oz

150 g dark chocolate, melted
For chocolate fudge sauce:
Click the link above for the recipe.
For chocolate buttercream frosting:
6

sticks (680 g softened unsalted butter)

4 cups

480 g powdered/icing sugar

1 cup

120 g cocoa powder

1/4

–

1/2

tsp salt

10 1/2 oz

300 g dark chocolate, melted and cooled until warm/room temperature
Instructions
For chocolate cupcakes:
Pre-heat the oven to 355 ºF (180 ºC) and line cupcake baking tin(s) with cupcake liners.
In a small bowl, mix together the eggs, yogurt or sour cream, milk and lemon juice. Set aside.
Sift together the gluten free flour blend, cocoa powder, xanthan gum and baking powder. Add in the sugar and salt, and mix well.
Add the softened butter to the dry ingredients. Using a stand mixer with the paddle attachment or a hand mixer with the double beater attachment, whisk the butter into the dry ingredients until you get small, pea-sized pieces.
Add the milk+egg mixture and whisk until you get a smooth cupcake batter.
Add in the melted chocolate and whisk until evenly incorporated.
Evenly distribute the cupcake batter among the cupcake cases – they should be each about 3/4 filled.
Bake in the pre-heated oven at 355 ºF (180 ºC) for about 20 minutes or until an inserted toothpick comes out clean.
Allow to cool.
For chocolate fudge sauce:
Click the link above for the recipe.
For chocolate buttercream frosting:
In a stand mixer using a paddle attachment, or using a hand mixer with the double beater attachments, beat the butter for 2 – 3 minutes, until pale and fluffy.
Add the powdered sugar, and beat for a further 5 minutes.
Add the cocoa powder and salt, and beat until evenly distributed in the buttercream.
Add in the melted (and cooled) dark chocolate, and beat until you get a rich, fluffy chocolate frosting with an even chocolate brown colour.
Assembling the cupcakes:
Use an apple corer or a piping nozzle, turned upside-down, to create a hole in the middle of each cupcake. Fill it with the chocolate fudge sauce.
Pipe the chocolate buttercream frosting with piping nozzle of choice (I used a Wilton 2D nozzle).
Sprinkle with chocolate shavings or sprinkles of choice.
Enjoy!
Storage:
The triple chocolate cupcakes cupcakes keep well in a closed container in a cool dry place for about 2 – 3 days.
Katarina Cermelj
Katarina is a Chemistry PhD student at the University of Oxford. At least by day – by night she transforms into a food blogger, baking up a storm, taking way too many close-up photos, and writing up blog posts for "The Loopy Whisk" (click on 'website' below to take a look!). Her recipe repertoire ranges from buttery, sugary goodness to raw vegan gluten- and refined sugar-free treats. But they are all joined by a common thread – an emphasis on easy and (mostly) quick recipes that are above all else about flavour. Oh, and she talks (writes) a lot.