A two Michelin starred Chef and his quest for the perfect dashi, makes a gorgeous and heartwarming dish for colder nights.
Dashi is the base of Japanese cuisine. An indispensable cooking broth most commonly made from kombu (kelp seaweed) and katsuobushi (dried bonito flakes). Its umami taste enhances and harmonizes preparations and Chef Eric Vildgaard built an outstanding course with his own version of it.
"To me, dashi is one of the most beautiful and pure things that you can make. Great dashi is a declaration of love to your guests. At first, I didn't really get it, though. I tried to make dashi using regular kombu seaweed and ordinary mirin and katsuobushi. But the greatness and beauty didn't really come through. I couldn't understand why, so I educated myself a bit more on the subject.
Through my supplier YesChef, I got my hands on the so-called Rausu kombu. It is a very potent type of seaweed harvested around the city of Rausu on the island of Hokkaido. It contains glutamic acid in very high amounts, which is what gives the seaweed a very intense umami. I also managed to find some katsuobushi of the highest grade. Katsuobushi is bonito tuna that has been dried, fermented, and smoked, and it comes in many grades of quality, which I wasn't aware of at first. But I soon found out that the quality of the highest grade is not at all comparable to the lowest."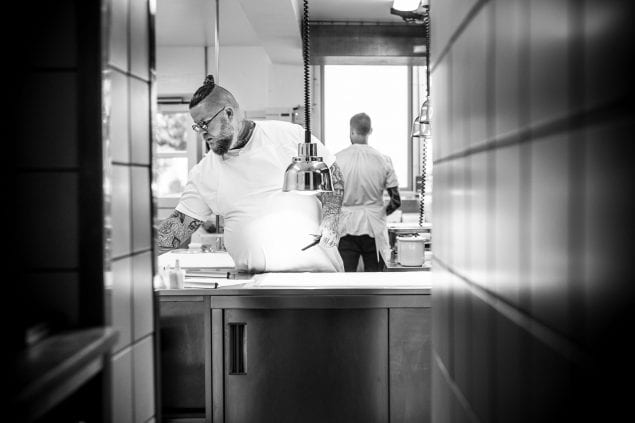 "Finally, some good mirin was needed. Mirin is a subtly sweet rice wine widely used in Japanese cooking. Again, quality is key. Yeschef supplied me with an aged variety, which is a really refined product offering a quality of taste that has nothing to do with the standard mirin. When I made my dashi using these products, I could finally see clearly. The taste was clean, intense, and vastly superior to what I had made before.
Once again, the fact that we are never better than the quality of our products, was underlined. The products are what carry us. Just like we need to know the difference between caviar and cod roe, we also need to be able to tell the difference between the ordinary and the extraordinary when it comes to seaweed, rice wine, and dried tuna.
Here, the dashi is served with a fried Japanese dumpling called a takoyaki. The dashi frames the takoyaki, to which we add a piece of lobster, adding a set of elegant wings to the dumpling. Serve your guests this soul-warming and aromatic dashi on a cold winter night, and you can almost be sure that it will be a great evening."
Print

Dashi With Lobster Takoyaki, Sisho Tempura and Beluga Caviar
---
Author:

Natalia Bohórquez Rodríguez
Description
An elaborate and heartwarming dish from a two-Michelin star Chef
---
Dashi
500

  gr filtered water

50

gr daikon

25

gr ginger

10

gr Rausu kombu

40

gr aged mirin

4

gr Okinawa seasalt
Takoyaki
140

gr all-purpose flour

15

gr baking soda

6

gr Okinawa seasalt

2

large whole eggs
white soy

360

gr Dashi

21

gr fried tempura batter
lobster 
Beluga caviar (we use caviar from Noble Russian Caviar)

100

rice bran oil
Cooked Lobster
1

lobster 500 – 600 gr

3

lt water
salt
dill stems

1/2

lemon
Shiso tempura
4

green shiso leaves

50

gr manitoba flour

50

gr corn flour

50

gr non-glutinous rice flour

60

gr baking powder
sparkling mineral water

500

rice bran oil
Lobster mayonnaise
2

gr egg yolks

6

gr fine salt

15

gr white wine vinegar

10

gr fine Dijon mustard

330

gr lobster oil
Lobster oil
350

gr neutral oil
lobster shells
Apple caramel
10

red apples with high acidity
---
Instructions
Dashi
Thinly slice daikon and ginger. Pat the kombu with a damp cloth.
Add all things to a pot, except the katsuobushi, and bring to a simmer.
Remove from heat and add katsuobushi flakes, let it infuse for 6 minutes and strain through a fine masked strainer.
Takoyaki
Beat the eggs into the dashi, sieve the flour and bicarbonate and whisk it into a batter.
Add the seasalt, fried tempura batter and white soy to taste. Let the batter rest for 2 hours.
Fry the batter in a takoyaki pan using the rice bran oil and adding the pieces of lobster to the centre of the ball. 
Top with caviar, and serve with the lobster mayo, apple caramel, shiso tempura and steaming hot dashi on the side.
Cooked lobster
Kill the lobster by splitting the head in the cross on top of the head – this will kill the lobster instantly.
Bring the water to a boil, and taste with salt (it has to taste like light seawater), add the dill stems and the lemon. 
Put the lobster in the boiling water and cook for 4-5 minutes, depending on the size. 
After cooking, transfer the lobster into cold salted water and cool down. After cooling down, free the lobster from the shell and remove the colon string.
Shiso tempura
Make the batter by mixing all the dry ingredients and adding sparkling water until the right consistency is obtained.
Mix with chopsticks (the right consistency is when the batter clings to the chopsticks in a thin layer).
Coat the shiso leaves, and fry them in the rice oil at 160'c until crispy. Remove from oil, rest on a rack, and dust with salt.
Lobster mayonnaise
Whisk egg yolks with salt, vinegar and mustard, add the oil in a thin strain while whisking continuously until all the oil is absorbed.
Lobster oil
Crush the lobster shells and put in a pot, cover with oil, and confit at 80'c for 3 hours, then strain and cool down.
Apple caramel
Juice the apples, and cook the juice in a pot, until the juice starts to caramelize into a thick syrup. Cool down.
Category:

Appetizer

Cuisine:

Asian
Learn more about Jordnær through their website and this love story.
(original text by Lars Roest-Madsen – Photo by Jesper Rais)
Natalia Bohórquez Rodríguez
Colombian based in Barcelona • Master in Marketing / Gastronomy • PR & Culinary Liaison • Food writer • @nataliabhqz