Dairy-Free Chocolate Banana Sorbet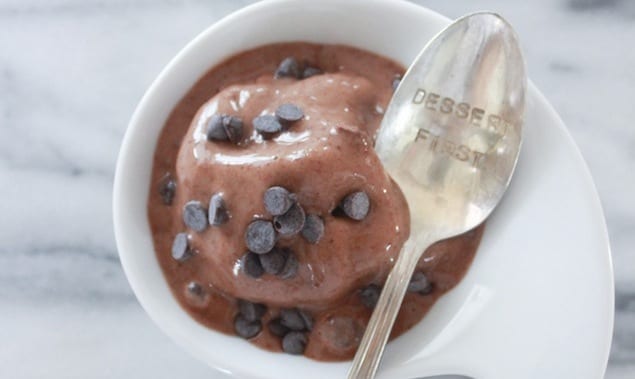 Use your older bananas as a base for this smooth, rich sorbet. With no dairy, you won't feel like you are missing a thing with this cold treat.
By Robin Runner
I feel like a crazy banana lady. I buy them in mass quantities and once ripe, I freeze them all. I love adding them to smoothies or to make fake ice cream. Fake ice cream you ask? Well it's like a healthy, no-junk soft serve that will convince even your pickiest ice cream fans that they are eating something totally indulgent. Totally vegan. Gluten free. Plus you can add whatever to it to make it even better! This was yesterday's dessert and it was so good (I'm glad I snuck a bit to enjoy). This is for the chocolate coconut fans out there. Additional mix-in ideas are listed below.

Dairy-Free Chocolate Banana Sorbet
Use your older bananas as a base for this smooth, rich sorbet. With no dairy, you won't feel like you are missing a thing with this cold treat.
Ingredients
3 frozen bananas
3 tablespoons of coconut butter (coconut manna – I used chocolate)
1 tablespoon of cacao powder
3 tablespoons or more if you need, unsweetened almond milk
1 teaspoon of vanilla paste or extract
Instructions
Place all of the ingredients into your Vitamix and blend on low increasing the speed to high until creamy.
The consistency will be more like a soft serve. You will need your tampering tool to push the bananas down into the blade for blending.
Add additional milk as necessary.
Notes
Additional blending ideas:
Chocolate chips (vegan)
Almond butter
Peanuts
Walnuts
Almonds
Crushed pretzels
Marshmallows
Graham Crackers
Cookies
Sprinkles
Gummy bears/worms/frogs etc.
Robin Runner
Robin Runner is the blogger behind www.kneadtocook.com. She grew up around two of her greatest inspirations, her Italian grandmother and her aunt. Both believed in farm to table foods, purity in nature and love as the main ingredient for anything on their menu. Today, Robin is a strong advocate of farming and buying local ingredients, as well as composting to help repurpose food scraps into rich soil for our garden.