Arepas are fun. Not to mention, the smoky pork with the spicy and sour onions, herb-filled chimichurri, and cornmeal arepas are simply delicious.
By Taylor Kadlec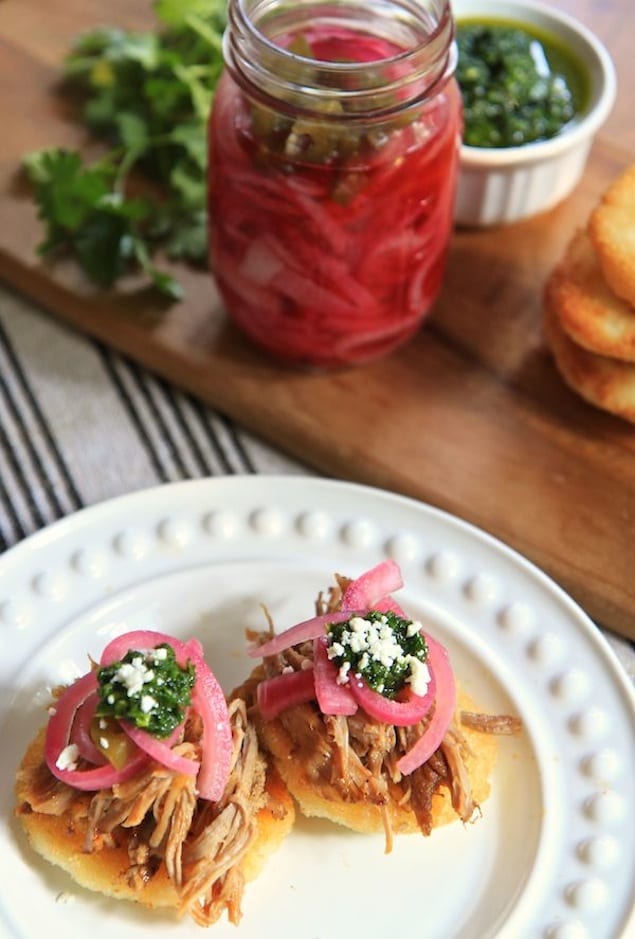 So you might be wondering – what the heck is an arepa? I had never heard of them until about a month ago when a Minneapolis food truck, Hola Arepa, opened a restaurant and we went there for Marc's birthday. An arepa is a cornmeal flatbread/pita/corn cake that is native to Colombia and Venezuela. In some regions, the flatbread is cut open and it's made into sort of a pita, as it's stuffed with various fillings, and in other areas you put the fillings on top. After researching arepas even further, I found that arepa dough can have cheese in it and even be stuffed with cheese.
At Hola Arepa, they serve their arepas stuffed with different fillings, from shredded beef and plantains, to black beans with cojita cheese, and my favorite, slow roasted pork. To follow in the footsteps of Hola Arepa, I added a chimichurri to the top of my arepas, for even more flavor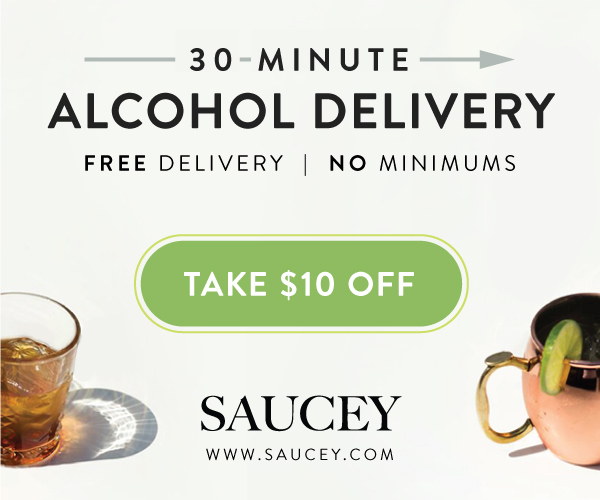 While there are quite a few steps to making the arepas – from the meat and the pickled onions, to the chimichurri and actual arepas themselves – a lot of the work can be done ahead of time. The chimichurri and pickled onions can both be made a few days in advance, and the real work with the meat is done the night before, as it needs to marinate overnight and then simply slow cooks for 4-5 hours. The arepa dough can be made ahead of time too, but you'll want to cook them immediately prior to eating.
All together, this is such a fun meal. The smoky pork with the spicy and sour onions, herb-filled chimichurri, and cornmeal arepas are simply delicious!

Slow-Roasted Pork Arepas with Pickled Onions and Chimichurri
Arepas are fun. Not to mention, the smoky pork with the spicy and sour onions, herb-filled chimichurri, and cornmeal arepas are simply delicious.
Ingredients
For the rub
¼ cup fresh lime juice
¼ cup fresh orange juice
8 cloves minced garlic
1 tbsp chili powder
2 tsp dried oregano
½ tsp red pepper (more or less depending upon how spicy you like it)
2 tsp sea salt
2 tsp cumin
¼ tsp ground cloves
4 lb pork shoulder
for cooking the pork:
½ cup chicken broth
for the spicy pickled onions:
2 medium red onions
¾ cup red vinegar
¼ cup water
2 tbsp fresh lime juice
2 jalapenos, seeded and sliced
for the chimichurri:
½ cup fresh parsley
½ cup fresh cilantro
½ tsp crushed red pepper
3 cloves garlic
½ cup olive oil
½ tsp salt
for the arepas:
2 cups water
2 cups white cornmeal
½ tsp salt
for topping:
queso fresco or feta cheese
Instructions
For the pork rub
Combine all the rub ingredients in food processor and pulse until paste.
Rub all over entire pork shoulder, then cover and refrigerate overnight. You can keep it in a large resealable plastic bag or large tupperware.
To cook the pork:
Preheat oven to 325 degrees F.
Place pork in large baking dish, along with the juices from the rub.
Roast the pork for 4-5 hours, until pork is shreddable with forks.
For the spicy pickled onions:
In medium heatproof bowl, add onions and then add boiling water to cover.
Let stand 15 minutes.
Drain onions and rinse with cold water.
In small saucepan, bring remaining ingredients to simmer medium-high heat.
Once simmering, remove from heat.
Let stand 15 minutes.
Place onions in jars or bowl with lid, then add liquid to cover.
Cover and refrigerate at least 2 to 3 hours to marinate onions.
Onions will keep in refrigerator for 2-3 weeks.
For the chimichurri:
While pork is cooking, make the chimichurri by combining all ingredients in food processor and processing until texture of pesto.
Refrigerate until ready to use.
For the areapas:
Combine water, corn meal and salt in medium saucepan over medium heat.
Heat until it is slightly simmering, stirring often, then remove from heat.
Let sit 15 minutes.
At this point, you should be able to form it into small patties. If there is still some water, add a couple more tablespoons of cornmeal until it is a desired consistency.
Take ~1/4 cup of dough at a time and form into a ball with your hands, and then press flat into a patty.
Repeat with remaining dough to make cooking the areapas easier.
When all patties are formed, heat ~1/4 cup canola oil in large skillet over medium-high heat.
Add patties, working in batches.
Cook 6-8 minutes on each side, until they are golden brown.
To assemble:
Top each area patty with pork, spicy pickled onions, chimichurri, and cheese.
#mc_embed_signup{background:#fff; border: 3px double black; clear:left; font:14px Georgia,serif;  width:635px;}
/* Add your own MailChimp form style overrides in your site stylesheet or in this style block.
  We recommend moving this block and the preceding CSS link to the HEAD of your HTML file. */