Try these rich, flaky puffs with savoury beef and potato filling.
By Jehanne Ali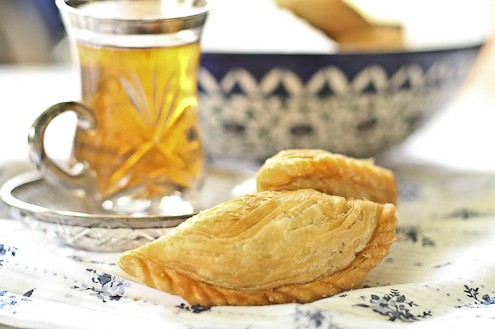 Is there a better East-meets-West fusion food than these humble curry puffs, I wonder. Each bite into the flaky, layered puffs filled with savoury concoctions conjure up images of my idyllic childhood growing up in Asia, yet it also brings back fond memories of those afternoons whiling away in exquisite french patisseries. These days, with the predictably gloomy weather and days getting shorter, I find myself craving for more and more savouries, and I can't find a much better comfort food for my afternoons than these puffs. I remembered many years ago, our family would gather around those deep fried puffs, each on its own napkin paper, and regale stories whilst waiting for the monsoon rain or bolts of lightning and thunderstorm to subside. Those rainy afternoons would be much savoured that every time it rains in England, and I can tell you it rains quite often, I would reach for the old memories yet again, in what I know best. Warm, hearty food.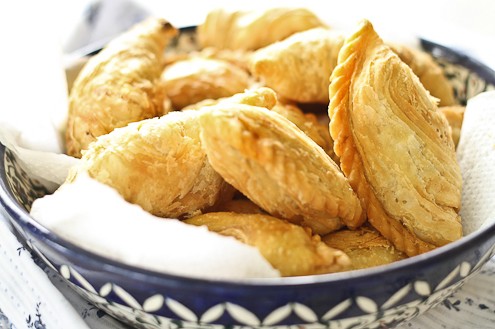 Although I could easily reach for the shop-bought English cornish pastries or their close rival in the form of Indian samosas, the exquisite taste of these curry puffs deserves a merit of its own, so I always end up making them even in a short  notice. They look deceivingly elaborate to make, yet so simple and versatile, with fillings of your own choice. I always go for curried potato and meat filling, but I have also tried different versions to this when the choice of filling is mostly depicted by ingredients available at hand.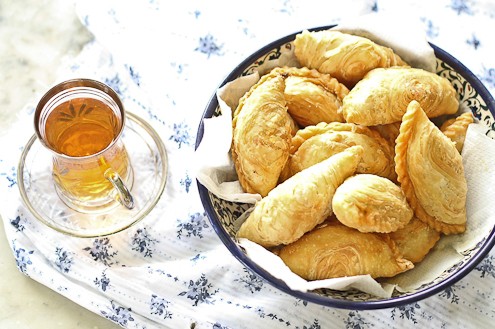 See Also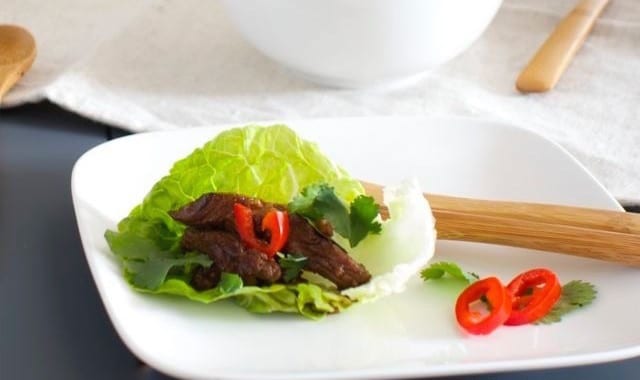 I do not vouch for deep-frying usually, but spare me on this occasion. I must warn you though, these curry puffs are deliciously addictive, so put the kettle on, invite your friends over and make those delights. At the very least, you could bask in the compliments and safe in the knowledge that these puffs taste way better than the ready-roll pastries from the shops nearby.
Rich, flaky puffs with savoury beef and potato filling.
Recipe Type:
Appetiser, entree
Ingredients
2¼ cups all-purpose flour
½ cup Crisco vegetable shortening
1 tsp sugar
¼ cup water
1 medium sized egg-beaten
½ tsp salt
2 medium sized potatoes-peeled and diced
1 red onion-diced
200g beef-diced finely
1 inch ginger-grated
1 clove garlic-crushed
1 tbsp mild curry powder
1 tbsp chopped coriander leaves
Vegetable oil for frying
Instructions
Prepare the filling.
In a wok, heat the oil and fry the ginger and garlic.
Add in the diced beef with a splash of water and cover the wok with a lid for 10 minutes.
Once the beef is almost browned, add the curry powder, coriander leaves, diced onion and potatoes.
Season with salt.
Cook on low heat for around 20 minutes or until the filling is semi-dry.
Keep aside the cooked filling and prepare the pastry crust.
In a large bowl, mix 1½ cups of flour with egg, sugar, salt and enough water to form a soft dough.
Divide this dough into 10 small balls.
In a separate bowl, rub the shortening with the remaining flour until stiff dough is formed.
Divide this dough into 10 balls, smaller in sized than the earlier flour dough balls.
Flatten a flour ball and wrap it fully around the shortening ball.
Using a rolling pin, roll the dough ball into an oblong and make a diagonal cut ⅔ up without splitting the dough into two.
Roll the pastry all the way up then make a 'U-turn' and keep rolling like a croissant.
Cut the roll-up into two.
Using a rolling pin, flatten each cut roll into a flat circle.
Fill the circle with the 2 tbsp of cooled filling.
To close the edge, make a pinch-and-twist motion until the edge is well sealed.
Repeat the steps for remaining dough balls, so you will get 20 completed puffs.
Heat the vegetable oil in the wok and deep fry the puffs.
Serve warm.
Jehanne Ali
Jehanne is an enthusiastic baker, food blogger, mother and wife all in one. She swaps her scalpel from her day job as a doctor to kitchen utensils in the evening and creates magical treatment of healthy treats for her family, which she shares in her blog, The Cooking Doctor. She is a firm advocate of healthy eating and always believes that honest and healthy food will steer you clear from the doctors.