Cumin Lamb Salad with Spicy Dressing
High in protein and full in flavor, this dish is a hearty meal with plenty of vegetables. Adjust the heat by adding crushed sichuan peppercorns.
By Christina Soong Kroeger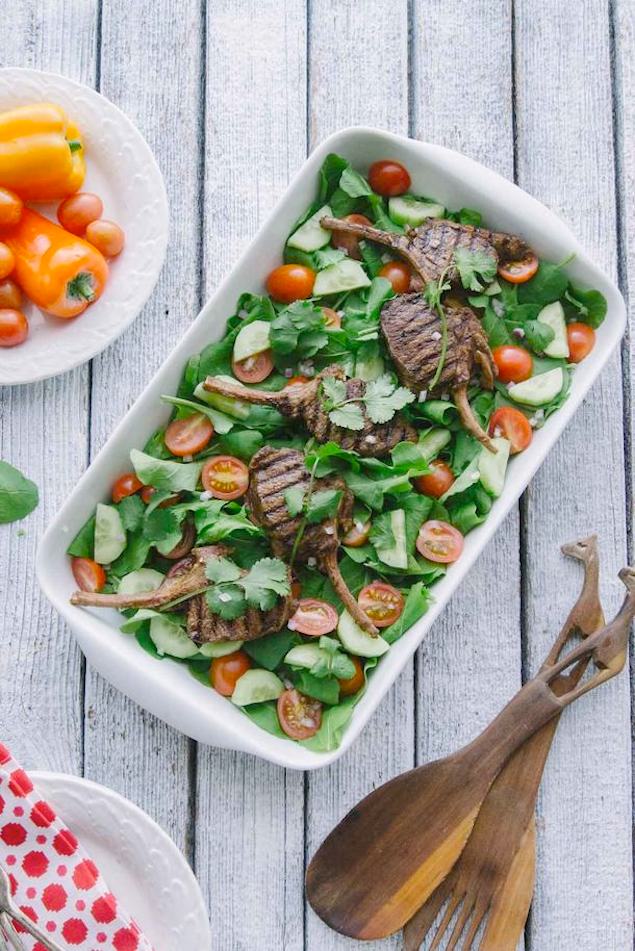 This dish is exactly the type of food I crave when I'm looking after myself – high in protein, full of flavour and with plenty of vegetables.
If I was serving this only to adults, I'd add a teaspoon each of crushed Sichuan peppercorns (pulverise them in a mortar and pestle) and dried chilli flakes to the marinade in a homage to my beloved Xinjiang Lamb Skewers. But because my kids love lamb cutlets and would be cross if they missed out, I've kept the chilli heat to the dressing which chilli lovers can add themselves. Enjoy!

Cumin Lamb Salad with Spicy Dressing
High in protein and full in flavor, this dish is a hearty meal with plenty of vegetables. Adjust the heat by adding crushed sichuan peppercorns.
Author:
Christina Soong Kroeger
Ingredients
6 lamb cutlets
1 teaspoon ground cumin
½ teaspoon ground coriander
1 teaspoon ginger (approx 1 inch piece finely grated)
1 large clove, garlic, pounded or chopped finely
1 tablespoon light soy sauce
1 tablespoon lemon juice
100 grams rocket or baby rocket
150 grams baby tomatoes, halved
1 cucumber, peeled and sliced into half moons
½ red onion, diced very fine
1 tablespoon rice vinegar
1 teaspoon chill oil
½ clove garlic, pounded or chopped finely
1 Birds Eye chilli, chopped finely (optional)
A few strands fresh coriander
Instructions
Wash and pat dry lamb.
Place lamb in a medium bowl and add cumin, coriander, ginger, garlic, soy sauce and lemon juice. Mix thoroughly and leave on kitchen bench to marinade for 30 minutes.
While the lamb is marinating, prepare salad ingredients.
Heat up a grill pan until smoking and then add lamb.
Cook for around 3-5 minutes each side (turn once only to get nice grill marks) on a medium heat. I like my lamb medium so opt for a shorter cooking time.
To make dressing, mix vinegar, chilli oil, garlic and chilli (optional) in a small bowl.
Once lamb is cooked done, rest on a wooden chopping board and let cool slightly
Arrange rocket, baby, tomatoes and cucumber on a large platter and then place lamb on top. Garnish with coriander and serve with dressing.
Christina Soong-Kroeger
Christina publishes The Hungry Australian - a collection of recipes, reviews and stories about food - and is a regular contributor to Sumptuous. Her writing has appeared in the China Daily and That's Shanghai while her photography regularly appears on Foodgawker, Tasteologie and Photograzing. After eating her way around Shanghai, London, Hong Kong, Leeds and Melbourne, she now calls Adelaide, South Australia, home again.