After giving it long thought, Sonia Mangla decides that the best way to treat her newly purchased fresh rhubarb is to turn it into crispy phyllo pockets.
By Sonia Mangla
Finally, I decided to pick up some Rhubarb at a Farmers Market recently. After giving it a long thought finally decided to bake some Crispy Rhubarb Pockets from Phyllo sheets  that had been sitting in my deep freeze for a couple of weeks now. Surprisingly, the recipe was easy to do & end product was full of flavors. This was my first experience/experiment with Phyllo sheets & believe me it was a pleasant surprise.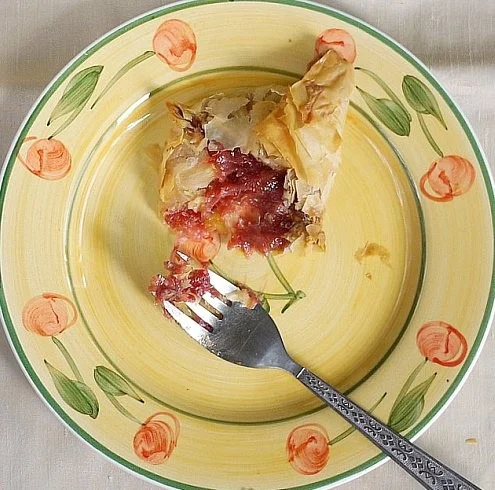 A simple but delicious way to cook rhubarb
Ingredients
½ pound rhubarb (about 2 cups ½-inch diced)
¼ cup granulated sugar
¼ cup cornstarch
¼ teaspoon salt
¼ teaspoon vanilla extract
4 Phyllo Sheets
4 Tsp melted butter
Instructions
Combine the diced rhubarb,sugar, the cornstarch and salt in a medium saucepan and place over medium-low heat.
Cook, stirring occasionally, until the rhubarb releases its liquid and begins to breakdown, creating a thick, chunky sauce, about 10 minutes.
Remove the pan from the heat and stir in the vanilla extract.
Set aside to cool to room temperature.
Layer 4 phyllo sheets, brushing each with melted butter.
Meanwhile, preheat the oven to 350 degrees F.
Now let us cut four 4-inch squares from phyllo stack.
Place 2 teaspoons of filling in center of square.
Brush phyllo from edge of filling to each point of square lightly with water.
Gather points of square and pinch together just above filling.
Brush pouch with butter. Repeat process for all 4 pouches.
Place filled pouches at least 1" apart on ungreased cookie sheet or baking pan.
Bake in preheated 350ºF oven for 12 to 15 minutes or until golden brown.
Take the pouches out and let them cool on wire rack for ~5 minutes.
Serve warm or at room temperature.
My Family loved the crispy filled Rhubarb pockets, hope you give this recipe a shot.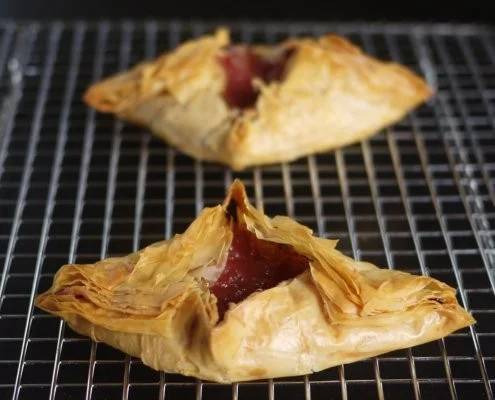 Sonia Mangla
Sonia Mangla is a passionate Food Blogger & Photographer. She creates Fusion of Indian flavors and loves cooking for her guests. Her work is featured on some popular sites like FoodGawker,Tastespotting, Tasteologie & Foodbuzz.