The batter is light – almost tempura like, yet it still has that characteristic thick-ish batter that is mandatory for REAL fish and chips straight from your local chippery joint. The glorious bubbles from the beer create a light texture when fried in hot oil – the perfect batter.
By Michelle Tchea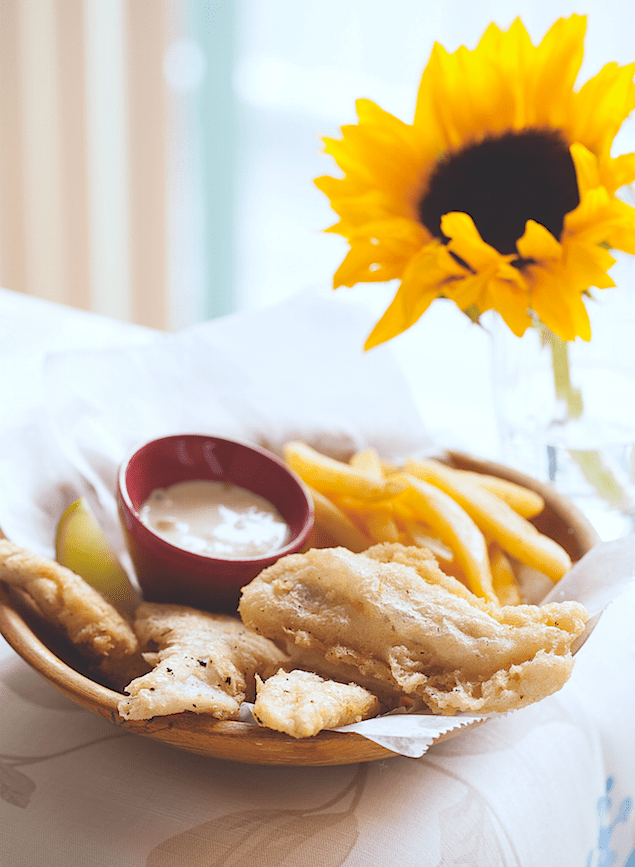 Aussie, Aussie Aussie… Oi, Oi, Oi! Sure we smother our toast in black gunk, known affectionately as Vegemite, but with a glowing restaurant scene and chefs that work with some of the best produce in the world  – Australian's know good tucker. Australians have a tough time claiming many foods. Apparently, we didn't create the deliciously sweet Pavlova. Many may argue that we were not the first to put baked beans with eggs. But when it comes to fish and chips – you can't beat serving up fresh seafood from the clean waters of Australia, finding a spot in a sandy white beach and indulging in yet another Australian import.
I'm sharing yet another recipe from my new book, My Little SoHo Kitchen (Marshall Cavendish Publishers).

Crispy fish and chips: Secret ingredient - Bubbles!
Beer must be very cold to achieve tempura-like batter.
Ingredients
Plain (all-purpose) flour 200 g (7 oz)
Canola oil for deep-frying
Baking powder 2 tsp
Salt a pinch
Beer 225 ml
Whiting Tails 2, about 200 g (7 oz) each
Instructions
Chill flour in the freezer for 15 minutes before use.
Heat oil in a deep-fryer to 185?C (365°F).
Quickly whisk baking powder and chilled flour along with salt and sparkling water, until you get a thick batter.
Coat fish fillets with batter and deep-fry one at a time, until crisp and golden. Ensure that the temperature stays at 185?C (365°F) before frying the second fillet.
Drain fish fillets of oil on a wire rack.
Serve with garlic fries
Michelle Tchea
Michelle Tchea is a 4-time bestselling author. Her books include, Building a Perfect Meal, My Little SoHo Kitchen, Signature Dishes (Australia's Best) and Chefs Collective. Her work can be found in other leading luxury travel and food magazines including Travel+Leisure Asia, SMILE, NUVO Magazine and The Telegraph