Usually, Tamara Novacoviç's Pesto Genovese ends up as the pasta sauce, but this time she gave it a more creative role. Roll! Role?
Text And Photo By Tamara Novacoviç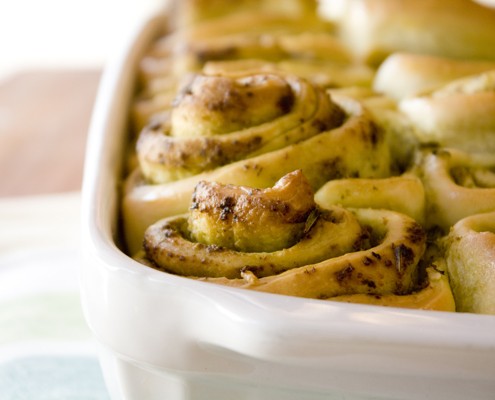 Usually my Pesto Genovese ends up as the pasta sauce, but this time I gave it a more creative role. I like to make rolls, in general. Most often sweet versions, but this time a savory one. I usually bake them in rectangle pans, all together, I believe they are juicier and softer. Which is why I avoid baking them individually in muffin pans. Also, I like the feeling of togetherness and sharing that comes with these. When you put them all together on the table in front of your friends, everybody digs in, take a roll and pull it apart.
Make these for yourself and your friends, I'm sure they will be a hit.

Soft, delicate savory rolls with delicious basil pesto filling-surely a hit!
Ingredients
5 cups (500 g) all purpose flour
1 packet (7 g) instant dry yeast
2 tsp salt
1 tbsp sugar
2 tbsp olive oil
¼ cup (60 ml) warm milk
1 cup (250 ml) warm water
½ cup (120 g) pesto genovese, home made or store bought
1 tbsp butter, melted
½ tsp thyme
Instructions
Combine yeast with sugar and warm milk, leave for 5 minutes.
In a separate bowl, combine flour with salt, add yeast and milk mixture, olive oil and warm water. Knead until soft dough forms. Leave in an oiled bowl, cover and let rise for 1 hour.
Slightly knead risen dough one more time. Roll it out into a rectangle. Brush with pesto sauce and roll up jelly-roll fashion, beginning with a long side. Cut into 1-inch pieces. Put them cut side up into buttered rectangle baking pan and let rise for 30 minutes.
Preheat oven to 350 F (180 Celsius) and bake rolls for about 35 minutes, until nicely golden.
Melt butter with thyme and brush over hot rolls. Serve warm.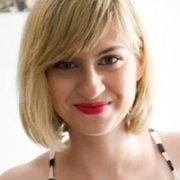 Tamara Novakoviç
Tamara Novakovic is a passionate self-taught cook, food blogger, freelance food writer and photographer behind bite-my-cake.blogspot.com. Her life journey has led her through Faculty of Humanities in Zagreb, Croatia to discovering passion for making cakes. She is currently a weekly food columnist for Croatian newspaper V magazine and food magazine Repete.