Creamy Buttermilk and Orange Fudge with Rosemary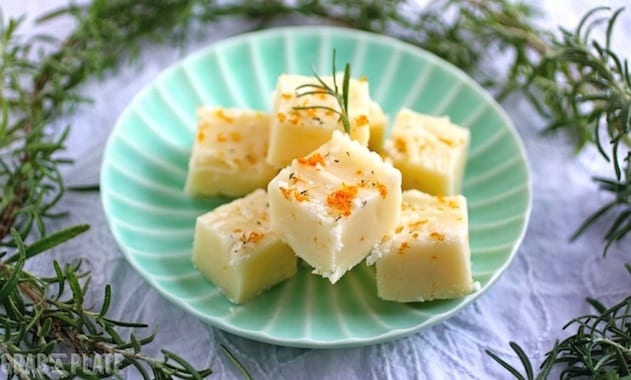 A sweet and tangy fudge with a fresh hint of rosemary to beautifully complement the orange flavors.
By Patricia Conte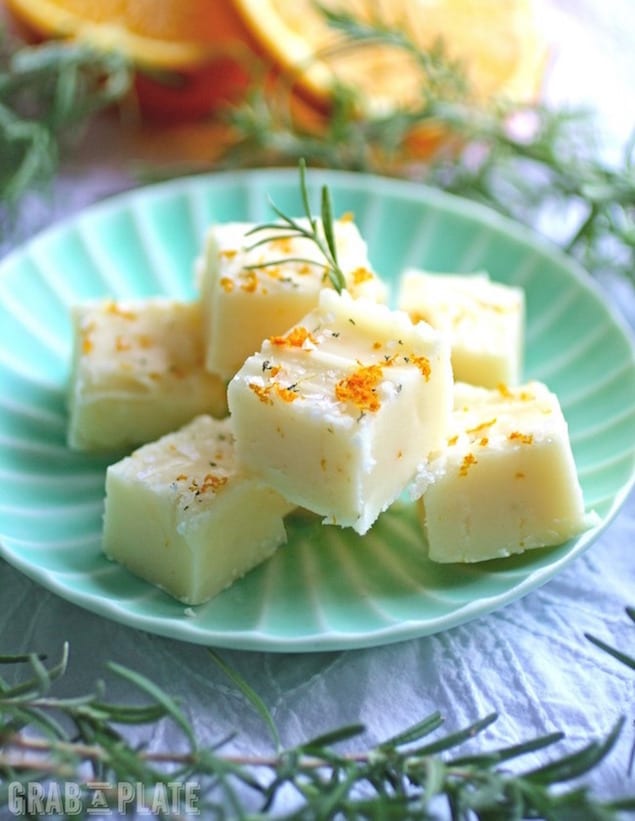 This recipe for Buttermilk Fudge with Orange & Rosemary is sweet, citrusy, and full of fresh flavor.
Rosemary might be an unexpected flavor when you think of fudge, but I think it adds brightness to this candy. The orange zest is the perfect complement to the rosemary.
This fudge is sweet, yet tangy, and the fresh herbs and rosemary impart a nice cheerfulness to the candy.
There are a few things I learned while making this recipe:
-If you want to make a double batch, make two separate batches instead. I think a double batch is too much to control.
-Be patient when you're boiling the mixture. It took me a bit longer than expected to reach 240 degrees F. on the candy thermometer. I didn't let my first batch reach the recommended temperature (I was being impatient), and it never firmed up.
-If the mixture seems too thick after you've mixed it, add just a touch of buttermilk and mix it in quickly. Don't overdo it. A small amount (1 teaspoon or so) should do the trick.
-Bon Appétit notes that the fudge can be made a week in advance, wrapped tightly, and kept at room temperature.

Creamy Buttermilk and Orange Fudge with Rosemary
A sweet and tangy fudge with a fresh hint of rosemary to beautifully complement the orange flavors. Recipe adapted from Bon Appétit
Ingredients
½ cup butter, cut into pieces
2 cups sugar
1 cup buttermilk
1 tablespoon honey
⅛ teaspoon salt
2 teaspoons orange zest, divided
1 teaspoon fresh rosemary leaves, chopped very fine (more or less to taste)
Sea salt to garnish
Candy thermometer
Instructions
Line 2 mini loaf pans with parchment paper, or aluminum foil, so it overhangs on two sides.
Add the butter to a large sauce pan over medium heat. When the butter melts, add the sugar, buttermilk, honey, and salt. Mix to combine until the sugar has dissolved. This should only take 2-3 minutes.
Increase the heat to medium-high (or high, depending on your stove). Bring the mixture to a boil and insert the candy thermometer.
Allow the mixture to boil until it reaches 240 degrees F. on the candy thermometer. It's very important to reach this temperature, or your fudge will not harden later.
Immediately transfer the mixture to a stand mixer and beat on medium speed for 4-5 minutes, or until the mixture is thick. After the first minute or so, add 1-1/2 teaspoons of the orange zest to the mixer.
When the mixture is ready to transfer from the bowl, fold in the rosemary. Divide the mixture in half and pour into each of the lined mini loaves.
Smooth the tops with a mini offset spatula, then garnish with the remaining orange zest and sprinkle with sea salt.
Allow the mixture to sit for about an hour, or until it has set up firmly.
Lift the fudge from the pans using the overhanging paper, and cut each into 8 pieces.
Patricia Conte
Patricia Conte is the writer, recipe developer, and photographer behind Grab a Plate. She credits her love of cooking, baking, and entertaining to her Italian immigrant family who is also passionate about all things food! Visit her at Grab a Plate where she shares her love of food, recipes, and bites in between. Follow Patricia on Twitter, Facebook, and Instagram.