Sharp cheddar pimiento cheese is is baked into stone ground yellow grits along with spices and eggs for a comforting casserole.
By Taylor Mathis and Sally James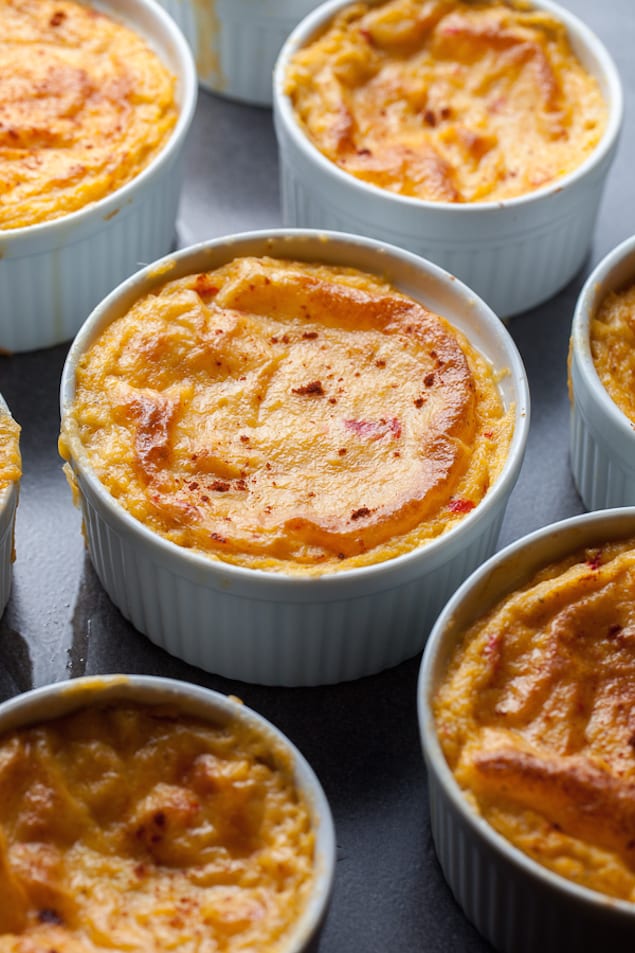 Stone ground yellow corn grits are so comforting. Pimiento cheese made with extra sharp cheddar and flavored with worcestershire, dijon mustard and cayenne is one of our favorite dips and sandwich spreads. Taylor was commenting about our lack of Winter tailgating opportunities and I suggested we make a mashup of 2 of our tailgating favorites; creamy grits and spicy pimiento cheese.
Cooked grits are first blended with cheese, spices and eggs, then the oven takes over and does the rest of the work. We like to use stone ground grits and cook them low and slow, stirring frequently. If you are pressed for time or do not want to fuss with the stirring, instant or quick cooking grits can be used in a pinch.
See Also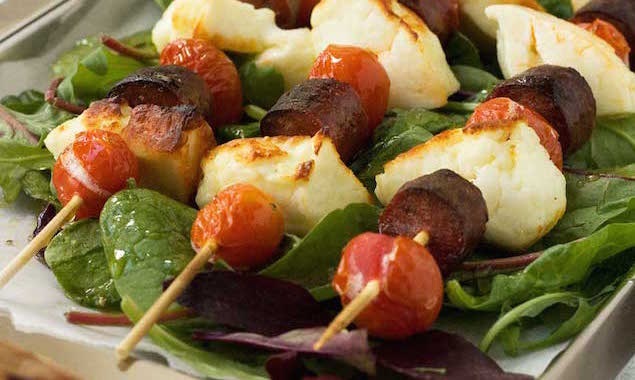 This recipe makes 8 generous servings and fills a 2 quart casserole dish or several individual ramekins. You can prepare the casserole the day before, refrigerate, bring it back to room temperature and bake just before serving. Pimiento Cheese Grits Casserole is great for brunch alongside grilled breakfast meats. Or, try serving individual ramekins of Pimiento Grits with a green salad and garlic toast for a filling and light dinner.
Print
Creamy Baked Grits with Pimiento Cheese
Sharp cheddar pimiento cheese is is baked into stone ground yellow grits along with spiced and eggs for a comforting casserole.
Author:

Taylor Mathis and Sally James

Yield:

8

generous servings

1

x
Category:

Breakfast, Side
2 cups

stone ground yellow grits

5 cups

water

3 cups

half and half

3 Tablespoons

unsalted butter

2 teaspoons

salt (or to taste)

20 ounces

(

1 1/4

lb) extra sharp cheddar cheese, grated

1

(7 0z.) jar pimiento slices, drained and chopped

1 Tablespoon

minced red onion

1 1/2 teaspoon

prepared dijon mustard

1 teaspoon

worcestershire sauce

1/8 teaspoon

white pepper

1/8 teaspoon

cayenne pepper

1/8 teaspoon

smoked sweet paprika

4

large eggs, beaten
Instructions
Wash the stone ground grits by putting them into a large bowl. Cover with 2 inches of cool water. Stir the grits. Let the grits sit for 2 minutes. Carefully pour the excess water off of the grits. Set bowl aside. Put the water and half and half into a large heavy bottomed pot. Turn the heat to high. When the liquid begins to boil, reduce the heat to simmer. Immediately add the wet grits to the liquid. Stir. Cook the grits, stirring constantly for 3 minutes. Continue to cook the grits at a strong simmer (one or two bubbles in the grits every few seconds), stirring frequently, until the grits are cooked, about 30 to 40 minutes.
Remove the grits from the burner. Preheat the oven to 375 degrees. Add the salt and butter to the grits and stir until blended. Add the grated cheese in 3 equal additions, stirring the grits until the cheese is melted before adding more cheese. Add the chopped pimiento, onion, mustard, white pepper, cayenne and paprika to the grits. Stir until the mixture is well blended. Taste grits to adjust the seasonings and add more salt/pepper to taste.
Add 1/2 cup of the warm grits to the beaten eggs and immediately stir the mixture until it is blended. Add the tempered eggs to the pot of grits and immediately stir until the eggs and grits are well mixed. Butter or coat with baking spray a 2 quart casserole or 8 individual 1 cup ramekins. Put the cheese grits into to casserole or individual ramekins. Place the casserole or ramekins on top of a rimmed baking sheet. Bake the grits casseroles until golden brown and bubbly, about 25 minutes for the ramekins and 45 minutes for the 2 quart casserole. Remove the Pimiento Cheese Grits Casserole from the oven and let casserole cool 15 to 20 minutes prior to serving.
Taylor Mathis and Sally James
Sally James and Taylor Mathis are a mother and son duo from Charlotte, NC. Sally, a professional recipe developer, and Taylor, a professional Food and Lifestyle photographer, work together to create beautiful and delicious recipes designed to be eaten anywhere! Together they are the creators and authors of the food Blog Taylor Takes A Taste and worked together on The Southern Tailgating Cookbook.