Cooking the Magazines: Bean, Cheese, and Vegetable Enchiladas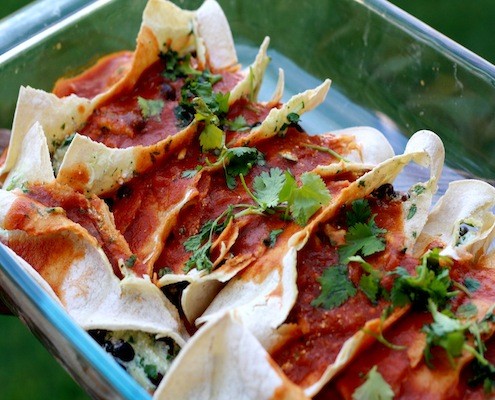 Natalie McLaury considers herself a bit of a hoarder when it comes to magazines. Never one to pass up a good deal on a subscription, it's to the point where she now finds herself receiving a magazine in the mail several times a week. Most of the time, she rips out pages of recipes but fails to actually create the recipe in her kitchen. Not anymore! Join Natalie as she cooks the magazines.
By Natalie McLaury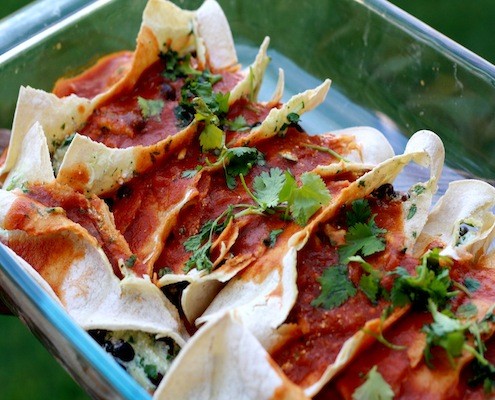 The first time I flipped through the January 2011 issue of Everyday Food, I don't remember this recipe jumping out at me. Most of the time I rip recipes out of magazines and recycle the rest of the issue (…unless it's a Cooking Light magazine. I like to keep a big stack of them on hand!). For whatever reason, I hadn't tossed this copy of Everyday Food and when I saw the recipe for Bean and Cheese enchiladas, I was intrigued.
Enchilada recipes don't typically have cottage cheese, at least not as its only form of cheese, so I was curious to see how these fared. I'm no stranger to odd enchilada combinations, having made a Black Bean and Sweet Potato variety as well as a Kale and Bean with Pumpkin Sauce variety before (and the even more unique Peanut Butter Banana French Toast Enchiladas!).
Rather than follow the recipe exactly, I bulked it up with some vegetables, adding some chopped spinach and grated zucchini to the filling. The verdict on these? Definitely another winning enchilada recipe to add to the files! The vegetables were hardly noticeable, but I felt good knowing they were in there. The bean and cheese filling was light and creamy and the sauce had just the right amount of kick. I thought it was odd that the sauce was added after baking the enchiladas, but it did prevent any soggy tortillas! My only complaint was that I had the hardest time rolling my corn tortillas, even after I warmed them in the microwave. I might have overfilled them a bit, leading to too much pressure…hence all the cracked tortillas you see in the picture [and the fact that I failed to read the part in the directions about spraying each with cooking spray]. Thankfully only presentation, not taste, was affected. Next time I might try to layer the tortillas and filling like I do in the Stacked Roasted Vegetable Enchilada casserole. If you choose to go this route, just increase the baking time and remove from oven when warmed through!

Bean, Cheese, and Vegetable Enchiladas
A meatless enchilada dish with cottage cheese, black beans, and zucchini!
Ingredients
2 cups (16 oz) low-fat (1%) cottage cheese
1 can (15 oz) black beans, rinsed and drained
coarse salt & ground pepper
½ large zucchini, grated
3 handfuls spinach, chopped small
16 corn tortillas (I used 18)
nonstick cooking spray
3 tbsp extra-virgin olive oil
3 garlic cloves, roughly chopped
1 large white onion, diced small (1/2 cup (4 oz) reserved for serving)
4 tsp (20 ml) chili powder
2 tbsp (30 ml) white vinegar
1 can (15 oz) tomato puree
2 cups (16 oz) low-sodium vegetable or chicken broth
fresh cilantro, chopped, for serving
Instructions
Preheat oven to 350F. Process cream cheese in a food processor until smooth. Transfer to a medium bowl and stir in black beans, zucchini, and spinach. Season with salt and pepper.
Wrap stacked corn tortillas in a damp dish towel and microwave until softened, 2 minutes. Working with one tortilla at a time, spray each side lightly with cooking spray. Place 2 rounded tbsp of bean mixture down the center of each.
Roll tortilla around filling and place, seam side down, in a baking dish. Bake until heated through, 10-15 minutes.
Meanwhile, in a medium saucepan, heat oil over medium-high. Add garlic and onion and cook, stirring occasionally, until onion is soft (~5 minutes). Add chili powder and cook for 1 additional minute.
Whisk in vinegar, tomato puree, and broth. Bring to a simmer and cook for 5 minutes. Season with salt and pepper before transferring mixture to a blender and pureeing until smooth (be careful so hot sauce doesn't spray all over your kitchen!).
Divide enchiladas among plates and top with sauce, extra diced onion, and cilantro.
Notes
Adapted from Everyday Food January 2011
*Note—I froze half the batch of enchiladas (rolled but not baked), as well as the sauce, and then reheated frozen a few weeks later. It worked perfectly—I just increased baking time and reheated the sauce on the stovetop!
Natalie McLaury
Natalie McLaury is a St Louis based food writer with a passion for real food and experimenting in the kitchen. Her cooking ranges from healthy three course meals to decadent desserts, and she shares many of her food tips and recipes on her successful The Sweets Life blog . As an avid runner and fitness expert, she also gives the occasional tips on how to combine a serious interest in health with a sweet tooth.