Cooking Croatia – Walnut Orange Cake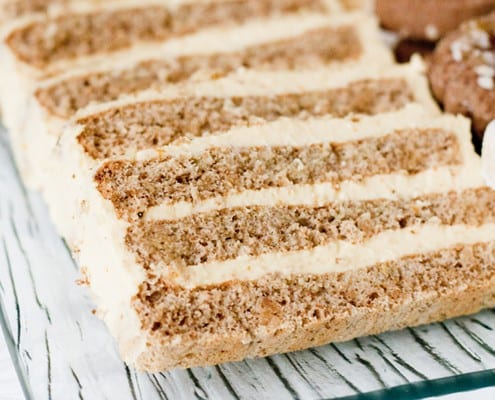 This lovely cake is a beautiful blend of nuts and citrus. Dig in.
By Tamara Novacoviç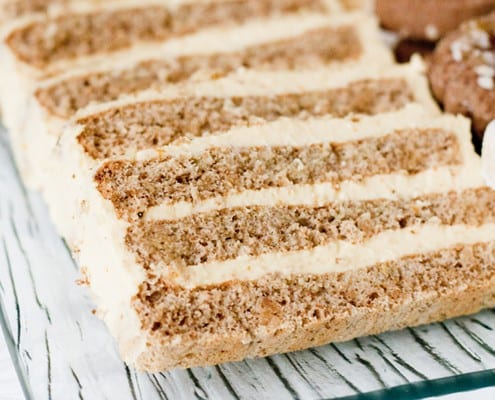 Citrus juice and zest lifts up the flavor of nuts, it gives them life. In this cake, walnuts are combined with orange. I still hold onto walnut cakes (walnuts are used a lot in Croatia during Christma holiday baking), but tend to combine it with refreshing citrus flavors, as the days get longer and a bit sunnier. Plus, there's vitamin C, always welcome :)
Cake layers are made with rough flour. I am not sure whether this type of flour is available in US?  As its name suggests, it doesn't have fine texture like all-purpose flour. You can substitute it easily with all-purpose flour (same amount) if you don't have rough version.
Recipe is adapted from here.

This beautiful cake is a blend of citrus flavor and walnuts.
Ingredients
For cake layers:
6 eggs
½ cup + 2 tbsp (120 g) sugar
½ cup (120 g) ground walnuts
4 oz (120 g) (rough) flour
zest of 1 orange
For the filling:
2 cups (500 ml) milk
2.8 oz (80 g) vanilla pudding powder
5 tbsp sugar
7 oz (200 g) butter
1 orange: zest + juice
And...
some rum
some orange juice
some walnuts for decoration
Instructions
For cake layers, separate egg yolks from whites. Beat yolks with sugar, gradually add sifted flour, walnuts and zest of 1 orange. Beat egg whites until stiff peaks form and combine with the mixture. Line baking sheet (87 inch x 100 inch or 35 x 40 cm) with parchment paper, pour mixture onto it and bake at 356 F (180 C) for about 20 minutes (test with skewer). Let cool completely and cut vertically into 3 equal parts.
For the filling, cook milk until it boils, but separate some milk which you combine with vanilla pudding powder. When the rest of the milk boils, add orange zest, sugar and milk combined with vanilla powder, cook on low heat stirring constantly until it thickens-you will get a custard. It will take only couple of minutes. Remove from heat, cover surface with plastic wrap and let cool completely.
Beat softened butter with orange juice. When the filling has cooled, beat it with electric mixer one more time and then combine with mixed butter.
Assembling: put 1st layer onto serving plate, sprinkle generously with orange juice combined with rum. You can poke layers with fork so that they soak more juices. Put ⅓ of the filling over the first layer, cover it with second layer. Again, sprinkle with juice and rum, put second part of the filling over it. Then cover with final layer, soak with juice and rum and put final part of the filling over it. Decorate entire cake with the rest of the filling and sprinkle with ground walnuts.
Cake is best served after it sits in the fridge for 1 day, when all the flavors come together.
Tamara Novakoviç
Tamara Novakovic is a passionate self-taught cook, food blogger, freelance food writer and photographer behind bite-my-cake.blogspot.com. Her life journey has led her through Faculty of Humanities in Zagreb, Croatia to discovering passion for making cakes. She is currently a weekly food columnist for Croatian newspaper V magazine and food magazine Repete.