Gingerbread cookies are a staple on many Christmas tables. They are both fun to make, and lovely to eat.
By Tamara Novacoviç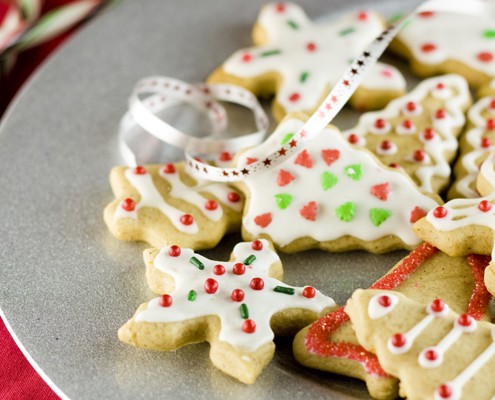 Did the Christmas euphoria get to you already? Have you started planning and baking sweets?
This is, of course, my favorite winter time. I sometimes think it's almost as if I enjoy planning Christmas presents and menus more then the actual day of Christmas. I like to be organized, very well in advance, it's my thing. Although in certain occasions annoying, this feature is most welcome when it comes to planning events and holiday menus. It's where I feel at home, content, happy and excited. Although streets were decorated with all things christmasy and shiny two weeks ago, I started planning a couple of days ago. I really don't need that much time ahead. I usually make a mental map of Christmas cookies and sweets I will make. Edible presents included-my favorite part. My mom takes care of the savory part, but sweets are my field of interest. So I am bringing you one of many ideas of what to bake and enjoy for the holidays. These also make a lovely edible present, as well as Christmas tree decorations!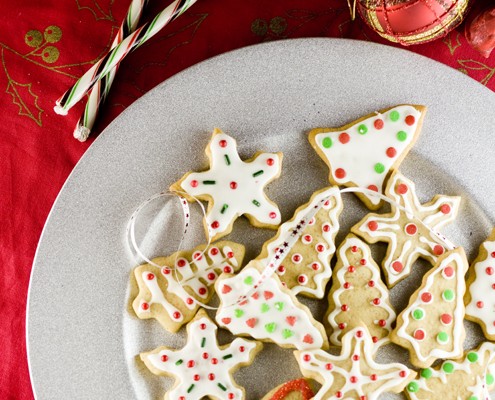 The part when you decorate cookies takes you back to your childish self. It's a play of  pearls and decorations where you get to be as creative as you want and produce colorful cookies. You can include your children and make this a family "event". For these cookies I used snowflake, tree and bell cookie cutters, but feel free to play with the ultimate classic: gingerbread men.
See Also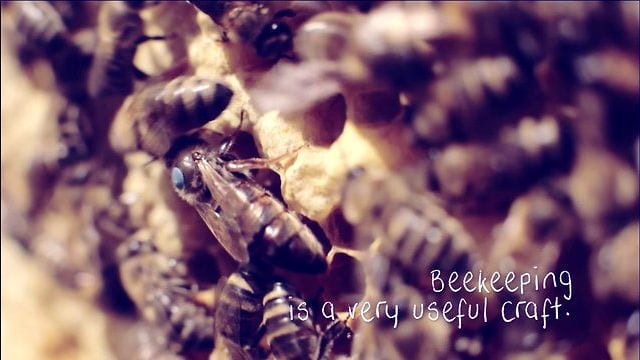 I used honey instead of molasses, because my family keeps bees and we have our own organic honey, which for me is the ultimate pleasure and source of health. If you wish, you can substitute honey with equal quantity of molasses. Honey in these cookies is always used in Croatia, it's our traditional ingredient. We call them Medenjaci.  They are a staple on Christmas tables throughout Europe. In Austria and Germany, they are known as lebkuchen or lebzelter. They're known as pernik in the Czech and Slovak republics, pierniczki in Poland, medenki in Bulgaria, medenjaki in Slovenia, and pryaniki in Russia. They remind you of family traditions no matter how far away from home you are.
These cookies are slightly soft and chewy and can keep well for weeks. I encourage you to use honey instead of molasses and try these lovelies.
Holiday baking: Gingerbread honey cookies
Gingerbread cookies are a staple on many Christmas tables. They are both fun to make, and lovely to eat.
Ingredients
For the dough
3 cup (390 g) all purpose flour
½ tsp salt
A pinch of baking soda
2 tsp cinnamon
1 tsp powdered ginger
¼ tsp cloves
¼ tsp nutmeg
½ cup (113 g) unsalted butter
⅔ cup (160 ml) honey (or molasses)
1 tsp vanilla extract
1 large egg
Royal icing
0.6 cups (150 g) powdered sugar
pinch of salt
1 egg white
You will also need
edible glitter, pearls and other decorations
Instructions
Whisk together flour, soda, salt and spices.
Beat the butter and sugar until light and fluffy. Add vanilla, honey and egg and beat until well combined. Gradually add the flour mixture beating until incorporated.
Divide the dough in half, and wrap each half in plastic wrap and refrigerate for at least two hours.
Preheat oven to 350 F (180 C) and place rack in center of oven. Line 2 baking sheets with parchment paper.
On a floured surface, roll out the dough to a thickness of about ¼ inch (0.5 cm). Use a shaped cookie cutter to cut out the cookies. With an offset spatula lift the cookies onto the baking sheet. If you are hanging the cookies or using as gift tags, make a hole at the top of the cookies with a wooden skewer.
Bake for 10 minutes. They are done when they are firm and the edges are just beginning to brown. Remove the cookies from the oven and let cool.
Make royal icing: beat egg white with a pinch of salt until stiff peaks form. Gradually add powdered sugar. Put the mixture into piping bag and pipe out decorations over cookies. You can tint icing with some edible colors. Add decorations on the icing while it's still wet (it dries quickly).
Let dry. Store in an airtight container. These cookies can be stored for weeks.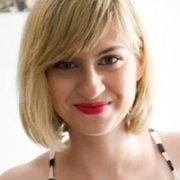 Tamara Novakoviç
Tamara Novakovic is a passionate self-taught cook, food blogger, freelance food writer and photographer behind bite-my-cake.blogspot.com. Her life journey has led her through Faculty of Humanities in Zagreb, Croatia to discovering passion for making cakes. She is currently a weekly food columnist for Croatian newspaper V magazine and food magazine Repete.