This is an elegant and sumptuous dish to serve on a very special occasion. Here prepared in a wood-burning oven, it can of course be done in a traditional home oven.
By Suzie Castello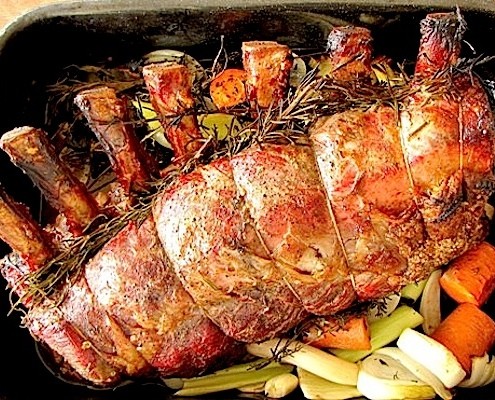 "O açougueiro é o amigo do freguês!" That's what Zé, my butcher, says.  "The butcher is the customer's friend!"  And he is my friend, as is Mauro, Edmilson, Baiano, Bruno and many others that work at my local supermarket.   For meat eaters, I think it awfully important to have a relationship with a butcher. Without them, I would not have been able to make the prime rib pictured above for Thanksgiving.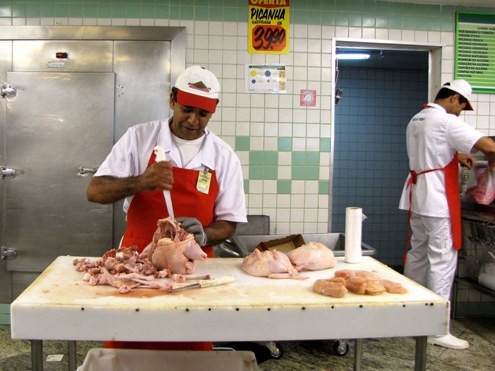 My market has a typical Brazilian meat counter where one takes a number and waits to to be attended by a butcher trained to select and cut meat, chicken and pork to the customers wishes.  There are no plastic-wrapped trays of steaks, chops and chicken breasts to grab and go.  Each order is cut fresh from larger cuts hanging in a chilled glass case.  If you don't know which cuts to chose, you can tell the butcher the kind of dish you're planning to prepare and he'll guide to the right cut and quantity for your budget.  Sure, there are butchers who will not care too much about the results of your endeavors, and, coincidentally, rarely have a line of customers waiting to be served.  But, most butchers with which I have become friendly are genuinely interested in your dinner plans, and moreover, are delighted to know that the choices you took home turned out alright.  The conversation following a successful meal usually sparks other ideas and suggestions, and the cycle continues bringing success to butcher and home cook alike.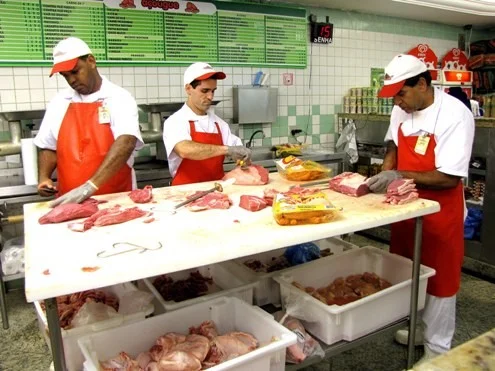 I talk a lot with the butchers where I shop.  They are a huge source of knowledge, watching them deboning fresh chickens, cleaning and slicing steaks and roasts, suggested cooking methods and recipes and guiding me through the best of the day's offerings.  With a sly smile or a sneer they steer me towards the best option, be it a good day for rib-eyes or better to pick something to grind on the spot for burgers.  I have become spoiled.  This is not an upscale, fancy butcher shop.  This is the service at the local supermarket.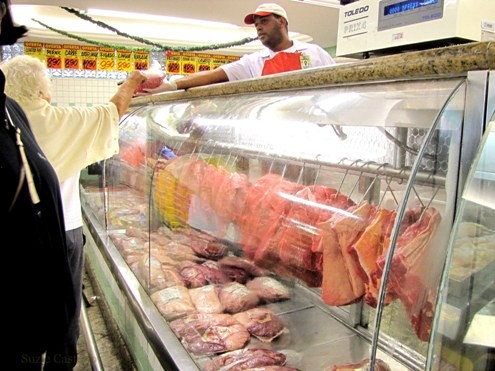 Without an open dialogue with butchers I would never have learned to navigate through the choices Brazilian cuts.  I've learned that a picanha is excellent for the grill or for roasting in a rock salt crust, while a piece of chã is going to be tougher and take a little brasing to make it tender.  I never had a chance to learn the subtleties of American cuts the way I've been schooled on the Brazilian ones through my butcher-counter conversations.  I remember on a trip back to California I went to the local Von's looking for a cut to make a palheta guisada (sort of a braised short rib).   The cut I use in Brazil is the palheta, which is from the shoulder blade region.  I was lost. I needed to talk to a butcher.  Poking my head around the corner into the cavernous, "keep out" regions of the market.  I found a butcher there, who luckily spoke Spanish.  He looked shocked that someone would dare poke their head into his work area. I said, "Hey, do you know what a palheta is?"  He answered, "Did you say paleta?"  I said "Yeah. "  He responded, "Yeah, that's a seven-bone roast."  He sheepishly left the dark work area and entered into the glare of the meat aisle to show me an array of pre-cut, plastic-wrapped trays of a hunks of seven-bone roast.  It was just a slice of that region of the animal, full of sinew,  fat and no art.
A Brazilian butcher would show me the whole palheta and let me show him how much I would like and from which end of the piece he was holding.  He'd weigh it, clean it of sinew and fat, and cut it how I wished.  Watching him over the counter I would get a chance to understand where the cut comes from in relation to the larger cuts and the animal as a whole.  It would also give us a chance to talk about how to prepare it.  Yes, it takes longer to make groceries than just grabbing a tray and heading to the check out.  It is not as convenient.  But should killing, cooking and eating an animal be so convenient?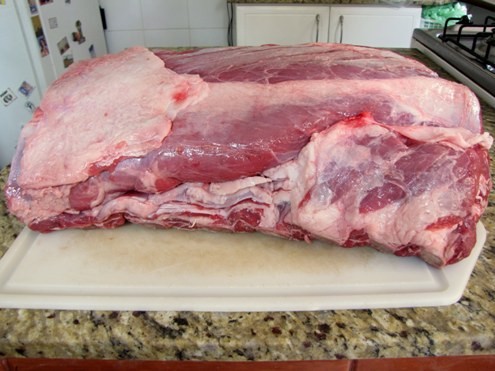 Knowing a little more about the animal, how the muscles fit together, I think, adds to the enjoyment of eating meat.  It shows a little more respect to the animal and, at least I don't waste it so easily with the awareness of the work involved in butchering meat.  A steer only has two picanhas, and two filet mignon.  Those cuts suddenly become more valuable, not just more expensive, but more prized, and therefore reserved for special occasions.
Finally to the special occasion.  On Thanksgiving I served, alongside the turkey, an 8-rib prime rib roast,  a cut I once thought impossible.  Impossible for its price when I lived in the States.  Impossible here because I didn't know how to find one.  How was I going to ask my butcher for a "prime rib"?  They don't cut the steer that way.  I needed to figure out exactly what a prime rib was, anatomically, to know how to ask for it.  Through careful observation at the butcher counter, I figured out that a contra filé is a prime rib off the bone.  Whole, deboned contra filés hang in all the butchers' cases here.   I've been looking at prime ribs every time I passed a butcher counter!  It is called contra filé (against the filet), as it sits opposite the bone from the filet mignon. Here it is most often cut into steaks, thick or thin and served along side a fair helping of rice, beans, farofa and collard greens to round out a hungry (wo)man's lunch.
I always prepare a turkey at Thanksgiving, but turkeys here aren't very large, and I was anticipating about 15 adults, plus kids. I wanted something old fashioned and stuffy.  I remembered as a kid growing up in LA going to Lawry's, on really special occasions, to eat prime rib hauled out on a cart, standing on end in a silver tourine from which it was sliced horizontally.  My battered copy of Julia Child's The Way to Cook (which dates back to the Lawry memories) has a photo of a prime rib roast over which I have drooled on many occasions.  I was looking to satisfy some desire deep in my imagination.  Something that landed gentry would have gabbled over with hands stuffed in tweedy pockets, rocking back and forth from heel to toe, expounding knowledge of breeds and types of grass and clover, higher and lower pastures and rainfall levels.  I wanted all that in the dish I was going to serve.  How was I going to explain all this to my butcher?
The week before Thanksgiving I started a conversation with Edmilson.
"Can I get a contra filé on the bone?"
"A whole one?"
"I don't know if I'll need a whole one, can I chose how much I want?
"Sure.  I'll set one aside for you."
On the afternoon before Thanksgiving Edmilson slapped down a nearly yard-long piece of beautiful beef with all the fat, and 12 ribs attached.  "How much do you want?"
"I think about eight ribs, " imagining how much would fit in the roasting pan.
"Which end?"
"The tender one," not having a proper answer.
See Also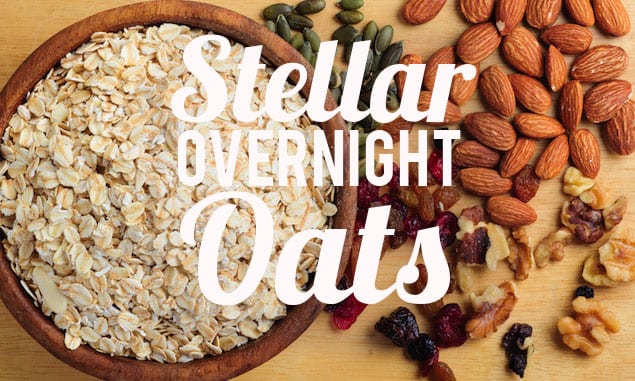 Edmilson explained that the tender isn't as big around and "pretty" as the other end.  I said that it was okay, and asked if he could remove the spine attached to the piece.  Not doing enough research, I realized later that I needed to ask him to remove the chine bones as well, leaving really just the rib, so as to be able to slice it, rib on.  But everything was fine.  I was going home with 6kg of beautiful beef.  Having more bones than I needed wasn't going to get in the way of Thanksgiving.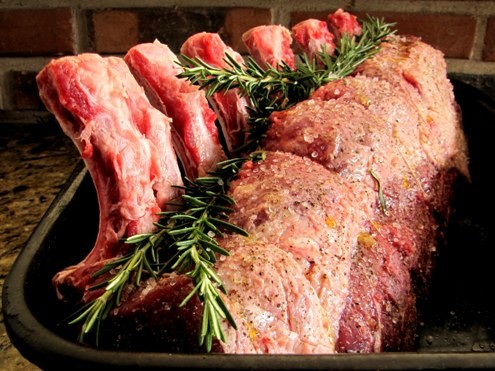 The extra bones turned out to be a blessing in disguise.  As the kitchen oven was occupied with a turkey, I decided to do the prime rib outside in our wood-burning oven.  I trimmed the roast back to the bone so it looked like the picture in The Way to Cook, frenching the bones and cutting away the treasures of tender meat buried between layers of snowy white fat; dreaming of future tacos.  Why didn't I have Edmilson do this part?  Because I am curious and wanted to see how it worked for myself.  The chine bones, although in the way of slicing the meat on the bone, it turned out would serve a rack to support the roast through the unpredictable temperatures of the wood-burning oven.
I tied up the roast with kitchen string, under which I tucked sprigs of rosemary.  Then, after rubbing it with olive oil, fresh-ground black pepper and a handful of rock salt, I set it in its roasting pan, ribs standing up, and slid it into the heat of the oven up next to the pile of burning embers.  After about 20 minutes and a couple of turns to seal the meat on all sides, I covered the roast with aluminum foil.  After about an hour, I added a mixture of vegetables and a pint of white wine to the roasting pan, tipped the roast over onto its ribs, and shoved it back into the heat, adding some wood to keep it steady, but not too hot*.
After nearly 2 1/2 hours of roasting, the prime rib was well done on the tips, and rosy through most of the middle and rare at its thickest part.  The vegetables and wine at the bottom of the pan reduced to a jus from which I skimmed the fat and served heated through as gravy.
I packed up the car with turkey, prime rib, gravies, stuffing, pies, and all the fixings, and hauled them to my mother-in-law's to serve the hungry crowd, many curious to know what this Thanksgiving thing was all about.  The presence of the chine bones required me to remove the whole of the roast away from the ribs in order to slice through it.  But the little they did in hindering a beautiful service, they added in juiciness and flavor to the roast.  Each slice, whether rarer or more well done, was succulent with smokiness, neither the perfume of grilled nor oven-roasted beef.  It had a scent all its own invoking fire pits and outdoors and wet leaves on the forest floor, and…there was my imagination running away with me again.
Of course, the week after Thanksgiving, after the leftovers were gone and it was finally time to make groceries again, I shared the story of the prime rib with Edmilson, Zé and Mauro.  They were delighted with the results.  Edmilson admitted he had thought about removing the chine bones but was glad to see they'd served a purpose.  They all deemed the prime rib "a keeper" and suggested I repeat it for Christmas.  I told them "My mother-in-law already asked for it and so I'd like to place an order for the 23rd!"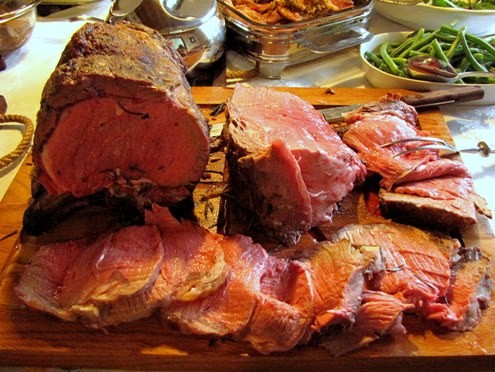 *My wood-burning oven practices are very personal and touchy-feely.  I rely on touch, smell, intuition, gut-feelings, and brazen self-assuredness to know if the temperature is right or if the meat is done.  For instance, if the heat of the oven is burning my corneas, it is too hot too for a roast, but perfect for a pizza.  I urge you to please use a thermometer to regulate your oven and a meat thermometer to check suitable doneness.
Print
Roast Prime Ribs of Beef
This is an elegant and sumptuous dish to serve on a very special occasion. I prepared it in a wood-burning oven, it can, of course, be done in a traditional home oven. The article relates my experience of cooking in a wood-burning oven, and leaving the chine bones on the roast. Julia Child recommends removing all the chine bones. A good conversation with a butcher will give you the results you want. The following recipe is for a 5-rib roast. Cooking times will be different depending on the size of the roast.
Author:

Suzie Castello - adapted from The Way to Cook by Julia Child

Prep Time:

30 mins

Cook Time:

3 hours

Total Time:

3 hours 30 minutes

Yield:

1

2

1

x
A prime rib roast, fully trimmed
sprigs of fresh rosemary

3 tablespoons

of olive oil
freshly ground black pepper to taste

2 tablespoons

of rock salt

2

onions, peeled and cut into large pieces

2

carrots, peeled and but into large pieces

1

leek, cleaned of dirt and cut into large pieces

5

cloves of garlic, peeled and smashed

1 pint

of white wine
Instructions
If using a wood-burning oven, start your fire about an hour before you are ready to put your roast in. The walls of the oven need to reach a high heat before putting in the roast. The fire should be burned down to red embers before putting in the meat.
If using a conventional oven, preheat it to 325F (160C). While the oven is preheating, take the roast from the refrigerator to get it up to temperature before roasting. A cold roast will require a longer cooking time.
Tie up the roast with kitchen string.
Insert sprigs under kitchen string.
Rub with olive oil, black pepper and rock salt and place into a large roasting pan.
Place the roast into oven and bake it uncovered for about 20 to 30 minutes.
Cover with aluminum foil and bake for another hour.
At this point, uncover the roast and add the vegetables and wine. Re-cover and return the roast to the oven for approximately another hour.
It is advisable to use a meat thermometer to check doneness. 120F (49C) is rare, 130F(54C) is medium rare, 140F (60C) is medium. Anything above that is well done.
Remove the roast from the oven and let it sit for 20 to 30 minutes before carving. This will allow the juices to "retreat back into the meat" as Julia Child so eloquently states it.
While the roast is resting, rescue the juices form the bottom of the pan.
Skim the fat and heat the juices to serve as gravy.
Untie the roast, stand it on end on a carving board, slice and serve to your guests' delight.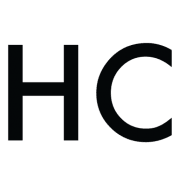 Suzie Castello
Suzie Castello is an American writer living and raising a family in a small town in the mountains just outside Rio de Janeiro. She writes about finding ways to cook, with the regional ingredients, dishes that tell her life story, from childhood in the States to travels abroad, and anything new discovered along the way. She is also the Editor of Da Minha Cozinha, a Portuguese-language blog about honest home-cooking.