Johanna Kindvall on the Swedish tradition of eating Yellow Pea Soup every Thursday.
By Johanna Kindvall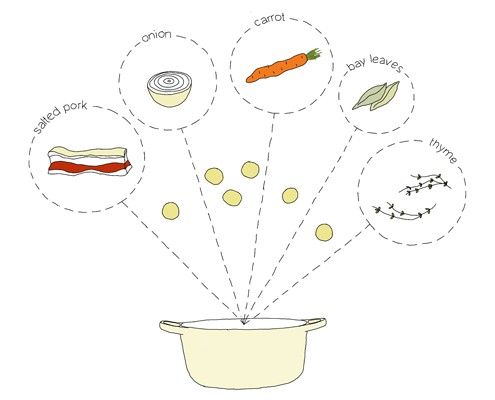 In Sweden you eat yellow pea soup with thin pancakes every Thursday, or at least its popular to do so. The tradition has its roots in the middle-ages, where it was in preparation for Friday which was a day of fasting at that time. Nowadays its common to serve the soup with warm Punch, a sweet arrack flavored spirit. It's one of those odd combinations that actually works.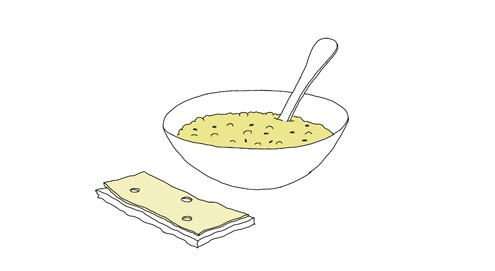 Print
Swedish Yellow Pea Soup (Ärtsoppa)
In Sweden there is a tradition to eat Pea Soup every Thursday.
Author:

Johanna Kindvall

Prep Time:

12 hours

Cook Time:

1 hour

Total Time:

13 hours

Yield:

4

1

x
2 cups

(

500

ml) dried whole yellow peas*

one

onion

one

carrot (optional)
plenty of thyme or marjoram
salt and pepper

1/2

lb (250 gram) salted pork **
Instructions
To make the soup, soak yellow peas for about 12 hours.
After soaking, cook the peas in about 5 ½-6 cups (1.3-1.5 liter) water together with a whole piece of salted pork (or if you prefer, cut into smaller pieces), onion, bay leaves and plenty of thyme (or marjoram which has a richer flavor).
I don't mind adding a carrot into the soup, it's not essential but it gives the soup a sweet touch that I like, add it later so it doesn't get too soft.
The peas will need about an hour to be ready, sometimes even longer. Just before the peas are done (almost mushy), take out the meat and slice it. The meat can be served on the side or in the soup.
If necessary season with salt.
Notes
* in case you can't find whole yellow peas, yellow split peas may be used, just skip the soaking and follow the rest.
** bacon or similar may be used if its impossible to find salted pork.
Serve the pea soup with mustard and buttered crisp-bread (knäckebröd). If possible, I warmly recommend you try some warm Punch to go with it. Cheers!
I often skip the thin pancakes but for most Swedes this is the grand finale of this meal! They should be super thin and served with freshly whipped cream and fresh berries.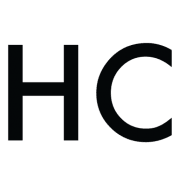 Johanna Kindvall
Johanna Kindvall is freelance designer who works with illustrations, graphics and architecture. She loves to cook, eat and draw; a combination she have been sharing on her cooking blog, Kokblog since 2005. Her recipes are more about what you can do, less about how you make them. Johanna is a Swede based in New York City. During the summer she works from her little cottage in the very south of Sweden just an hour from the Danish capital of Copenhagen.