A nice compromise between sorbet and ice cream, this sherbet is make with rich coconut milk to be diary free, too. Creamy, comforting and oh so orangey.
By Traci York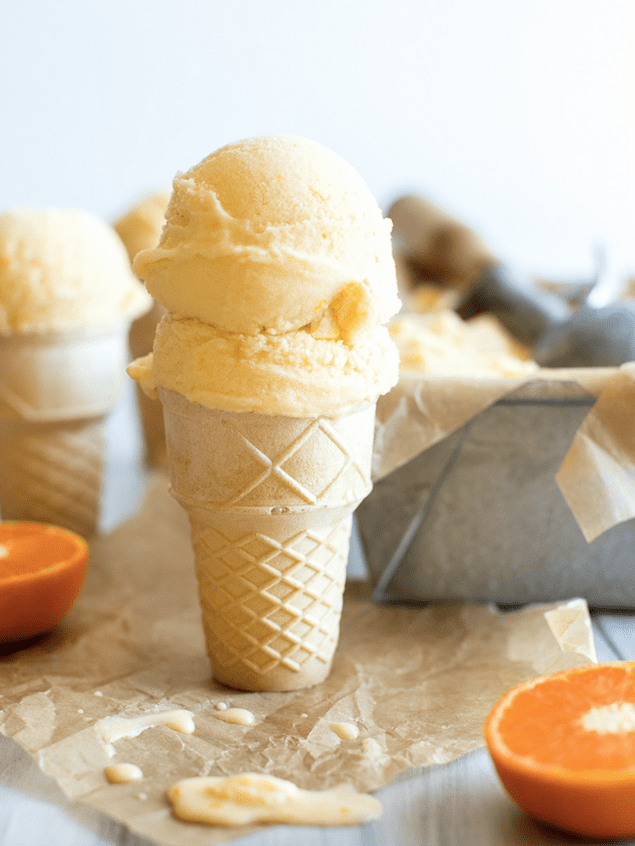 The color of Spring flowers and late winter citrus are overwhelmingly inspiring and bring pleasure beyond compare. It's the simple things, right? Take citrus, for example. I've been drinking it up several times a week since sharing the beloved citrus ginger mint green smoothie with y'all. I've used it in a salad dressing, salad and made this tart with the famed Cara Cara.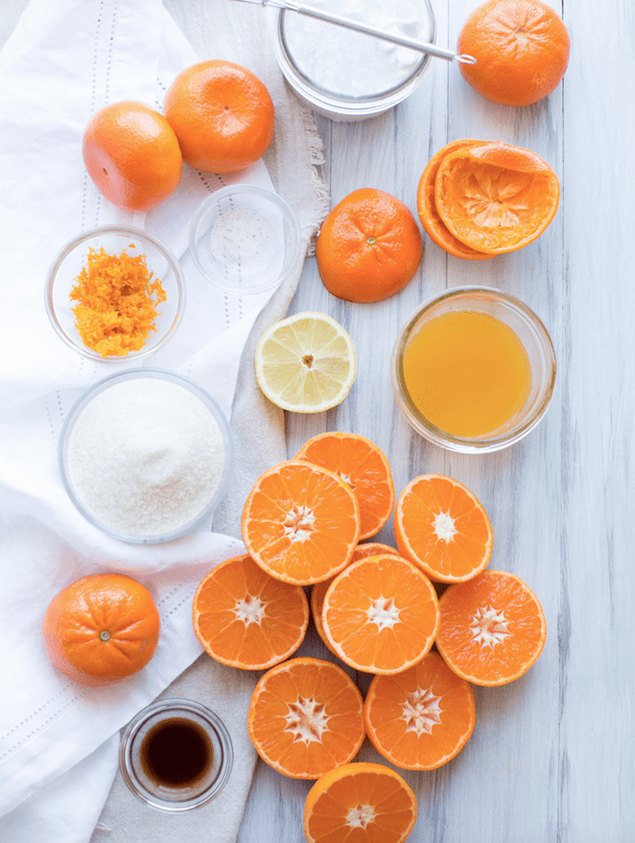 Murcott Mandarins, next to Cara Cara orange, are my go-to late season citrus. They are incredibly easy to peel, are organic, virtually seedless and over the top sweet and juicy. Murcott Mandarins start showing up right about when California Clementines are ending their season. Also known as Murcott Tangerines, and Honey Tangerines, find Murcott Mandarins at organic markets, natural food stores, and local co-ops.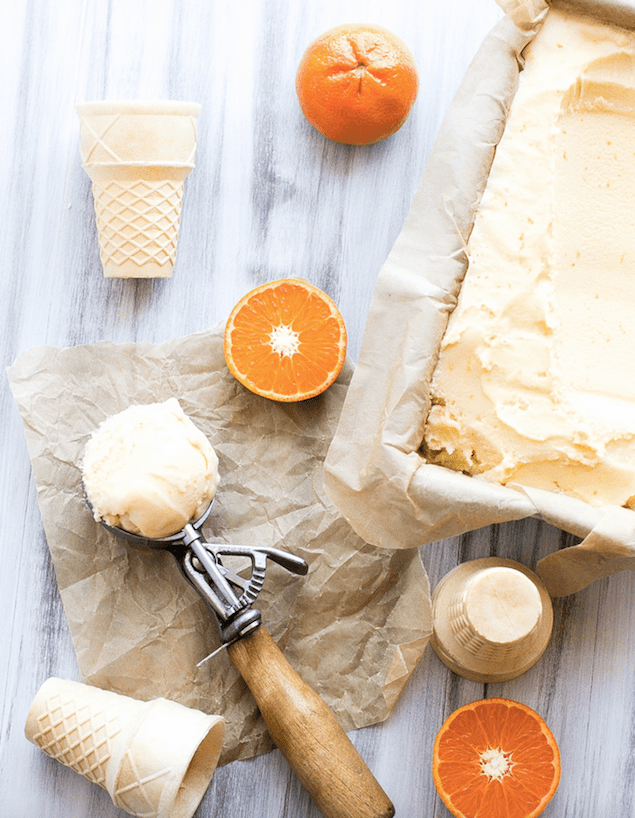 See Also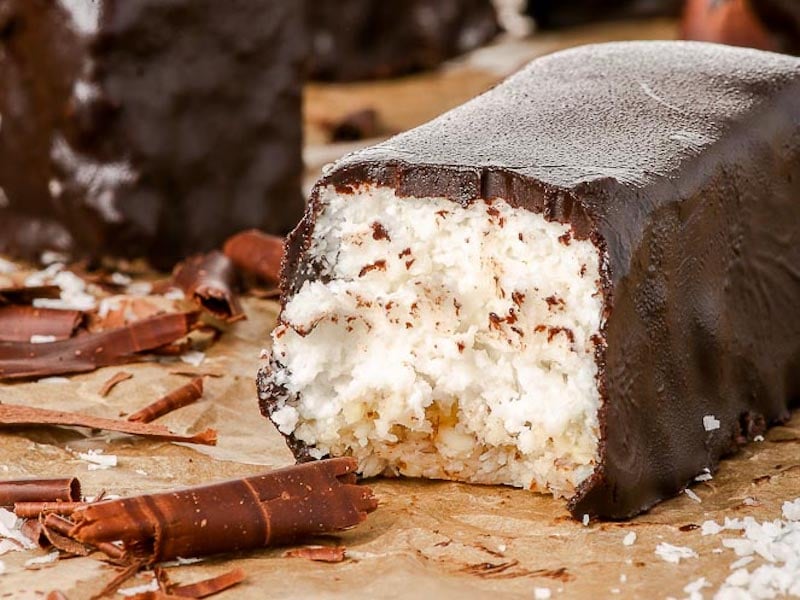 Orange Sherbet was my favorite frozen treat growing up.
Orange Sherbet sets right in the middle on the continuum of frozen treats. Ice cream is made with dairy and eggs, sherbet with dairy, and sorbet is dairy and egg-free. In this Sherbet recipe, I use coconut milk to make it dairy-free and to increase its overall deliciousness. Orange Sherbet is so simple to make; it only requires six ingredients, an ice cream maker and a strong hand for juicing. It comes together with ease and is worth the wait. Even Rob was smitten; not an easy task.
Print
Coconut Milk Orange Sherbet
A nice compromise between sorbet and ice cream, this sherbet is make with rich coconut milk to be diary free, too. Creamy, comforting and oh so orangey. Adapted from Alton Brown's Recipe.
Author:

Traci York

Yield:

5

servings

1

x
Category:

Dessert

Cuisine:

Dairy Free
2

C Orange Juice, fresh­ squeezed Murcott Mandarins
(482 g of juice). This will require 2 to ­3 lbs of oranges (1 ­

1.4

kg). Refrigerate the oranges overnight if possible.

1

Tbs Lemon Juice (

4 g

)

1

C Granulated Evaporated Cane Juice Sugar (

210 g

)

1/8 tsp

Sea Salt (

2 g

)

½ tsp

Vanilla Extract (I use Rodelle Organic) (

4 g

)

1¾

C, or

13.6 oz

can Full Fat Coconut Milk, refrigerated
overnight (382 g)

2

Tbs Orange Zest, 2 small oranges (

12 g

)
Instructions
The night before making the sherbet, place the oranges and coconut milk in the refrigerator. Place the ice cream maker's freezer bowl in the freezer.
In a high speed blender (or a food processor), blend the orange juice, lemon juice, sugar, salt, vanilla extract, and coconut milk until the sugar is dissolved. Strain into a large bowl.
Add the orange zest. Stir.
Refrigerate until mixture is 40F or less (I refrigerated mine overnight to reach appropriate temperature).
Process mixture in an ice cream maker according to the manufacturer's directions. When finished, the sherbet will be like soft­serve (mine took 25 minutes).
While the sherbet is processing, line a storage container with parchment paper and place in the freezer.
Spoon the sherbet into the storage container making sure to redistribute the zest evenly as it tends to get stuck and clump up on the mixer attachment.
Place a piece of parchment paper directly on the surface of the Sherbet and freeze until desired consistency. I freeze mine overnight, but a softer serve consistency can be enjoyed in about three hours.
Serve in a bowl or cone.
Store for up to two weeks in the covered container in the freezer.
Traci York
A Texas native and former omnivore, Traci is the author and photographer behind Vanilla And Bean, a vegetarian food blog where you'll find savory and sweet recipes and photography to inspire. Although flavors of TexMex influence her cooking, she now resides just North of Seattle WA where farms and farmers markets abound. This is where she finds her inspiration. After a career in education, Traci set off to pastry school to learn in the French style and hone her baking skills. While working at an organic, artisan bakery Traci started Vanilla And Bean to share her love of good food.