This thick chutney comes together with just a few basic ingredients that add a kick to the ground coconut.
By Nagalakshmi Viswanathan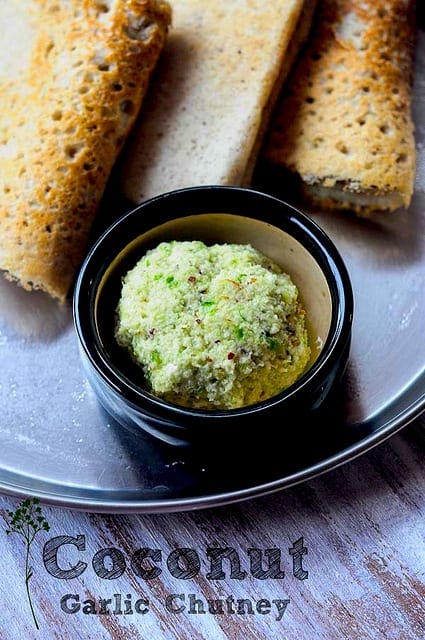 Coconut garlic chutney is this thick coconut chutney (Kerala style recipe) that amma makes on a regular basis to go with idli or dosa, mostly dosa. It's a very very simple chutney that requires no tempering – just a few basic ingredients to balance the flavours of the coconut and gives an edge to the dosa or idli. When I wanted to take a picture of amma's basic thick chutney the last time I was in Kottayam, she was protesting saying "this is so simple, why do you want to share the recipe of this chutney?" But I knew that it's probably not as common in other households as ours and, well, I am all about sharing and caring.
The ingredients for thick coconut garlic chutney is pretty much standard but you can and should alter the proportions to suit your tastebuds. The best way is to add lesser of everything and top up as you grind it. We like it spicy and on the sour side with just a hint of garlic. This goes especially well with dosa made on the same day the batter is made so it's not sour at all and the sourness in the chutney compliments the dosa perfectly. We call this dosa, made thick and with lots of gingelly oil – penrottai.
It's also worth mentioning that I have named this coconut garlic chutney for lack of a better way to describe it. At home, we simply call it 'oorindi', a colloquial way of saying 'noorindi' in Reddiar Telugu, which means 'ground'.

Coconut Garlic Chutney
This thick chutney comes together with just a few basic ingredients that add a kick to the ground coconut.
Author:
Nagalakshmi Viswanathan
Ingredients
4-5 Indian green chillies
2 small pods of garlic
1 lime-sized ball of tamarind, deseeded and all impurities removed
To taste: salt 2-3 tbsp of water, for grinding
Instructions
Grind all the ingredients together adding 1 tbsp water in the beginning and adding more as you go. The chutney should be thick and not pasty so don't grind the life out of it! The freshness of the coconut is key to better taste. If you use frozen coconut, it will not taste as good but still makes a pretty good coconut chutney. As mentioned, adjust all ingredients to your personal taste.
Nagalakshmi Viswanathan
Nagalakshmi, aka Nags, is the cook, writer, and photographer behind Edible Garden. She loves most things edible, loves traveling to places just for the food, and hardly ever leaves home without her camera. Her specialties are Indian food, making baking look easier than it actually is, and finding new and unique ways to use her Kitchenaid. She lives in Singapore with her husband and a small herb garden in her balcony.