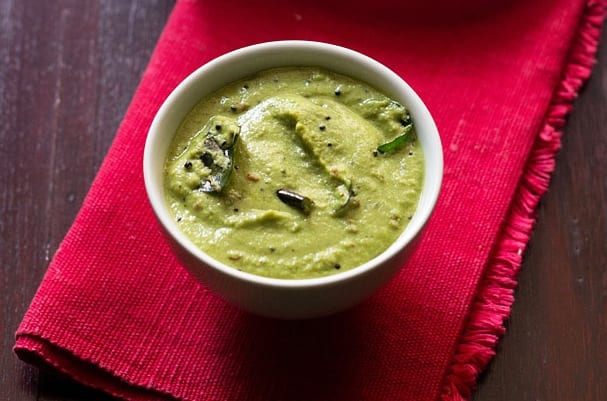 Serve this rich and tangy chutney with your favorite South Indian snacks like idli, dosa, vada and mysore bonda.
By Dassana Amit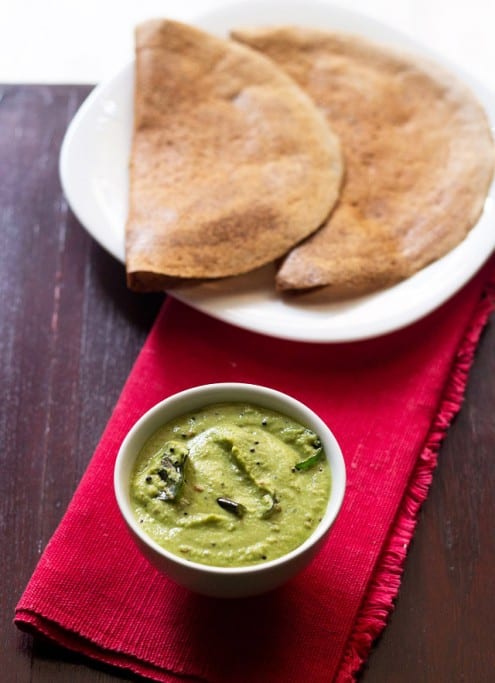 Coconut Garlic Chutney
Serve this rich and tangy chutney with your favorite South Indian snacks like idli, dosa, vada and mysore bonda.
Ingredients
main ingredients:
½ cup grated coconut, tightly packed, fresh or frozen
2 tbsp roasted chana dal
1 to 2 green chilies, chopped
1 tbsp chopped coriander leaves
3-4 garlic cloves, chopped
½ cup water or as required
rock salt as required
for tempering/tadka/chaunk
1 tbsp oil
1 tsp mustard seeds
1 tsp urad dal
a pinch of asafoetida
10-12 curry leaves
1-2 dry red chilies, kept whole or broken & deseeded
Instructions
first grind the coconut, roasted chana dal, green chilies, coriander leaves, garlic in a chutney grinder or blender with water.
season the chutney with salt and keep aside.
in a small pan, heat oil on a low flame.
when the oil becomes hot, add the mustard seeds and urad dal.
keep the flame low.
let mustard seeds crackle and the urad dal get reddish brown.
they will take almost the same time to get cooked.
then add the dry red chilies, curry leaves and asafoetida.
stir and fry till the curry leaves become crisp and the red chilies change color.
pour the hot tempering in the prepared chutney.
stir and then serve the garlic coconut chutney with idli, dosa, vadai or upma.
Dassana Amit
Dassana never intended to start a food blog. She never ever thought about blogging in her wildest of dreams. Her only passion in her life was meditation. As she went deeper in meditation, she realized that her inborn gift of cooking delicious & healthy food needs some creative expression. So she started her blog " Veg Recipes of India " as an outcome of creative flowing energy. Now she has also combined her another gift i.e photography with cooking. When not blogging & food photographing - she works as a web developer and seo expert.