Peanut Butter Panko-Crusted Chicken Wings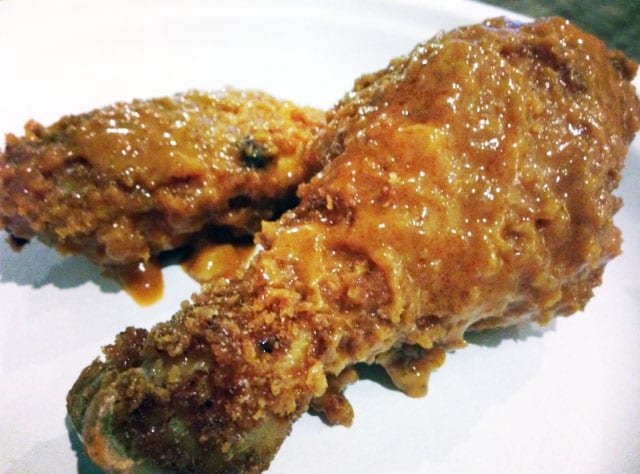 The creamy texture and nutty, semi-sweet flavors of the natural peanut butter combined with the spicy, tangy and slightly acidic hot sauce is nothing short of perfection.
By Danielle Marullo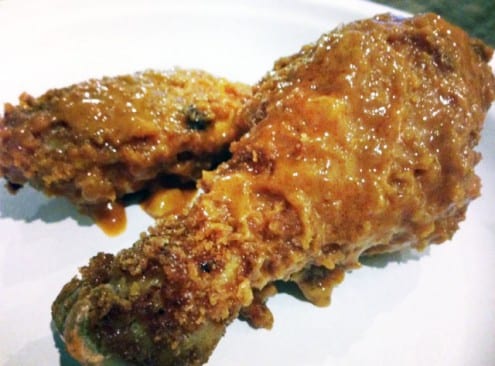 Peanut Butter Panko-Crusted Chicken Wings
The creamy texture and nutty, semi-sweet flavors of the natural peanut butter combined with the spicy, tangy and slightly acidic hot sauce is nothing short of perfection.
Ingredients
Peanut butter wing sauce
1 Tablespoon Olive Oil
⅔ Cup Louisiana Style Hot Sauce
1 Medium Shallot Finely Chopped
1 Clove Garlic Minced
2 ½ Tablespoons Dark Brown Sugar
⅓ Cup Creamy Natural Salted Peanut Butter (My favorite is Trader Joes)
1 Tablespoon Worcestershire Sauce
1 Tablespoon Soy Sauce
1-2 Teaspoons Fresh Squeezed Lime Juice
Pinch Cayenne (or more if you like extra heat)
Pinch salt and Pepper
Chicken wings
A mixture of small wings and drumettes (small drum sticks). You can also just use regular size drum sticks (You will wants a few per person depending on if you are serving this as an appetizer or entrée)
Plain Panko Breadcrumbs
Eggs
Peanut Oil (or Canola) (Enough to fill up a large pot half way. I use a Dutch Oven style pot.)
Salt & Pepper
Cayenne Pepper
Instructions
Peanut butter wing sauce
In a medium pot pour in the olive oil, shallot and garlic and sauté until translucent.
Pour in the Hot Sauce and stir until combined.
Whisk in the brown sugar, natural peanut butter, Worcestershire sauce, soy sauce, lime juice and cayenne.
Cook on low heat until all the flavors come together.
Add salt and pepper to taste.
Set aside and allow the flavors to meld together off the heat while you cook the chicken.
Chicken wings
Heat the peanut oil in a deep pot until it reaches about 360F or when you drop a piece of breadcrumb in the oil it bubbles up and turns golden brown.
While the oil is heating, beat a few eggs in a shallow dish. In a separate dish pour in your Panko, a couple dashes of cayenne pepper, black pepper and salt. Mix together so the spices are evenly distributed.
Dip the chicken wings and drumsticks into the beaten egg and then roll them in the panko crumbs so they are fully coated.
Drop 4 to 5 pieces of chicken (if they are small) into the hot oil at a time. Allow the chicken pieces to get nice and brown and crispy in the hot oil and cook all the way through. This will take about 8-10 minutes for small wings and drumettes and 12-14 for large drums. Remove the cooked pieces of chicken from the oil with a slotted spoon and place them on paper towels to soak up the excess oil. Do not put in too many at a time or they wont get brown or cook properly. If you are making a lot of wings you can keep them warm in a 200F oven on a cookie sheet.
Toss the wings in my peanut butter wing sauce and enjoy!!
Danielle Marullo
Danielle Marullo is a graduate of Penn State University's School of Hospitality Management and is currently a Food and Beverage Manager in New York's famous Waldorf Astoria Hotel. In the past, Danielle has assisted Chef Bobby Flay at the Food Network Food and Wine Festival in New York and, most recently, appeared on Anderson Cooper Live! where she was the winner the "Chopped Challenge" moderated by Food Network's Ted Allen, based on the popular "Chopped!" television show.'Got Room for More' is not only a statement, it's a driving force. It spans beyond hunger and appetite, it feeds our yearning for more knowledge about food. Using the hashtag #GotRoomForMore will build and foster a community of other foodies just like us.