Chef Ben Devlin, a young chef in the Tweed, New South Wales, shares one of his award-winning recipes for clams with semolina pasta with food writer, Michelle Tchea.
For the real thing, visit Halcyon House in the Tweed, NSW
Pippies (or clams) with semolina pasta & lemon myrtle – Paper Daisy, Halcyon House, NSW
Cabarita beach, the town our restaurant is in, has been known as a fertile area for pippies. They are something that we always have on our menu in some way. They can be treated like mussels or clams, but they have a more mild sweet flavour, and the cooking juice will make a great sauce.
See Also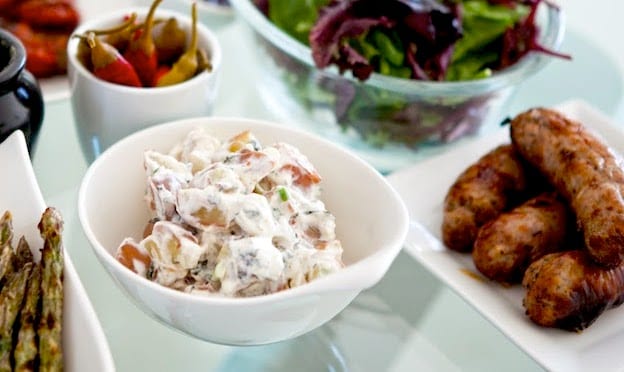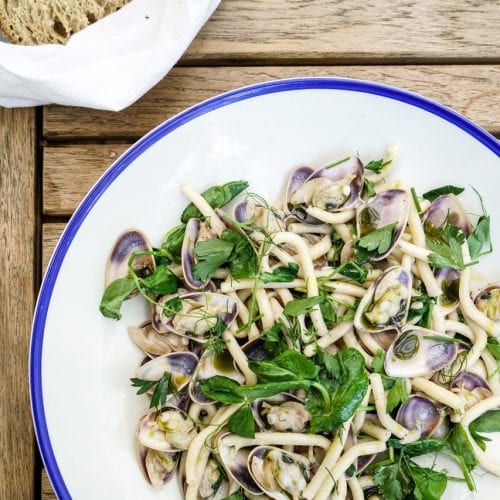 Clams with Semolina Pasta and Lemon Myrtle - Paper Daisy, Halcyon House, New South Wales
Ben Devlin
Ingredients
Pasta Dough
180

g

semolina

180

g

plain flour

120

ml

water

20

ml

macadamia oil

5

g

salt
Dish
300

g

pippies

120

g

pasta

60

ml

white wine

50

ml

macadamia oil

3

leaves

of lemon myrtle

25

g

butter

Native pepper

100

g

warrigal green or pea tendril
Instructions
Pasta Dough
Combine the ingredients to make a smooth dough, and then leave it to rest for 20 min on the bench, covered. Roll out using a pasta machine to the thickness you prefer, I use a pasta extruded to make bucatini, but fettuccini, papadelle or tagliatelle work well also. Allow the pasta to dry slightly at room temperature, be sure that they aren't touching or sticking together.
Dish
Wash the pippies, and soak in iced water for 20min, just to be sure they have been purged of all sand. Boil salted water in a pot big enough for all of the pasta, start cooking the pasta. Heat a pan with a lid over a medium heat, add in the macadamia oil, lemon myrtle, pepper. Add the pippies and immediately add the wine then cover the pan. Let it cook for 30-60 seconds until the pippies have opened up, reduce the heat to low, add in the warrigal green and butter, and a pinch of salt, mix to combine and create a sauce. Drain the pasta and then add it to the sauce, combine and serve.
Michelle Tchea
Michelle Tchea is a 4-time bestselling author. Her books include, Building a Perfect Meal, My Little SoHo Kitchen, Signature Dishes (Australia's Best) and Chefs Collective. Her work can be found in other leading luxury travel and food magazines including Travel+Leisure Asia, SMILE, NUVO Magazine and The Telegraph