Christmas is nearly here. Have you planned the Christmas dinner menu yet? For those of you who need some last minute ideas, Honest Cooking is the perfect place to find them.
By Nancy Lopez-McHugh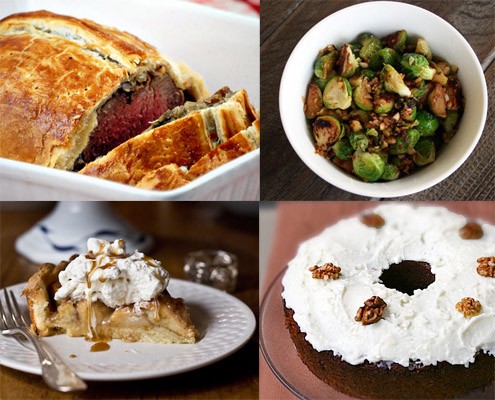 I've put together a list of my favorite menu ideas for you. Make sure you also check the Honest Cooking archives or do a quick search for hundreds more mouthwatering recipes.
Happy Holidays to you and yours!
Mains:
– A Bite of Britain: Beef Wellington
– Mushroom Wellington
– Prime Rib Roast and a Story of Brazilian Butchers
Sides:
–Roasted Brussels Sprouts With Almonds
–Cooking the Magazines: Shredded Brussels Sprouts with Poppy Seeds
–Garlic Ginger Brussel Sprouts
–Brussel Sprouts Dressed with Coriander Seeds
–Spicy Cranberry Apple Chutney
–Cranberry Sauce and Thanksgiving Ideas
–Cooking the Magazines: Green Beans with Toasted Walnuts and Dried Cranberries
–The Return of the Hasselback Potatoes
Treats:
–Candy Cane Ice Cream by Ruby Moukli  
–Spanish Turrón Ice Cream
–Chocolate Cherry Truffles
–Festive Persimmon Cake
–Pecan Tassies
–Caramel Apples for Adults
–No-Bake Pumpkin Cheesecake
–Stagnola Blu Stuffed Black Figs
–Spiced Rum Plum Stacks with Mascarpone
Drinks:
– The Knockout
– Czech Mulled Wine
– Sangria – My Way
Last Minute Gift Ideas:
– 13 Fun Culinary Christmas Gifts on a Budget
– Culinary Christmas Gift of the Year: The SousVide Supreme
Nancy Lopez-McHugh
Nancy Lopez-McHugh is a food blogger, photographer and published author. Most recently she has published "Yummy Pics: A Food Blogger's Guide To Better Photos".