Tamara Novacoviç with yet another great Christmas baking idea. A very cute Christmas fruitcake.
By Tamara Novacoviç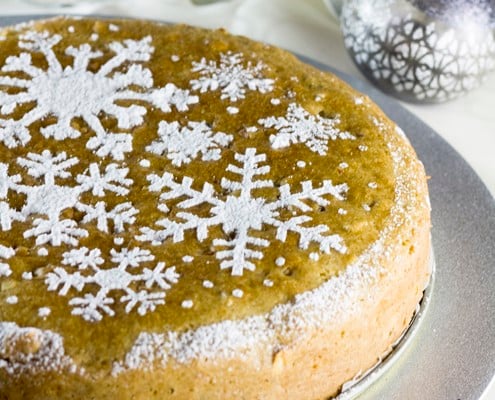 This is another recipe from my Christmas series. I was never keen on fruitcakes, creamy cakes were my cup of tea. But I have gradually learned that a piece of fruitcake goes so well with a cup of tea, mulled wine and coffee. I started experimenting with flavors and different types of dried fruit.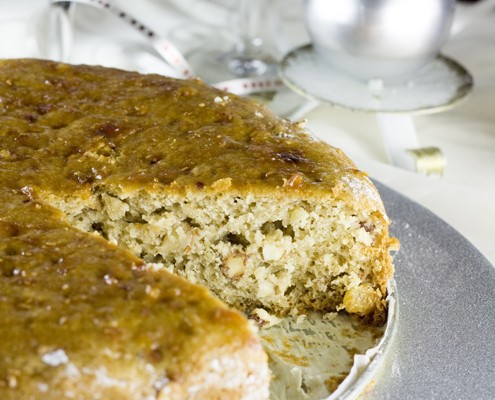 The smell of fruitcake is such a Christmas classic…lovely. You can play with dried fruits you have in your pantry. This time I added some sour cream to it, to make it moister. I added some honey as well, for that extra winter flavor.

Christmas baking: Fruitcake
This is a cute and delicious Christmas classic.
Ingredients
3 cups (400 g) flour
2 tsp baking powder
1 tsp baking soda
½ tsp cinnamon
¼ tsp powdered ginger
pinch of salt
3 tbsp apricot marmalade
3 tbsp sunflower oil
2 tbsp sour cream
1 tbsp honey
2 tsp vanilla extract
1 cup (250 ml) milk
2 tbsp rum
½ cup (100 g) sugar
3.3 oz (100 g) raisins
3.3 oz (100 g) mixed dried fruit (I used currants and figs)
3.3 oz (100 g) almonds, chopped
zest of 1 lemon
zest of ½ orange
Instructions
Whisk dry ingredients and combine with wet ingredients.
Add currants, raisins, chopped almonds and chopped figs. Add orange and lemon zest.
Preheat oven to 359 F (180 C).
Bake in round cake pan covered with parchment paper or in bread loaf pan for 35 minutes (test with skewer).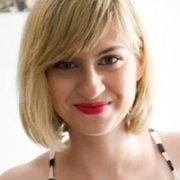 Tamara Novakoviç
Tamara Novakovic is a passionate self-taught cook, food blogger, freelance food writer and photographer behind bite-my-cake.blogspot.com. Her life journey has led her through Faculty of Humanities in Zagreb, Croatia to discovering passion for making cakes. She is currently a weekly food columnist for Croatian newspaper V magazine and food magazine Repete.