This rich and chocolatey treat would be perfect topped with macerated strawberries or a whiskey cream.
By Maggie Cubbler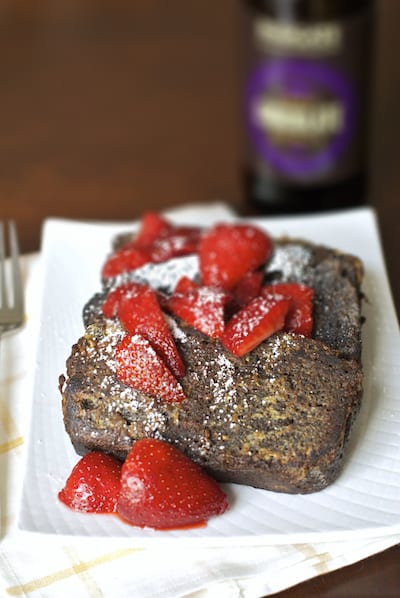 Chocolate Stout French Toast Pound Cake
This rich and chocolatey treat would be perfect topped with macerated strawberries or a whiskey cream.
Ingredients
For the pound cake
½ cup (113g) unsalted butter, room temperature
½ cup (120ml) stout beer
¼ pound (120 g) dark chocolate, chopped
2 large eggs
1 cup (220g) dark brown sugar, packed
¼ cup (60.5g) sour cream
1¼ cups (120g) all-purpose flour
¼ cup (30g) unsweetened cocoa powder
1 teaspoon baking powder
½ teaspoon baking soda
½ teaspoon salt
For the French toast
3 eggs
¾ (175ml) cup milk
3TB (45g) unsalted butter
Instructions
Preheat oven to 350?F
Prepare a loaf pan by buttering it. Then, add some parchment paper, butter that. Then dust with cocoa powder, shaking off the excess. Set aside until ready.
Combine the softened butter and the stout in a medium saucepan over medium heat. Stir until butter has melted.
Add the chopped dark chocolate and stir until smooth. Set aside and allow to cool for 10 minutes or so.
In a large bowl, beat together the brown sugar and the eggs until light and fluffy.
Temper the eggs by swirling in, a tablespoon at a time, the chocolate mixture into the egg and brown sugar mixture. After about 4 or 5 tablespoons, slowly add the rest of the chocolate and then the sour cream. Mix until smooth and combined.
Whisk the remaining dry ingredients together in a bowl. Add to the chocolate mixture and stir to combine, being careful to not overmix.
Pour the mix into the prepared loaf pan and bake in the preheated oven for 50 minutes or until a fork inserted comes out clean.
Remove from the oven and allow to sit in the pan for about 5 minutes.
Remove from pan and parchment paper and allow to cool completely.
To make the French toast
Mix the eggs with the milk.
Slice the pound cake into desired slices.
Heat the unsalted butter in a large skillet over medium heat until the froth dies down. While waiting for the butter, dip the cake slices into the egg.
Cook in the pan, over medium heat, for about 2-3 minutes each side or until the egg mixture has been cooked through and the pound cake feels firmly toasted (not burnt!)
Top with strawberries, whiskey cream, or your desired topping. Sprinkle with powdered sugar.
Maggie Cubbler
Maggie Cubbler is a beer-and-food-loving Yankee living in North Yorkshire, England. When she's not pulling pints at a traditional Yorkshire pub, she devotes her time to her Labrador, husband, and working on her blog: Loaded Kitchen. She loves to pair beer with food, cook with beer, and drink a (half) pint or two with the natives. Besides blogging and drinking, Maggie is currently studying to become a certified Cicerone while trying to figure out why Yorkshire men like lime cordial syrup in their lagers. Take a swing by her blog and check out the party in her pans.