Enjoy a wonderful glazed doughnut pancakes recipe, courtesy of Michelle Keith.
By Michelle Keith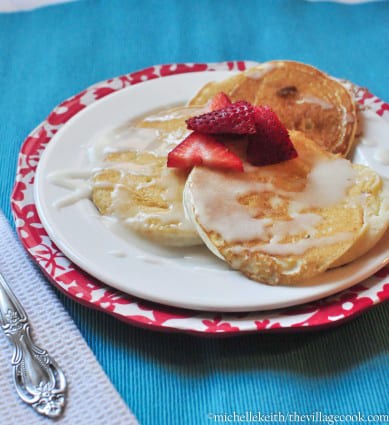 Glazed Doughnut Pancakes
Enjoy a wonderful glazed doughnut pancakes recipe, courtesy of Michelle Keith.
Ingredients
Glaze:
2 TBS melted butter
1 cup powdered sugar
½ teaspoon vanilla
pinch salt
2 TBS milk
For the pancakes:
2 eggs, separated
1 TBS sugar
½ tsp baking powder
½ teaspoon vanilla
dash cinnamon
1 cup flour
1 cup milk
2 TBS melted butter
Instructions
In a bowl, beat the egg yolks, sugar, milk,butter, and vanilla
In another bowl, combine the flour, baking powder, and salt.
Add the flour mixture to the egg yolks.
In another bowl, beat the egg whites until stiff peaks form.
Gently fold the two mixtures together.
Heat pan over medium heat until a drop of water sizzles when it's placed on it.
Drop batter into 4? circles and cook until bubbles form around edges.
Flip gently.
Repeat with remaining batter.
For Glaze:
Combine all ingredients until smooth.
More milk may be added for desired consistency.
Drizzle over pancakes before serving.