Like Nutella, this chocolate-hazelnut smoothie bowl is quite addictive with sweet chocolate, hazelnuts, a hint of vanilla and a touch of salt.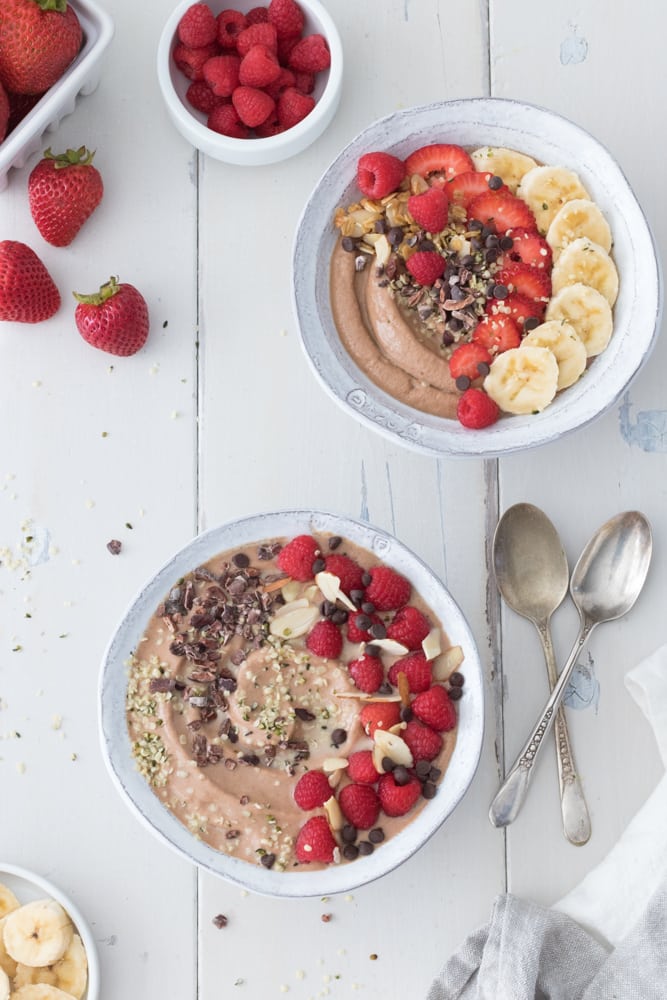 Nutella, in smoothie bowl form! Why didn't I think of this before?
There is something addictive about hazelnuts plus chocolate with a hint of vanilla and a touch of salt. It is the perfect combination and incredibly decadent.
I basically took these star ingredients from Nutella and combined them with hazelnut milk, ice and riced frozen cauliflower to make it thick and creamy. What did I leave out? I omitted the palm oil, artificial flavors and sugar that are found in Nutella. I naturally sweetened the smoothie with dates and used cacao powder for the chocolate flavor. You are left with all the wonderful Nutella flavor in a frosty, smoothie bowl that you can feel really good about indulging in. I then topped it with all the things that pair well with Nutella flavors: bananas, fresh berries and granola.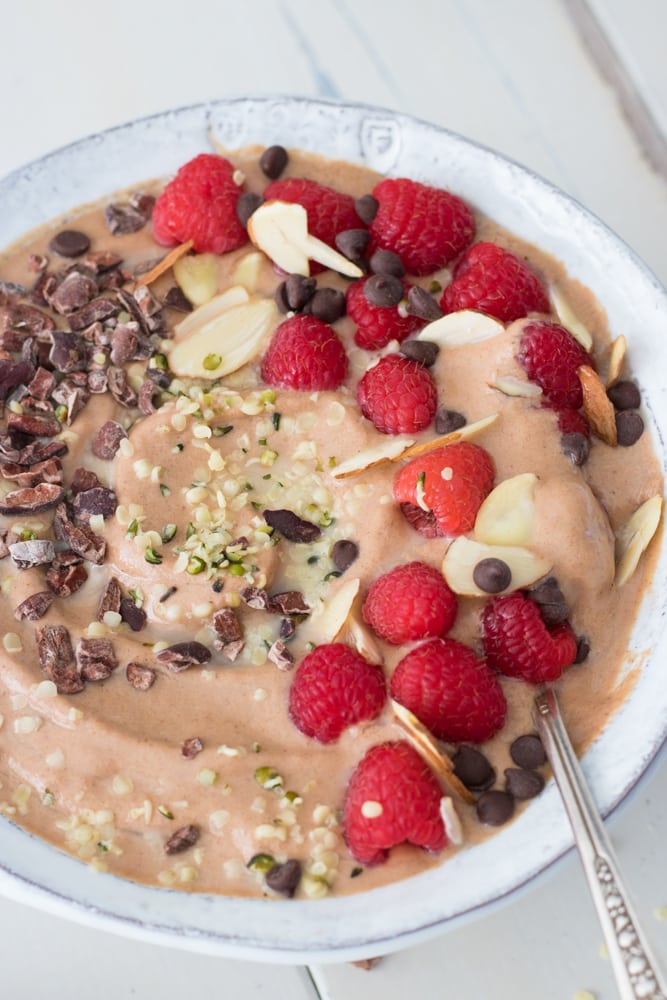 This smoothie bowl is filling, full of plant-based protein, healthy fats and dietary fiber and so incredibly satisfying.
In these photos I show two versions (same smoothie base but different toppings). Do whatever makes you happy. You really cannot go wrong with this sweet treat. This smoothie recipe is vegan, soy-free, gluten-free, peanut-free and refined sugar-free.
Elaine Gordon
Elaine Gordon is the creator of EatingbyElaine.com, a nutritious recipe blog with plant-based, gluten-free and allergy-friendly recipes. "I am a certified health education specialist and care deeply about nutrition. My recipes are low in sodium, refined sugar, cholesterol and saturated fat. I use fresh, whole ingredients and stay away from all things artificial. I love to experiment with fresh ingredients and fragrant herbs to make the most of each meal. I take comfort in knowing that what I am eating is improving my health." ~ Elaine