Can you imagine creating a delicious lunch or a simple lunch in less than 5-minutes?
In Spain – more specifically Madrid, Conservas Nudista is more than just another place to have tapas and a cold drink. Owner Micky Irisarri, is re-imagining how Madrilenos eat but not forgetting the artisan producers of his home country, Spain.
Canned food – sardines, anchovies are just the beginning at Conservas Nudista with other canned goods like roasted red peppers, chickpeas and even carefully prepared leeks and artichokes from small family-businesses who specialize in preserving delicious ingredients in a can.
No artificial flavours but just natural and pure ingredients, the revolution of creating a meal out of a can is perhaps a trend waiting to happen.
Not convinced? Here is a small, yet simple recipe Michelle Tchea of Chefs Collective enjoyed on a recent eating adventure in Madrid. All ingredients can be purchased at Conservas Nudista or find the best quality jars you can get your hands on!
RECIPE:
1 jar of chickpeas – best quality available
Good Quality canned tuna
Mojo Sauce – 2 spoonfuls * ( Made up of pepper, sunflower oil, vinegar, garlic, sea salt and cumin)
Red Onion
Olive Oil
Salt and Pepper To Taste
To serve – bread
Wash and drain well the chickpeas
Crumble in good quality tuna and stir through two spoonfuls of Mojo sauce
Add in the Chopped red onion and drizzle olive oil,  add in salt and pepper to taste
Serve with good quality preserved pickled chillies and serve with good quality bread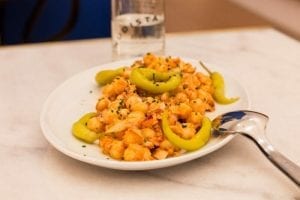 Michelle Tchea
Michelle Tchea is a 4-time bestselling author. Her books include, Building a Perfect Meal, My Little SoHo Kitchen, Signature Dishes (Australia's Best) and Chefs Collective. Her work can be found in other leading luxury travel and food magazines including Travel+Leisure Asia, SMILE, NUVO Magazine and The Telegraph